Ace Combat: Assault Horizon Review
An engaging flight title that showcases the visceral side of aerial combat
The action transitions to online play rather smoothly. There aren't many modes on offer, with competitive ones including deathmatch, capital conquest, and domination playing out in a similar manner. All of the mechanics from the campaign carry over to multiplayer, and the action feels just as satisfying with smooth control and absolutely no lag issues. Those looking for a cooperative experience can also take part in a number of coop missions, most being taken directly from the campaign. By playing online, players earn points which can be used to unlock new airplanes as well as abilities and weapons, adding some incentive to long term play. Aside from a lack of competitive modes, the bigger problem perhaps is the lack of players. Just a month or so since release, lobbies are barren and those few that exist have more AI opponents than real players.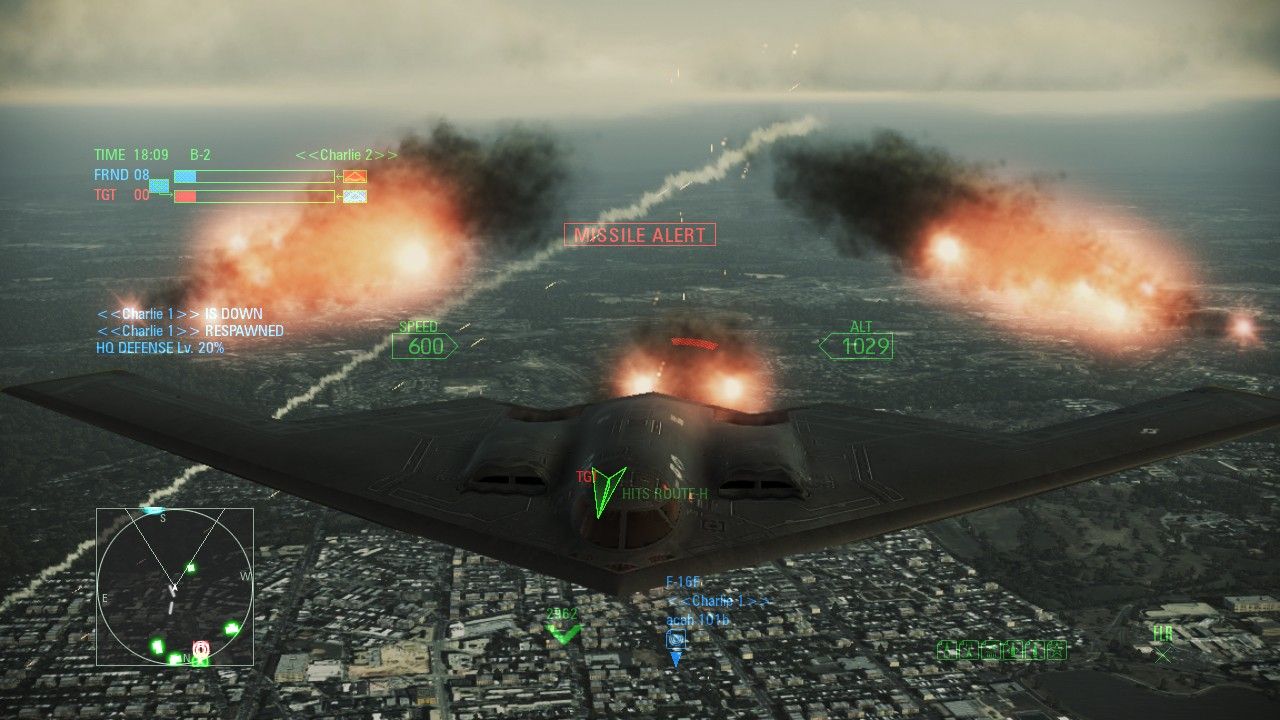 Ace Combat is a respectably pleasant visual experience. Airplanes are well designed and offer full 360 degree view at any point of the game. Perhaps the most scrutinized area for all flight games, the ground, looks detailed enough to forgive some low resolution textures. It may not be completely real-world accurate, but the landscape and buildings were designed with care and present themselves well. Cutscenes and some story events are surprisingly interactive, actually allowing the player to look around (but not move), thus adding an interesting sense of immersion that is unseen elsewhere. Combat and destruction look great, offering detailed views of your enemies going down in smoke and pieces. Sound design is mostly forgettable with basic effects, but at least the soundtrack is very catchy and energizing.
The return of the Ace Combat series is a welcome one. The game clearly attempts to become more accessible to the general public and perhaps borrow an idea or two from other flight games, which is OK. It's a rather action packed thrill ride that is only let down by its own focus on forcing players into minigames during combat in order to be effective. A decent story suffers from poorly translated dialogue, but voice acting and cutscene visuals are mostly good. Online modes are a bit scarce, both in variety and player numbers. The game sounds well enough and looks great when focusing on destruction, amped up by a rocking soundtrack. It may not offer anything wholly original, but Ace Combat: Assault Horizon is a fun air combat title that's well worth a look if you enjoy the genre.
Our ratings for
Ace Combat: Assault Horizon
on PlayStation 3 out of 100 (
see how we rate
)
Comments
blog comments powered by Disqus