AC: Brotherhood Review
Though a must-play for fans, this entry advances the franchise with uneven results
Just barely over one year ago, Assassin's Creed II hit store shelves and made a huge impact on the gaming world. Taking the series from a fledgling IP with some interesting but flawed concepts to a true AAA title, it solidified the Assassin's Creed series as an important and powerful member of the current generation and exemplified all that a truly great sequel should be. It was better in almost every regard than the original. Now it's another year later, and Ubisoft has unleashed a third game in the series with Assassin's Creed: Brotherhood. Is it a quick and sloppy cash grab or just as big an improvement over Assassin's Creed II as that title was to the original?
The main motivation to play any game in the Assassin's Creed series is the singleplayer campaign and its associated storyline. It's why so many of us trudged our way through the repetitive and lackluster first installment and blew our way through the second. With Assassin's Creed II's story ending in such a final and thought-provoking manner pointing the narrative towards Desmond's future storyline rather than back at Ezio's, it was impossible for Brotherhood to pick up with any reasonably comparable amount of excitement and immediacy.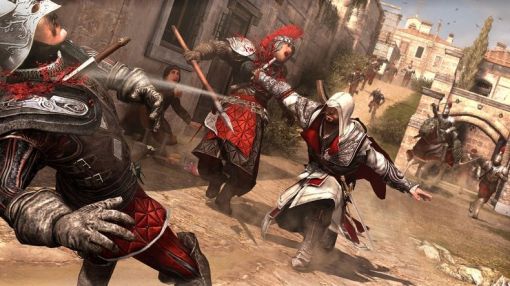 As quickly as you obtained the Apple of Eden at the end of Assassin's Creed II, Ezio and his brethren lose track of it in a rather uncharacteristic and somewhat unbelievable lack of forethought. The game then relies on the tired and frustrating mechanic of removing all of the items and abilities you gained in the previous game and then asking them to regain them exactly in the manner you did before. The storyline here is frustrating and problematic, but ultimately, it is just boring, feeling like an epilogue to Assassin's Creed II that has been stretched almost 20 hours long, rather than a compelling narrative in its own right.
Outside of the game's fiction, many of the game's most problematic mechanics have seen a lot of added polish and reworking. Combat now flows much more quickly than before. No more will you find yourself simply waiting for a chance to counter-attack each enemy one at a time. The ability to chain together series of assassinations and block-breaking kicks quicken the pace and make you feel more like a powerful assassin and less than a rat trapped in a corner.
Comments
blog comments powered by Disqus