Forza Motorsport 4 Review
The newest entry in the franchise is likely the most definitive racing experience of the year
The second progress tracker is the manufacturer affiliation level, which only progresses when you use a corresponding car brand during races. This progression level is tied a bit more into the game than the driver level – particularly, the economy. It only takes a few races with the same make of car to get past level 5, at which point all performance parts are completely free. From that point on, all manufacturer level increases simply add more cash. Thus, the game's economy feels quite a bit unbalanced – participate in about 8 to 10 races with the same car brand and you're free to buy whatever performance parts you want, with no cost. It provides a great opportunity to endlessly tweak and adjust your ride. But, with all the free cars from Driver levels and free car upgrades, the game's currency does feel largely devalued.
Which isn't too bad, because there are a ton of vehicles to check out with that extra cash. The game already does a great job of providing you with a wide selection of free rides. And in fact, when tuned, there's barely any need to actually buy a vehicle until season 5 or later. Once you do want to go for something new, the catalog is always fully unlocked regardless of your levels, and any car can be purchased if you have the cash. Forza 4 features a large selection of vehicles, from the most amusing turbo hatchbacks to the ultra fast Corvettes and specially tuned Racing class cars. They all come very well detailed both on the outside and with an accurate in-car design. Each of course offers a set of varying stats and an overall class level, which can be tuned with a wide range of tweaks and upgrades, very reminiscent of titles like Gran Turismo 5. Having a maximum overall level in a class doesn't mean you'll be able to compete, if all your opponents simply have a higher acceleration stat but lower top speed. Like any good sim, a lot of strategy is in play when it comes to car tuning and the racing itself.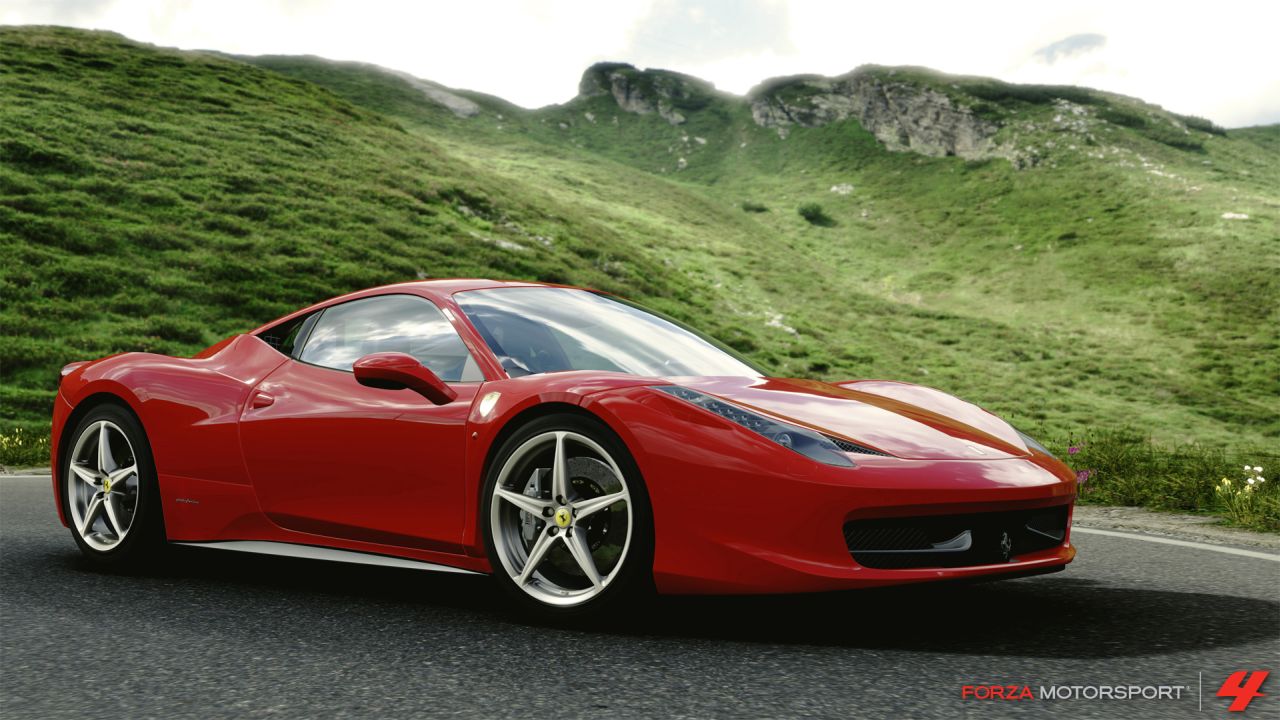 Forza 4 carries on the tradition of being a very clean circuit sim. The focus is clearly on precision racing, and that translates across the whole driving experience. Cars handle with great care, and it's easy to notice the different performance factors as you complete laps. It should be noted that the game's default settings are fairly relaxed, giving the game great accessibility – but also a challenge, once you've turned up the difficulty which in turn earns more credits. There are race feats that also earn more credits, for completing tasks like perfect corners, drafts, and drifts during the race. The driving engine feels right, and there are no problems at all with the experience.
A few annoyances, though, do occur on the track. First of all, and perhaps the most odd and noticeable design decision, is the invisible wall. Yes, you read that correctly. On the game's many, many sharp corners, the developers have put in some kind of extreme slowdown effect, in an attempt to prevent cutting of the track. If you happen to fly off the asphalt on the outside of the track, the physics behave appropriately and slow your car down and out of control, but it's still manageable to recover. Hit an inside corner at a wrong angle though, and your car will instantly slow down to near crawl. It's understandable what the developers were trying to accomplish, but it's implemented in the most brutal way possible and often triggered by pure accident as the line between cutting the track and taking a sharp corner is extremely thin. To say that it breaks immersion is an understatement.
Comments