FIFA 12 Review
The annual football title from EA Sports makes all the right moves
It's not all bad though. With the new physics, players can get injured in very realistic and appropriate ways. This often presents fantastic scenarios – for example, a player attempting to clear the ball with a header collides with another player, and the resulting injury to his head and neck forces a substitution. Seeing something like this happen in real time, which in turn affects your Manager mode decisions and starting lineups, is simply fantastic. It adds a whole new level of realism and seriously impresses. Quick throw-ins are also possible now, which function in much the same way as quick free kicks. If the ball is nearby, a player will run to get it and attempt to take the throw. However, the players often awkwardly drop the ball after picking it up, or can't reach the ball even though it's within two feet of them. Again, with a bit more polish, this could be a nice addition to the flow of the game.
The biggest change to how you play the game in FIFA 12 has to be the tactical defense system. It's bound to either bring much joy or many cries of frustration, depending on who you ask. No longer are players able to pressure and defend by simply holding a button and using tackles when needed. Now, pressing has been eliminated altogether and all tackles – including standing ones – must be done manually. This takes quite a bit of time to get used to, and even longer to get good at. Players can now jockey and employ a second defender when needed, but these changes don't hide what is otherwise a completely manual defence system. Though it can thankfully be switched off in single player modes, online you'll be stuck with the new system which is bound to result in tons of high scoring games. Wins will now come from the person who can score the most; as most players will likely struggle with the new defending, if their skills of (easier) defending system in FIFA 11 was anything to go by. It's up to EA Sports though, and perhaps with enough player pressure, the legacy defending system might be allowed to be used online.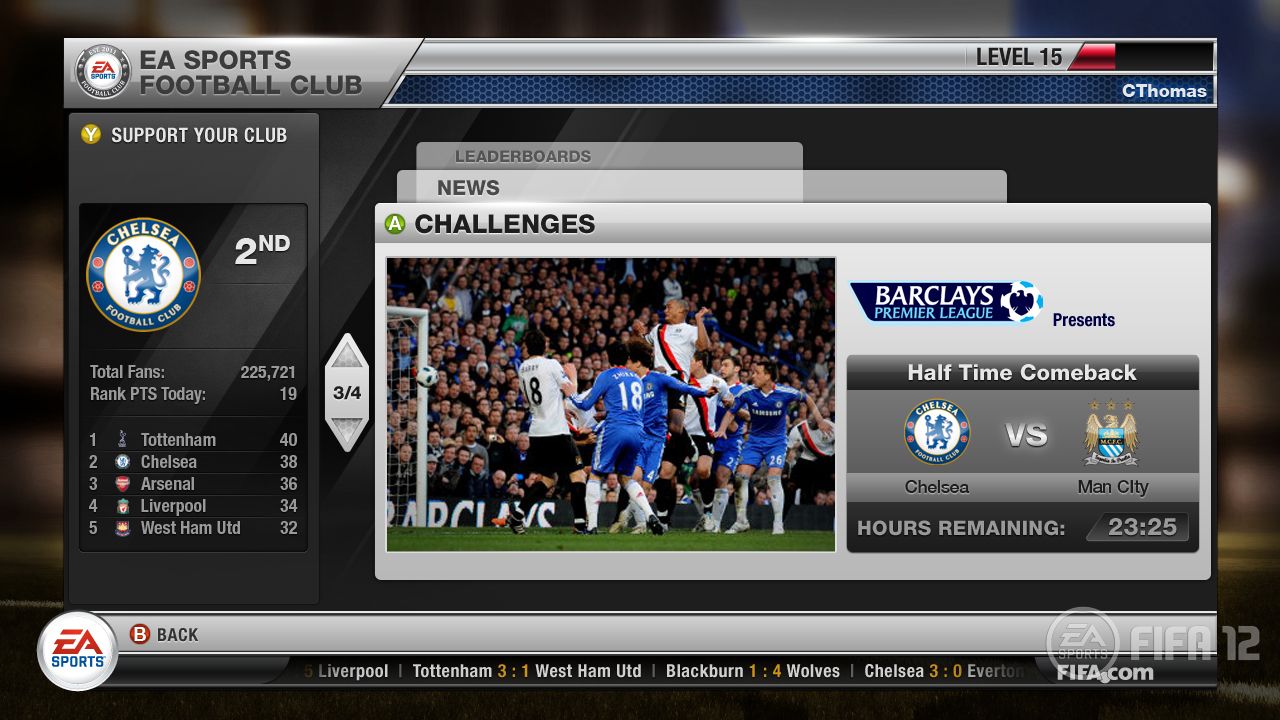 Speaking of online play, a few changes have occurred in these modes as well. The Virtual Pro and Clubs function much in the same way as before, in fact almost nothing has changed since last year – though that's not a big deal, as it's already a solid offering. Instead, the developers revamped online versus play into seasons. Rather than playing random strangers and just buffing your record, there are now 10 tiers of online leagues. Everyone starts off at the lowest level, and must earn a certain amount of points in order to be promoted. Playing against opponents who selected a similar team rating and are on the same online league level, earning points works the same as in any season mode (3 points for a win, etc). Seasons last 10 games, so playing those games will mark the conclusion of the season. If you do poorly, you can be relegated as well. At the end of each month there are also dynamic cup playoff tournaments, where winning makes you progress while losing means you're to start at the round of 16 again. A friendly seasons mode also exists, which functions much in the same way but your opponents are limited to your friends list. Overall, the new online head to head seasons are a fresh, if not overly original, approach to competitive play that should only add to your desire for more online gaming.
As an added bonus, the previously DLC-only mode FIFA Ultimate Team comes on the disk with FIFA 12. For those unfamiliar, UT is a mode where players can put together a team based on drawing random packs of player cards. By putting together a team and then participating in offline or online tournaments, coins are earned which can be used to buy more players via user auctions and card packs. Or, if you're looking for a quicker way to victory, it's possible to buy card packs with real money. Players can lose moral, get injured, and run out of contract and there are consumable cards that address all these needs. There is also a chemistry and positional system in place that allow a weak but fully in-sync team to take on an overpowering but unsettled opponent. It's a fun mode all on its own and good to see it being offered together with the game this year.
Comments