NHL 12 Review
As packed with content as ever, the annual hockey sim adds enough changes to warrant a look
It's Fall again, and that means various sports leagues are getting ready to kick off their respective seasons. One of the bigger sporting activities in North America, and in Canada in particular, is of course hockey. And without fail, EA Sports is once again set to deliver its yearly NHL title. With NHL 12, the developers have made some good adjustments, and as every year, a few nice features stand out that warrant fans to have a look. Underneath it all, this year's version is eerily familiar to last season's effort, but unless you are a casual fan or already own NHL 11, it's still a good game to get.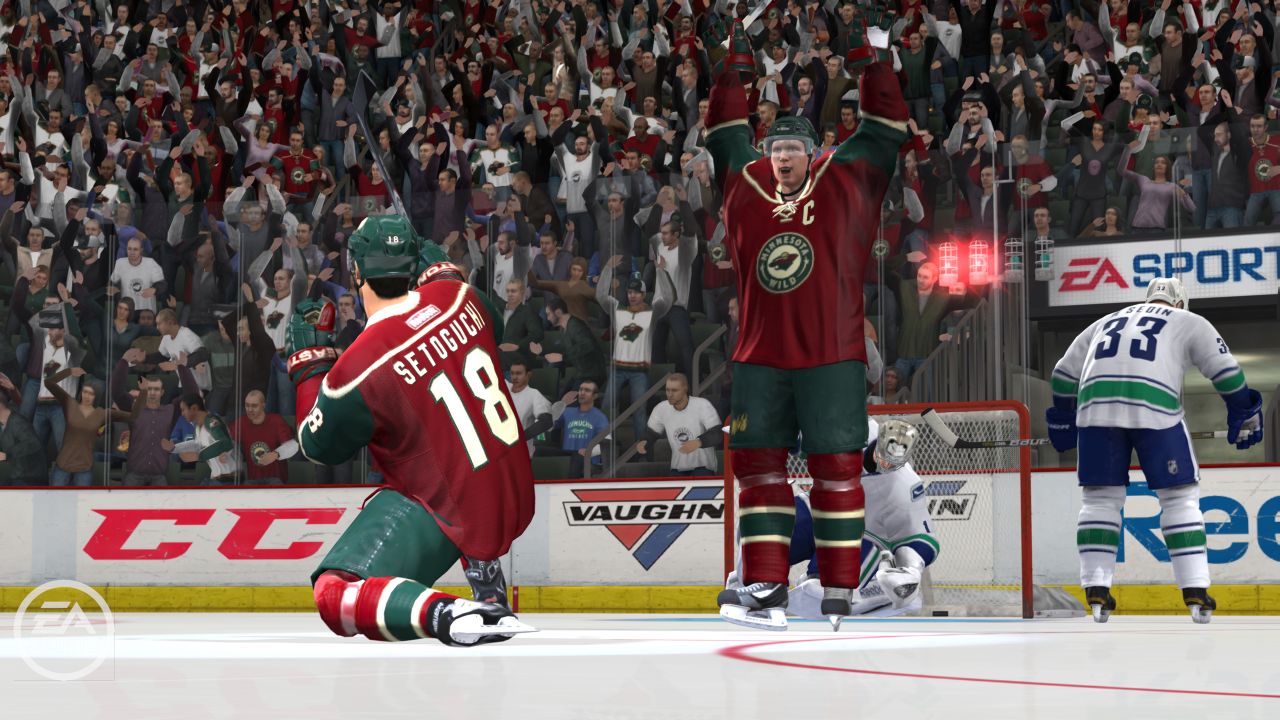 As expected from a franchise that's been running for a long time (20 years now, to be exact), the game offers an unprecedented level of depth in both features and data. Aside from NHL and all of its players, the game also has tons of other leagues like CHL, AHL, WHL, as well as European offerings. All of the teams and players are well recreated with personalized stats, contracts, and photos. Thousands of players are in the game, and they're all put to good use with a wide variety of gameplay modes – both online and offline.
The core of the single player experience still lies with the Be a GM mode, where you can take control of any team and lead them to glory. There are sadly not a lot of changes to the mode this year – notable omissions still include inability to extend contracts mid season, unrealistic trading and an overly large amount of player injuries. One of the issues that fans commented on was the CPU trading, but instead of fine-tuning the problem, developers took a sledgehammer approach and simply dropped most players' trade values to nearly nothing. It's almost like the whole system got nerfed, and save for absolute superstars like Crosby or Ovechkin, a huge amount of player values are very nearly worthless. There were almost no trades at the draft or the season deadline during our numerous simulations, which is again a reaction to "too many trades" complaints, but taken too far. The biggest change that was noted by the game is that the GM mode is now running on a new simulation engine, which in theory promises better results for all CPU-played games. Unfortunately the results are mixed at best, while player rankings and point totals are usually quite well calculated, weak teams (Ottawa Senators) still somehow make it to the Stanley Cup Finals, thus making the game feel just as random as before.
Be a Pro, where users can create or select a skater and play as the single player on the ice for their entire career, also makes a welcome return. This is perhaps the much more upgraded single player mode, as notable changes have been made to improve the experience. No longer are users able to dictate their own ice time, nor start on the first line of a team. Now, the full periods are actually 20 real minutes long, providing you with ample real ice time to making something happen. When coach calls you off the ice, there is an option to either watch the game in real time (and be bored to death as the CPU continues to cycle the puck and barely produce chances from the neutral zone), or sim to next shift. These changes create a more realistic Be a Pro experience, though other issues such as ridiculous and often unrealistic coach demands hinder the mode somewhat.
You could be the most prolific scorer in the whole WHL by a long shot, but that will apparently not matter unless your overall rating has been significantly increased over the season by spending the XP earned through playing. If your rating isn't where it should be, but you're by far the biggest scorer in the league, your agent will warn you about poor draft ranking, and when the big day comes you will indeed be passed on for three rounds. It doesn't help that gaining XP has been notably decreased, meaning it takes a very long time before significant progress is made on your personal abilities. For whatever reason, your teammates do not increase their skills during the season. Playing in the minors also doesn't add to your Pro's career performance, which is a disappointing change from last year and makes the effort you put in during the minors feel less valued. There also seems to be no injuries whatsoever in the Be a Pro mode, at least not in the two seasons played and simmed.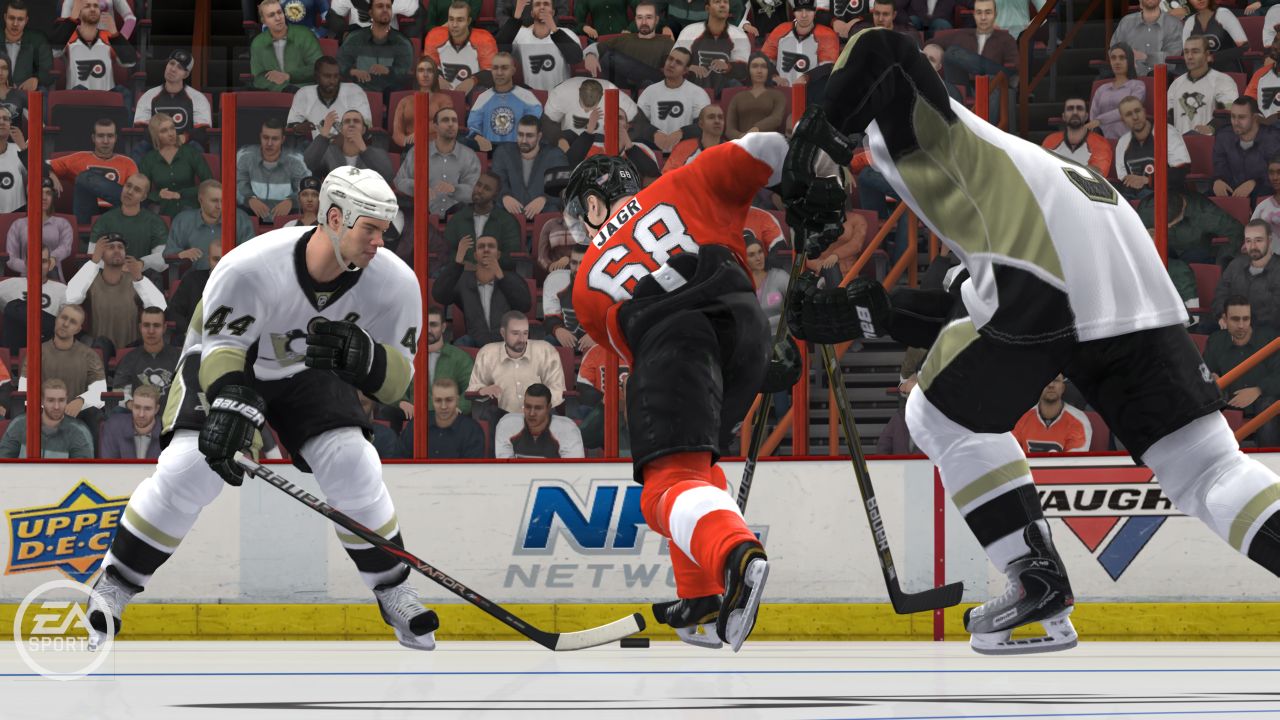 Hockey Ultimate Team, a card-like game where players are challenged to build their own star-filled lineups is also back on the disk this year. Though perhaps offering less value now that other EA Sports franchises have picked up the trend of including this mode on the disk instead of making it additional paid DLC, there are a number of welcome changes nonetheless that are worth checking out. Firstly, the HUT24/7 introduction actually allows players to finally upload their teams to the servers and then others can, at any time, download and play those teams in their single player HUT games. Players no longer need to be online to have their team available, as this sharing feature even lets you earn EA Pucks (the mode's currency) when your team is downloaded and plays against someone else. A direct menu option to play against a friend was also added, thus taking out the needless timing of trying to play someone you know online. HUT remains a fun mode that can prove to be a great addition to the NHL 12 experience – that is, unless you want to be extremely competitive. With the ability to purchase player packs with real cash, those who spend money will always be ahead of the pack at HUT tournaments.
While the theme of last year's game was all about toughness and the new physics engine, NHL 12 is focused on Legends. Legendary hockey players, to be exact. Taking a page straight out of the NBA 2k11 book, but not quite matching the feature set, the game includes a small number of iconic players such as Wayne Gretzky, Gordie Howe, Patrick Roy, and some recent stars like Jeremy Roenick. Unfortunately, that's about all there is to it. What would have taken very few hours for any fan to create in the game (minus the in-game likenesses), was pitched as the major feature of the year. Players can take these players and assign them into any of the modern NHL teams and see how things play out. Legendary players make an appearance in HUT, and even have their own Be a Legend mode. However, it's merely a variation on Be a Pro. The whole feature seems to appeal to casual fans, but with a strictly small amount of legends, each requiring some rigorous play to be unlocked, and rather basic levels of integration into the game, makes Legends feel like a side attraction rather than the main event.
In addition to the new Be a Legend mode, there is also the Winter Classic. This, as one might expect, is a single game that creates the authentic atmosphere of the annual outdoor NHL game. The setting and visuals are unique, as is the commentary, though it does repeat each time you play. Aside from the outdoor setting though, there is nothing that's substantially different about the experience – player visuals and the gameplay isn't any different, though at least the fans are appropriately changed. This is a neat addition to the game, but seems unlikely that folks will be playing through it very often.
On the ice, NHL 12 continues the tradition of fun and well paced hockey. If you've played the game before, you'll be instantly familiar with the feel of the game and be able to pick and play easily. Some significant changes have been made to the engine, for better or worse, in this year's edition. The physics engine, introduced last year, has been tweaked to allow for a much more realistic puck movement. The rebounds are much better, there is a certain element of unpredictability on where your shots will bounce, and attempting a slapshot now actually sees the puck glide away if it isn't interacted with right away.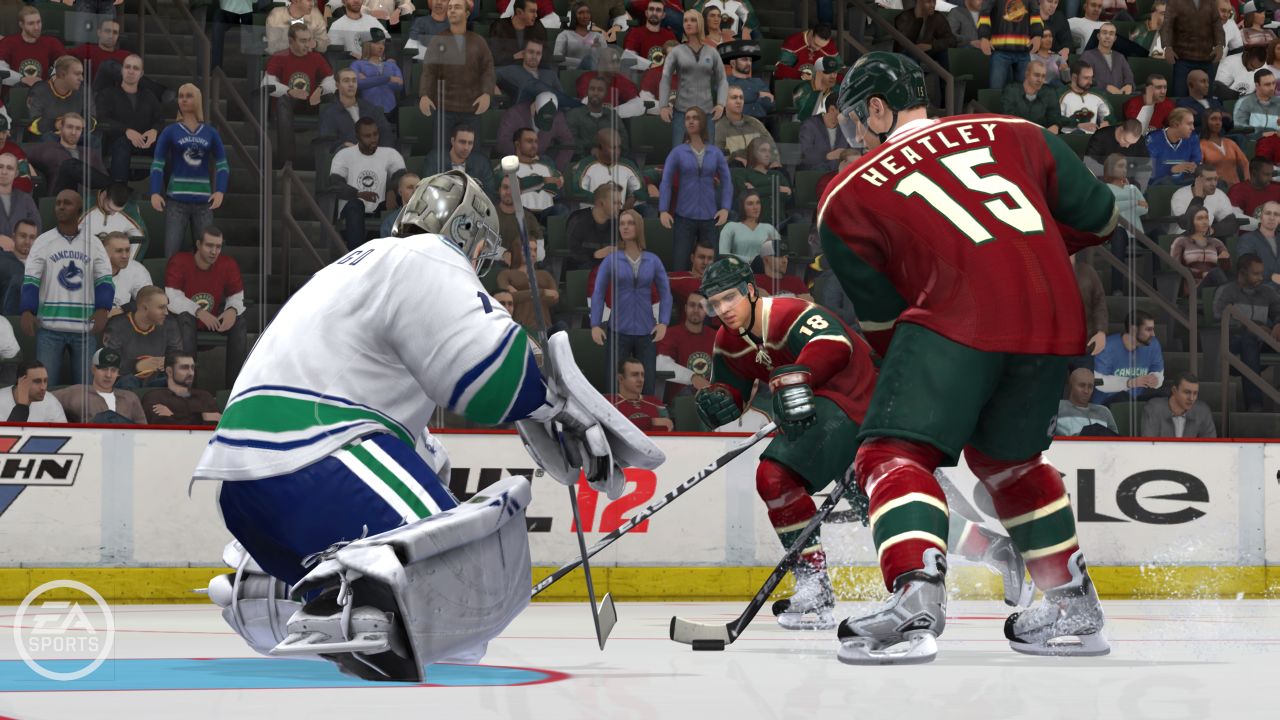 On the other hand, something didn't quite go right with body physics and hitting in NHL 12 feels very awkward and twitchy. Slamming into a player full speed may often result in you simply bouncing off, and there seems to be no trend. A smaller St. Louis can lay out Chara with barely any prior acceleration, while Cammalleri seems to be too tough for Weber to take down at full speed. The changes made to the hitting engine may have aimed to produce a more realistic experience after the hard hitting NHL 11, but it just doesn't work. Players are supposed to have signature traits this year, which means they are likely to imitate the actions of their real life counterparts. But this feature is barely noticeable in-game and you'd have to really know when and what to look for, to identify how – if it all – it affects the game.
Another big change is the addition of live goalies, meaning that players are now actually able to interact with the goaltenders. This is a largely odd and unpolished experience, as there is still a virtual bubble around the net that players aren't able to enter – mostly to avoid abuse. It can be fun to crash into the goaltender on the rush, but these situations are rare, and most of what live goalies add to the game is more interference calls. Net battles have been introduced, as players will actually battle in front of the goal to gain a better position and strength really comes into play. Some other adjustments are also introduced, such as skating when fatigued will noticeably slow down the players.
Though not perfect, AI has been notably improved this year. Your opponents offline are now must more intelligent, especially on defense, and will pressure you in the zone for as long as it takes to clear the puck. While this is great, there are still quirks on offense, as the AI will most often dump the puck but lose the chase, thus resulting in very low shot-counts for your opponents. Teammate AI has improved as well, who are much better on the rush as well as staying on-side. Thankfully, and what remains to be one of the best features of the franchise, all of the offline gameplay settings can be fully tweaked to your preference to create the perfect sim – that is, in addition to the timely releases of tuner updates by EA Sports themselves.
One global addition that significantly improves the presentation of stats is the Action Tracker. This very NHL Center Ice-like feature appears as the main menu at any pause screens, and presents a quick and very detailed breakdown of all the events in the game. It's updated live, and is also used as the main interface when simming a game, allowing users to intervene at any minute and not just at intermissions. Action Tracker allows to quickly view big hits, goal replays, and see details on scoring in a very nice visual format.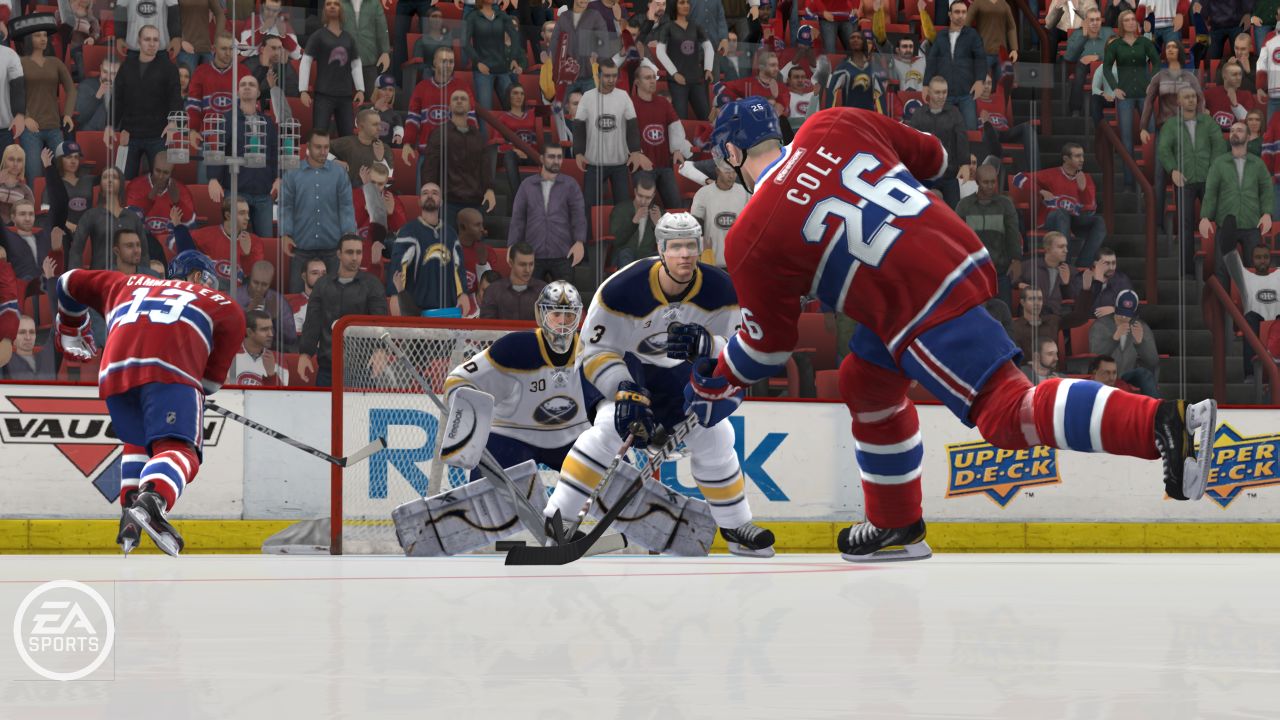 NHL 12 comes full of online play options as well. The standard versus and shootout modes are as fun as ever, if you can get matched up with opponents who don't abuse the widely known cheap shots. EA Sports Hockey League (EASHL) remains the core offering, an online version of Be a Pro mode. Here, users once again create their players and begin playing online as just that skater, earning experience points to improve their character. Clubs can be created, which participate in monthly seasons and playoffs. Everything here works great, though perhaps it should be noted that it's even more difficult to find up to 5 cooperative teammates, than it is finding just a single opponent for team versus. Still, playing with friends or on a club resolves that problem. To make playing in various positions easier this year, players are able to have up to 5 different profiles for the same player – based on position. So playing goalie will earn attributes to spend just for that profile, and so on. There's not much changed for this year's EASHL experience, but that's not a problem since the mode already functions quite well.
Where the game begins to run into trouble is presentation. Yes, it's still more than adequate for a sports title, but fans that have played the previous games will no doubt be very annoyed at the lack of changes. Some positive changes have been made, such as players entering the bench at the correct end, benched players react to hits that take place nearby by leaning away, JumboTrons actually display proper information during the match, helmets can be knocked off players, and arena glass can break. All of these changes are welcome touches to the overall experience, and perhaps the biggest ones are the player profiles during pause in play, which showcase a specific player for his contributions during the game.
On the other hand, some modifications to the presentation are actually removals of things that worked great before. After scoring, instead of watching the players celebrate together, we are treated to a cutscene of the goalie skating about or drinking – he's supposed to look frustrated for letting a goal go by. But really, these cutscenes are no different than the ones which occur during regular pauses in play. Again, instead of watching the well-designed players celebrating the goal, the cutscene that follows shows a bunch of low-resolution spectators awkwardly jumping about, apparently celebrating. There is also no more presentations to announce the three stars of the game after a match. The decision to make these changes is simply baffling, and it feels much worse than last year. Speaking of goals, the replays now have sound in them, which seems out of sync and overly loud. Some bugs, such as double-sounds that occur randomly and often for hitting a post or taking a shot, are fixable but noticeably annoying none the less. There also seems to be no sound made when many of the hits occur on the ice, which further detracts from the experience.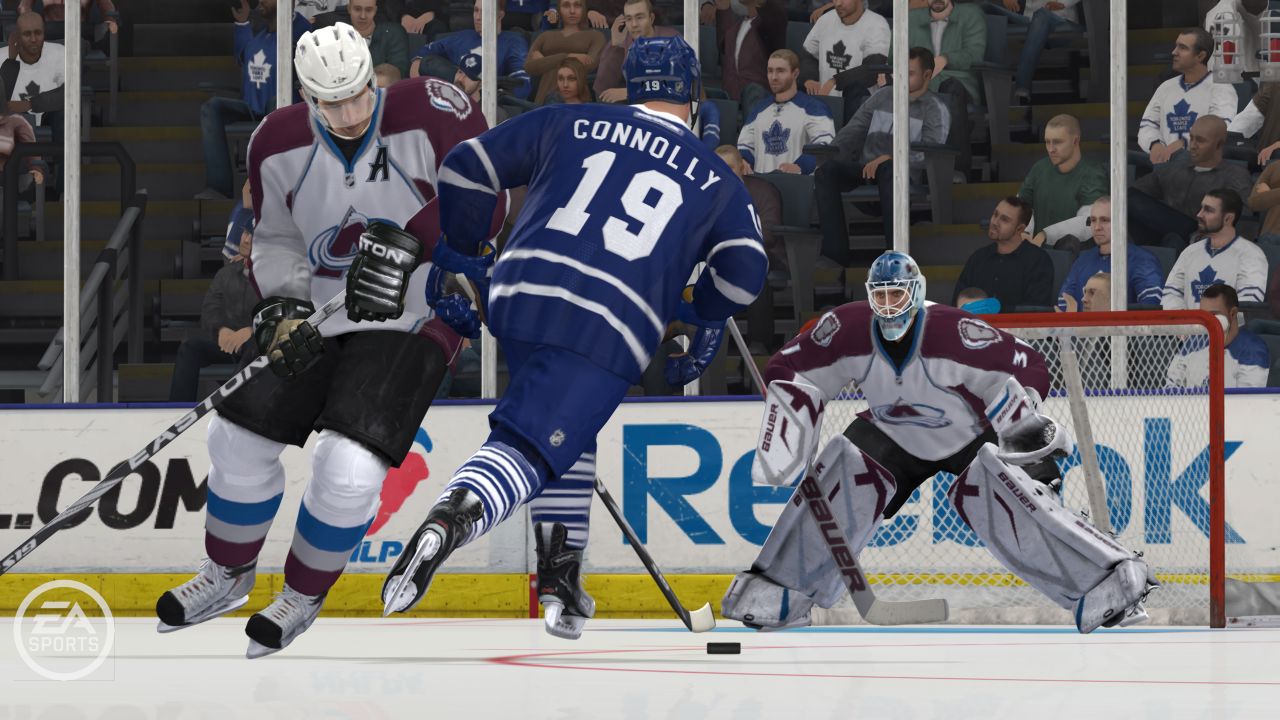 A couple of authentic team intros have been added, such as the shark head in San Jose, but much like Legends, this seems to be an incomplete feature – why add just a few team presentations, and not take the time to do the rest? With the visuals largely unchanged, the soundtrack is also a fairly predictable and catchy collection of rock anthems. For some reason, this year's selection of tracks seems to become repetitive much faster than in previous years, but at least there's the option to import your own tunes. Commentary is still good, and many annoying lines have been removed as per fan requests, but new lines are far and few in between.
Worst of all, this year's title struggles the most in the technical areas. Loading times for saved games in any offline mode are very lengthy even compared to NHL 11, and loading online menus also feels quite slow. Most troubling is the case of the game and console freezing. It seems the issues that plagued NHL 10 have made a return – but in a different manner. We've often ran into issues with the game crashing midway through a game, navigating menus, or just trying to load a save. With a bit of troubleshooting, we've found that disconnecting from the internet, thus not allowing the game to sync to EA Servers each time (it does this, for whatever reason, even just loading an offline game save) actually solves a lot of the problems. This is hopefully resolved soon, as it can be actually game-breaking.
There is no arguing that NHL 12 is a great game, offering the best package yet and does well to celebrate yet another big birthday for the franchise. The addition of the Action Tracker, improved Be a Pro and HUT modes add to what is an already extensive and deep gameplay offering. Distractions such as the inclusion of Legends and the Winter Classic make this an even more complete package. Presentation shortcomings aside, and once the technical problems are patched, this is a stellar outing for the franchise that's easily recommended to fans – that is, if you don't already own NHL 11. Indeed, this is the most difficult recommendation to make, but NHL 12 doesn't quite feel like it offers enough to appeal to owners of NHL 11. As was the case with NHL 10, this year's game offers enough new additions to make existing owners want to buy, but it will be perhaps difficult to justify.
Our ratings for
NHL 12
on PlayStation 3 out of 100 (
Ratings FAQ
)
Comments
blog comments powered by Disqus