Driver: San Francisco Review
A reboot of a classic racing franchise offers more than just a rehash of the original
Though the game is set in a modern setting, the presentation is full of influence from the 1970s. Immediately notable (and perhaps annoying to some players) is the camera filter, which adds a bit of grain to the screen and actually limits your field of view by blocking out the corners a bit. It takes a bit to get used to but after a while it isn't an issue. There are collectible icons scattered throughout the world, which unlock special classic races from popular films. These chases and events amplify the camera filter, swap out the cars for the setting-appropriate models and let players re-live the experience. Sadly, unless you are familiar with the films from which these iconic races were recreated, you're bound to be a bit indifferent to the experience, as the game doesn't offer any background.
Much of the game's story is told through cutscenes, which are very well done and look great. Perhaps more interesting is that the pre-rendered cutscenes are often seamlessly presented alongside with in-engine visuals. It is an unusual and rare choice, but works very well. There is exposition during the gameplay as well, but we only get to see the character models conversing in the car and it doesn't look as good as the pre-rendered stuff. The engine overall looks a little dated, and you'd be hard pressed to find any overly impressive textures or visuals. However, without any loading screens as you roam or Shift around, the game's visuals look on par with most recent titles. What Driver SF gets perfect is the smoke which results from burning out your tires – it looks simply fantastic, though it undermines the realism a bit as the game would have you believe that all cars are rear wheel drives.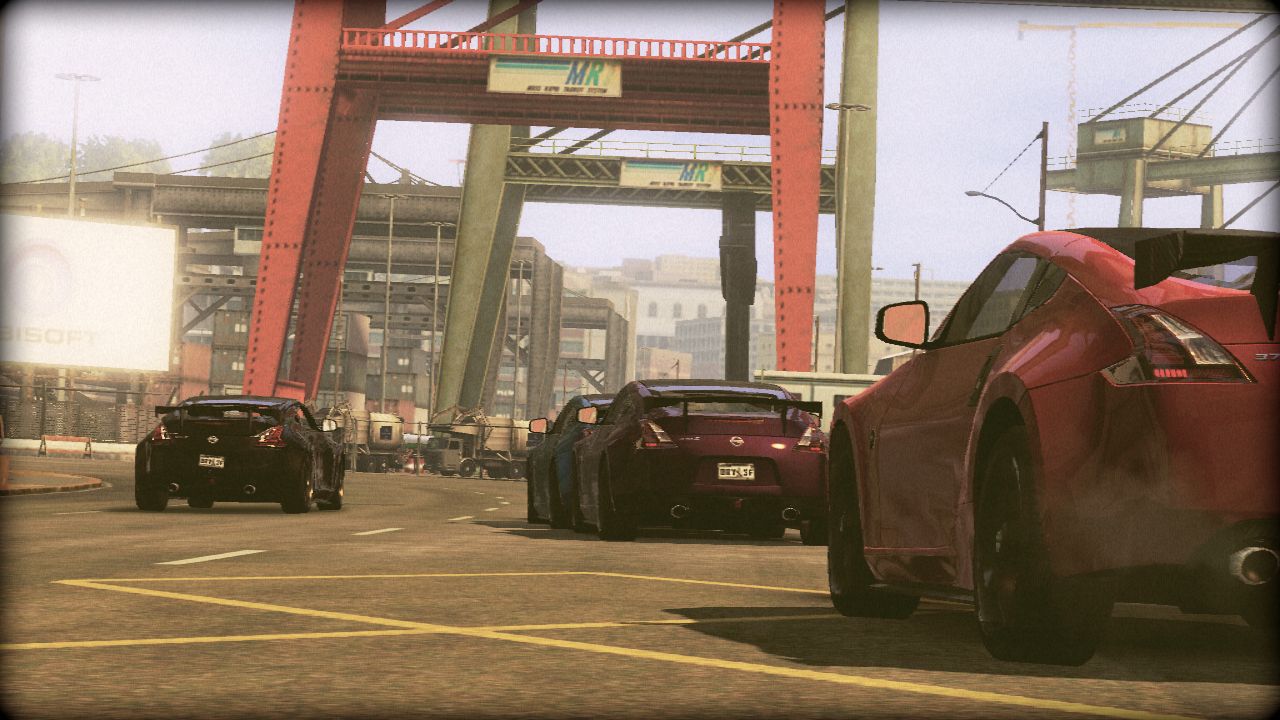 Sound effects in the game are satisfactory but otherwise aren't noteworthy, as for example it is difficult to tell the difference between engine noises of a Ford Taurus and a Volkswagen Beetle. The soundtrack, on the other hand, offers an excellent collection of licensed music tracks from the classic as well as modern eras. Character voice acting is well done; there is a ton of hilarious dialogue that's well delivered. Unfortunately, not all of the writing is up to par, and as much as the voice actors can try, it's difficult to work with very basic lines. Driver SF runs very well, without any bugs or glitches. Perhaps the most negative thing that can be said is that there are a few too many loading screens when jumping in/out of action and cutscenes.
Driver: San Francisco is quite simply a stellar reboot of a franchise. Delivering a unique and, most importantly, well executed Shift mechanic helps the game stand out alongside its peers. The arcade racing feels right, the open world is huge and littered with things to do, and though the AI could use some work, it's nothing gamebreaking. Included online multiplayer options are varied and promise to provide many hours of entertainment. Arcade racing fans that are looking for some great action with a unique twist, an intriguing story, and robust multiplayer, should not miss Driver: San Francisco.
Our ratings for
Driver: San Francisco
on Xbox 360 out of 100 (
Ratings FAQ
)
Comments
blog comments powered by Disqus
| | |
| --- | --- |
| #1 Sep 6, 2011 12:01:48 (Sep 6, 2011 12:01) | |




Nechrol

This should have been called "Mulholland Driver", but looks interesting. I'm not sure if I would be okay with purchasing Multiplayer within a system that already has me paying to go online in the first place. Unless perhaps it works separately with your 360 subscription. Also, I wished they would have included the unlock that allowed your car to travel on stilts. I also heard that maybe Call of Duty was going to try this tactic to squeeze more money out of people which I'm not too fond of.