Driver: San Francisco Review
A reboot of a classic racing franchise offers more than just a rehash of the original
Anytime that you Shift into a car with a passenger, it's bound to create an often awkward or even hilarious situation. As Tanner becomes the driver, their passenger could be in the middle of discussing their emotional breakup, speaking as a Pirate, or wanting you to impress them. As it happens, Tanner is quick on his feet and often attempts to continue the conversation he's just stumbled on to, resulting in some very funny lines of dialogue. As you drive with hectic pace, the passengers react as well, from screaming to let them out, to begging you not to scratch the paint, or indeed asking for more thrills. It's often very random, amusing, and Tanner's ability to either carry on the conversation or stop it dead in its tracks is the highlight.
For everything that a player completes in the game, be it drifting, narrowly avoiding traffic, or completing events, Willpower points are earned. Acting as the currency in the game, the points can be used to purchase new garages, cars, and abilities. There are over 100 licensed vehicles in the game, which keep the highways busy and provide many opportunities to Shift. Not only is it refreshing to see modern cars, it's also great that most are actually not supercars. It's a real thrill to finally find a Lamborghini or a Zonda cruising around the city that you can Shift to, or purchase it via the garage. This kind of realistic car selection is a refreshing change from the usual star-filled lineup of other racing games. And for those interested, there is indeed a New Game Plus option, allowing players to carry over all of their unlocks into another campaign playthrough.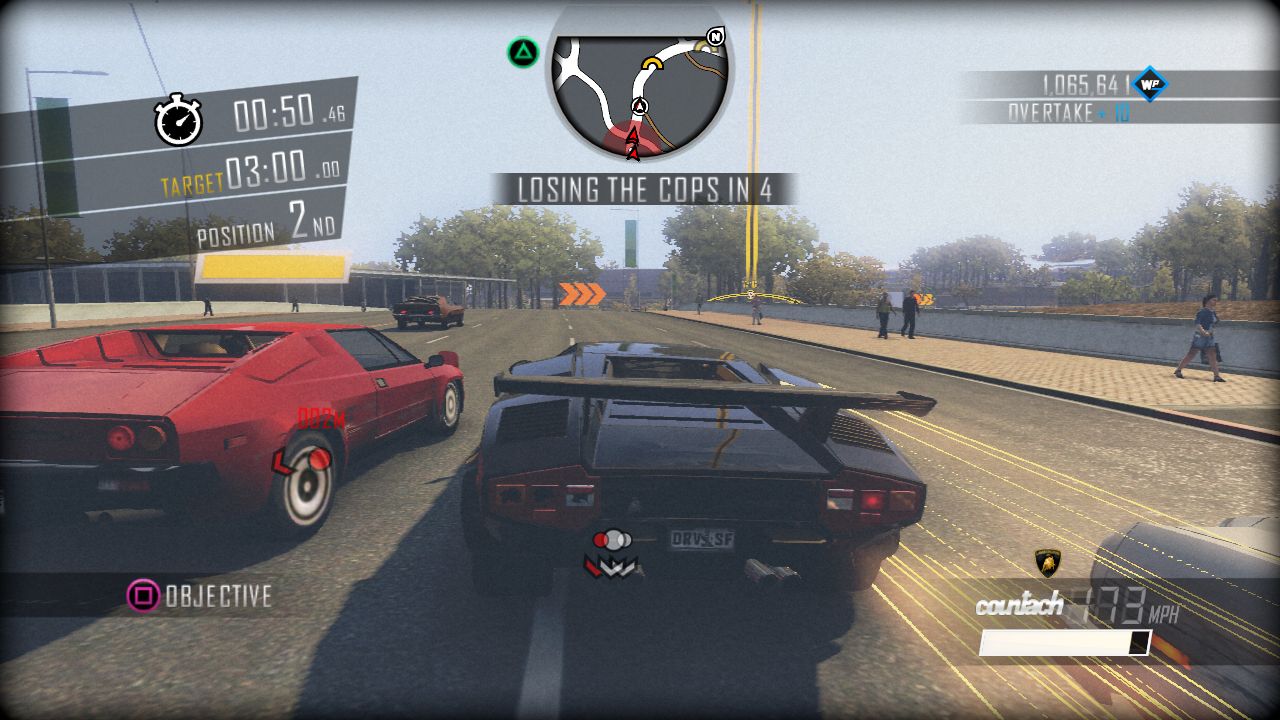 Once you are behind the wheel of a vehicle is where the game shines, as expected. The handling model in Driver SF is great fun, as it feels very arcade like, with an extra drift tendency. As the game does its best to recreate the feel of the 70s, most of the cars drift very nicely and are difficult but also fun to control. The game does get into a bit of trouble when supercars are involved, as driving a Corvette around a corner feels like you're on ice. But hey, at least it goes fast, as Driver SF handles the feeling of speed quite well. Even if you crash, there is always an opportunity to catch up as acceleration is handled well and there isn't Cars are designed with three stat areas and behave appropriately depending on their levels: speed, strength, and drift. All of the stats are clearly visible when in Shift mode, allowing you to pick and choose a ride before you make a decision. Not only that, a high-quality visual damage system is also part of the game, as windshields smash and scrap metal goes flying.
Where the game struggles a bit, as with many titles in the genre, is the AI. Tanner's opponents often pose respectable amount of skill, and regular races are a decent challenge. When it comes to chases though, the police AI are very unbalanced. Cops will be able to keep up with you endlessly, going at over 100 miles per hour in oncoming traffic lanes. It's frustrating to see, but take a few sharp turns and alleyways, and the police get left behind in a matter of minutes. This kind of AI is unrealistic and somewhat frustrating, but not as bad as the friendly AI. Indeed, any time that the player leaves his own car to Shift into another for whatever purpose, an AI driver takes over. This could often cost you the race, as friendly AI is unable to keep speed and will quickly drop you down from first into last place if left on its own for too long. Some races actually require a one-two finish with two vehicles, and as you get them both in front, players are forced to continue constantly Shifting between them in order to prevent one from surely falling into 3rd place or worse.
Comments
blog comments powered by Disqus
| | |
| --- | --- |
| #1 Sep 6, 2011 12:01:48 (Sep 6, 2011 12:01) | |




Nechrol

This should have been called "Mulholland Driver", but looks interesting. I'm not sure if I would be okay with purchasing Multiplayer within a system that already has me paying to go online in the first place. Unless perhaps it works separately with your 360 subscription. Also, I wished they would have included the unlock that allowed your car to travel on stilts. I also heard that maybe Call of Duty was going to try this tactic to squeeze more money out of people which I'm not too fond of.