Duke Nukem Forever Review
The ultimate mixed bag of old school FPS and underdeveloped design
Gameplay aside, one of DNF's biggest problems is the fact that it doesn't seem to understand its protagonist and even its own franchise's history at a fundamental level. The Duke Nukem of years past was a walking over-exaggeration of the clichéd 80s action hero with a love of all things manly. This love of manly pastimes can be traced back as early to Duke Nukem's very first entry, a 1991 DOS sidescroller in which you could collect footballs, entire turkeys, and soda (which would later become beer as gaming matured). In Duke Nukem 3D, the humorous and tame portrayal of a strip club under attack became a quintessential part of the franchise and even spawned the wonderful line "shake 'em, baby!" In DNF, almost all of these components are here, but for one reason or another, the developers decided the ultimately innocent portrayal of the nipple-tassle-laden strippers in DN3D just wasn't enough (sexually, offensively, or graphically).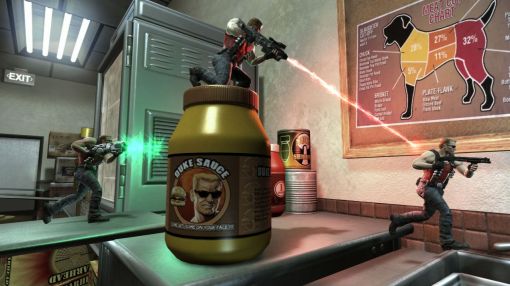 Replacing that memorable moment here is a wide and nearly ever-present array of bare breasted women, glistening and moaning. Whether it is within the confines of a strip club (found here with a much more realistic and adult atmosphere) or partially fused to an alien penis plant, you'll find it hard to avoid the awkwardly animated and embarrassingly over-the-top women of Duke Nukem Forever. It's a shame too because here Duke Nukem comes off as much less of a funny man and more of a disturbingly chauvinistic pig.
Aside from the game's singleplayer campaign, there is a standard multiplayer suite that was, quite literally, tacked on after the fact, and it feels like it. All of your standard deathmatch, team deathmatch, capture the flag (capture the babe), and control point modes are here along with a modern, persistent leveling system. Because all of the power-ups and weapons (besides the pistol) are scattered around each map in typical old-school shooter fashion, raising levels in multiplayer does not unlock new weapons or perks a la Call of Duty but instead, unlocks new items (and babes) for display in your apartment. Dubbed "your digs" by the game, this apartment is essentially useless. While there is a lot to unlock here, the reward for playing and doing well being a new rug or chair pales in comparison to a new weapon or in-game ability which has become the genre standard. DNF's multiplayer could have been far more fun if it had dropped these shreds of modernity, let you hold more than two weapons (so you didn't have to stop and press X to pick one up), and stuck with its roots. Instead like most things in this game, it is a mixed bag of mediocre components leading to a fairly forgettable experience.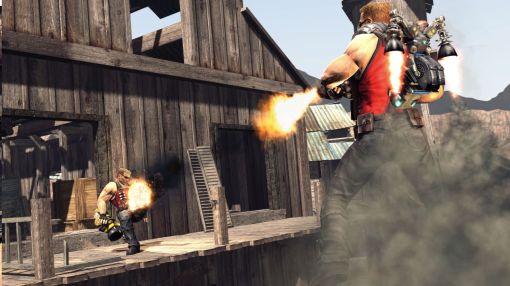 Duke Nukem Forever is the ultimate mixed bag. There are brief moments where some old school FPS fun seems to bleed through and when it does it is extremely refreshing, but these instances are so few and far between and have such a hard time finding a foothold amongst the game's ever-changing level and game design that you'll find the experience wearing thin prior to encountering the next genuinely fun moment. If it's vehicle levels, jump pads, destructible environments, physics puzzles, huge boss battles, turret levels, dated pop culture references, unnecessary fetch quests, more overly-shiny breasts than you've ever seen in a single game and extremely interactive environments that you are looking for, you will find them all and more here. Unfortunately, only one of these many, many design initiatives is executed properly or for long enough to feel like a cohesive part of DNF's overall gameplay experience.
Our ratings for
Duke Nukem Forever
on PC out of 100 (
Ratings FAQ
)
Comments
blog comments powered by Disqus