Fallout New Vegas: Honest Hearts Review
The second expansion for New Vegas offers welcomed exploration but the story and quests are disappointing
Honest Hearts is the second DLC for Fallout: New Vegas. It is set in the new and open location of Zion National Park. You arrive in Zion after travelling with a trading group who sends a radio signal across the Wasteland. Once in Zion you interact with some primitive tribes, inspired by Native American Indians, who have some strange views on the world. Your primary goal once in Zion is to get back to the Mojave wasteland. One of the tribal leaders, the Burned Man, will help you find your way home.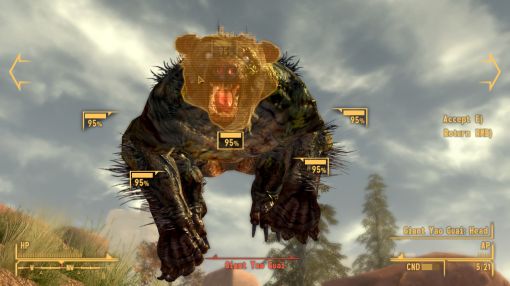 The Zion canyon is much more open than the previous DLC, Dead Money. There are streams flowing between the rock walls of canyons and ranger stations perched at the top of mountain ridges. Your primary enemy during this new adventure is a tribe called the White Legs. The leader of this tribe, Salt-Upon-Wounds, makes a cameo appearance near the end of the expansion. Although they look primitive, the White Legs carry modern weapons. You fight plenty of other creatures, some from the Mojave and some new ones. A new mutated Bear, the Yao Guai, moves with speed and does quite a bit of damage with his claws.
When playing Honest Hearts it will feel like you are exploring the Wasteland once again. You can walk in any direction and enter broken down burial sites, camping grounds or a general store. The structure of the canyon makes it hard to navigate in a direct line because large boulders or cliffs block your way. Even the AI succumbed to this problem with one enemy getting stuck inside a mountain. Signposts will soon have you back on track but don't be surprised if you have to run back to find your companion stuck against a rock. Poor rain effects have been added in this DLC which add a sliver of atmosphere but the quests aren't very involving.
Quests in this new DLC consist of various fetch tasks strung together in a bland way. First you find some items around the park for your tribal allies and then help remove some traps. One of the better quests asks you to find five lunchboxes in a general store. There are not a large number of quests or an interesting story behind most of them. They don't link up well at the end so you won't feel as though your energy has been well spent. The developer's affinity for bear traps continues with at least two sequences where you tediously disarm a series of them. Some of these traps hurt you quite badly but thankfully they aren't as prolific as they were in Dead Money.
At set points during the main quest you are given companions. These primitive companions provide some additional bonuses but don't help much in combat. It is very nice to hear them talk about locations or lore during long walks even if they repeated them. One of these companions was basically useless during battle, dying after only a few shots from the enemy. After giving this weak companion a good pistol they proceeded to waste scores of bullets and shouted, "are you sure this weapon works?" Thankfully the last companion makes up in offensive power what he lacks in conversation skills.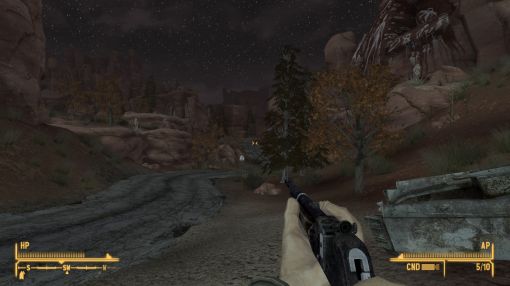 Although the general gameplay design feels like New Vegas this new adventure lacks the story and characters of Dead Money. It allows you to finish the main story quickly or explore at your own pace. You will probably discover almost all locations in under four hours while doing the main story quests. Unlike the previous expansion you aren't stuck in a maze like area fighting the same enemy over and over. More interesting dialogue, better story or a decent finale would have greatly improved the overall feel of this expansion
The open nature of this expansion pack creates a more natural and enjoyable experience. However the uninteresting story and drab fetch quests will probably make you want to leave Zion as soon as you get there. Given the solid finish to the last adventure this one will leave you feeling empty. If only they could combine the strengths of both expansions they could truly create a great DLC. The Honest Hearts DLC has problems, but explorers should get enough enjoyment from it.
Comments
blog comments powered by Disqus