Cities in Motion Review
A well made strategy game with a unique, though limited, appeal
Cities in Motion is a strategy simulation game which was developed by a small studio Colossal Order and published by Paradox Interactive. The game focuses on allowing players to create a complex public transportation system in a number of classic cities in Europe. It can be considered a spiritual successor to Traffic Giant, a rather similar game released quite a few years ago. There's no doubt that this is a niche title both in its appeal and potential audience, but the game has a number of well designed features that help its image. If you enjoyed Traffic Giant or even Transport Tycoon and are itching for a diverse strategy experience, Cities in Motion might be the game to check out.
The core of the experience lies with the campaign mode, though it's little more than a series of missions stringed together. After completing each scenario, it becomes available to play directly from the main menu. The scenarios see the player progress through the ages, from the 1930s to 2010s, and design a public transportation network in various cities around Europe. As players progress through the timeline, both environments and tools at your disposal change and evolve. Cities evolve and so do the transportation options and design requirements. However, there isn't any kind of plot or even characters to speak of in the campaign – as mentioned, it's just all of the game's missions put together in a particular order. For a strategy game, that's just fine.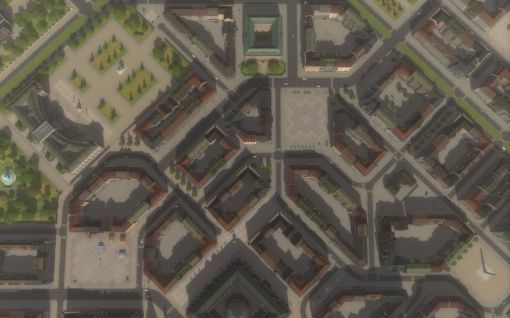 Each mission begins in a city with either very little or some existing public transportation. From there, the player is given continuous tasks throughout the game that they can complete for monetary bonuses. These objectives are revealed with time, so you can never know what the ultimate goal of the mission is until it's revealed. Objectives given are often varied, and range from connecting two different points of interest, transporting a certain number of passengers across a line, earning a specific number of money, etc. They are often fairly basic and give exact details on what needs to happen. Some tasks vary further, for example the game specifies that two points of interest must be connected by a particular transportation system (ie metro or rail). Cities in Motion does well to provide enough variety and mix up the order of the objectives to keep the game from feeling repetitive.
Basics of the gameplay in CiM consist of operating a public transportation system in a metropolis. If you've played Traffic Giant, you already have a pretty good idea of what to expect. Players are tasked with placing stops that cover highly attractive or populated areas, and then creating routes that run along those stops. This basic element extends from bus routes to water transportation, tram, and metro lines. Each type of transit stop provides a coverage area around it, thus predicting the expected number of people that will use the service. After lines are ready, players purchase buses, trams, and other vehicles and assign them to a line. Once ready, the line is open and shuttles begin their routes. Therein lies the fundamental mechanics of the experience, and if this doesn't sound interesting, then CiM is likely not the title for you. If it does, however, read on.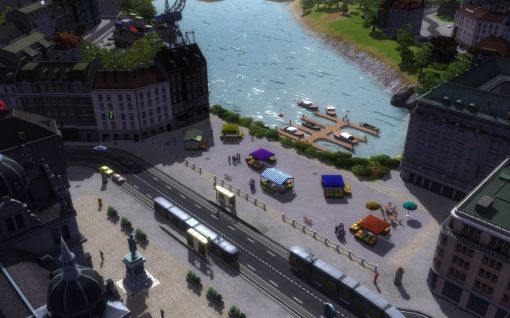 Once a few lines are up and running, and citizens begin to flock to your bus stops, some of the daily operational issues set in. Depending on the design and length of routes, multiple buses will need to be added to the line in order to prevent overcrowding and unhappy customers. On the one hand, a good design decision was made to simply have people leave the stop if they've been waiting for too long and have become too unhappy. This prevents endlessly unhappy locations from existing. On the other hand, unlike Traffic Giant for example, it's impossible to select where you wish to deploy your busses – thus, if there is a stop with a huge amount of unhappy customers, players can't choose to deploy an additional bus at that stop to begin its route. Other problems exist too, like the unrealistic extremely small capacity of some vehicles, and the overinflated likelihood of breakdown. Some stops can become crowded by as much as 200 people, which may not be realistic, but it serves the purposes of the game well enough.
Comments
blog comments powered by Disqus