Red Faction: Armageddon Review
Volition takes a gamble and loses by returning this destructive series to its linear roots
The Red Faction series has had a tumultuous history, from the intriguing linear adventure of the 2001 original to the joys of the open-world sandbox rendition of Mars found in 2008's excellent Guerrilla. The one common thread tying the entire series together has been environmental destruction, an element which Guerrilla took to a whole new level with fully destructible environments and game design choices that encouraged the player to make full use of the great physics engine and lay waste to the shoddy construction efforts of colonized Mars. The centrality of the destruction in this sequel made it an excellent sandbox game, and one would assume that after the success of the title, and largely positive feedback from the community, that the developers, Volition studios, would continue along this same path. Sadly this is not the case, for Volition opted to return to the series linear roots with the latest entry in the franchise: Red Faction: Armageddon.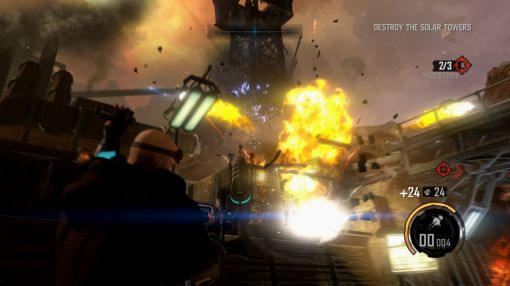 If there is one thing Armageddon does well, it's explosions
With Armageddon, the open world singleplayer campaign of Guerrilla has been replaced by a completely linear experience, with a story that moves in a new direction. Previous games in the series have all focused on the efforts of the Red Faction, a group of rebels among the repressed workers of future colonized mars. While Armageddon still involves this group, with you playing as the grandson of Alex Mason, the story now revolves around the appearance of some kind of extra terrestrial beings on the planet. That's right, aliens on mars. It isn't difficult to spot the massive influence that the Dead Space games have had on the series, but sadly the elements made those games so impressive, primarily the strong atmosphere and plot, are completely absent here. In Armageddon the destruction takes a back seat to the story and the aliens, something which greatly harms this sequel and causes it to have an identity crisis.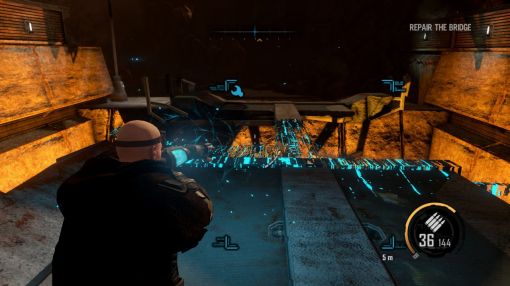 The repair ability is mostly used for simple tasks like fixing bridges
As a linear third person shooter, Armageddon can be a lot of fun, but inconsistent pacing and a few long, tedious levels bring the experience down significantly. The gunplay and enemy AI in Armageddon is quite good, and when paired with the creative weapons and destructive environments Armageddon can be a really entertaining experience. Some levels offer some freedom, numerous destroyable buildings and lots of different enemies. In these scenarios the combat can be a blast as you use the game's destruction-focused weapons to squash the often large numbers of foes you are forced to deal with. Sadly, for every such section there is another that involves tramping through a cave with few destructible objects and long strings of bland and repetitive firefights with the same combination of enemy types. These sections will test your patience more than your shooting skills, and often drag on for far too long.
Comments
| | |
| --- | --- |
| #5 Jun 24, 2011 11:50:51 (Jun 24, 2011 11:50) | |




with_teeth26

What made Guerrilla so great was that it combined some of the wackiness of the Saints Row games with fully destructible environments. The game also encouraged you to go off on your own endeavors to try and blow up buildings which lead to awesome unscripted battles. If you enjoy destruction you cant do much better.

| | |
| --- | --- |
| #4 Jun 23, 2011 23:55:05 (Jun 23, 2011 23:55) | |




sirdesmond

Guerilla is still a blast and can be procured for pretty cheap on Steam. Plus, it goes on sale A LOT. I think I got my copy for like $5.

| | |
| --- | --- |
| #3 Jun 23, 2011 03:33:16 (Jun 23, 2011 03:33) | |




nutcrackr

+1

Disappointing all round, I don't know really what Volition was thinking. They can't run with the big boys for TPS. They had a good thing going with Guerrilla, hopefully they refocus.

| | |
| --- | --- |
| #2 Jun 23, 2011 01:12:35 (Jun 23, 2011 01:12) | |




SpectralShock

Haven't been involved with the franchise much myself, but perhaps I'll look into Guerilla

| | |
| --- | --- |
| #1 Jun 23, 2011 01:06:45 (Jun 23, 2011 01:06) | |




sirdesmond

Such a shame they decided to take this route with the franchise rather than really hit things out of the park with a strong sequel to Guerilla (that retains that same style of play).