inFamous 2 Review
A sequel that does almost everything right, inFamous 2 is among the best PlayStation 3 exclusives to date
As the series doesn't seem like a good fit for multiplayer modes, developers instead created a user generated content engine. Whenever playing the game, green mission markers placed throughout the world indicate that a user-created mission can be played. It's all very similar to other Sony titles such as LittleBigPlanet, where users can create and publish their missions online, and others access them via their own single player campaign. The tools for creating UGC (user generated content) are very robust, allowing for some complex scenarios and AI scripting. However at this early stage, most missions are either broken or impossible to complete thanks to a purposefully extreme number of enemies. Some great levels already exist though, and they are more than just variations on the game's side missions (though those are still the dominant as featured levels).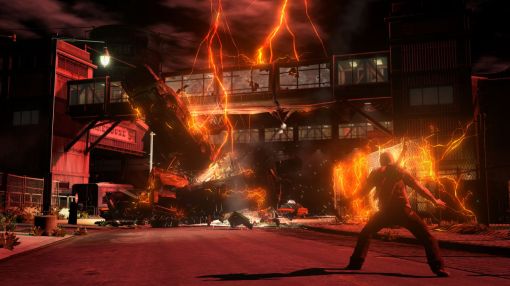 inFamous 2 is set in New Marais, the style and architecture of which is very reminiscent of New Orleans. The game approaches the setting from a very respectful angle, showcasing both the bright lights and verandas of the red district as well as the shacks and collapsed buildings in the flooded areas. Although the world is a bit more unique and diverse than Empire City, many of the textures will look familiar to those who played the original. What won't be familiar is the look of Cole as well as his voice – a decision by developers which remains groundless. The new look and voice actor of the protagonist do nothing to either improve or degrade the experience, and even though players will get used to it, there is little reason we didn't get the original Cole in the sequel. Well, at least overall the game looks much better, with higher resolution textures, high contrast lighting, and great destruction effects. The soundtrack is good, but often gets lost in the ambient sounds of the world.
What the original inFamous established as an original but sometimes unpolished experience, the sequel takes to a new level. The gameplay hasn't changed much, which is perhaps the game's weakest point, but it remains unquestionably fun and that's more than enough for most. Action has been ramped up with updated animations and devastating Ionic powers, and platforming still feels like a great mix between realistic and superhuman. The side missions and shards can provide many hours of exploration and roaming in New Marais, while the main story is also quite enjoyable. User generated content introduces the notion of a connected experience, and a possibility for potentially endless amount of side quests to try. For fans of the original, this is a must-buy, and for the rest of us, it's a very fun superhero action romp that comes easily recommended for all PlayStation 3 owners.
Our ratings for
Infamous 2
on PlayStation 3 out of 100 (
Ratings FAQ
)
Comments
blog comments powered by Disqus