The Darkness 2 Preview - E3 2011
E3 11: New development team takes on a stylish sequel
It has been 4 years since the original Darkness title was released. The license for the game was on shaky ground for a while, but now the path is clear and The Darkness 2 is set to release this October. Hitting the PC in addition to Xbox 360 and PS3, the sequel once again follows Jacky Estacado, a member of the New York mafia, as he struggles to survive while also controlling his dark powers. Needless to say, this preview will likely contain some story spoilers, so if you haven't played the original, you should. We had a chance to catch up with Darkness 2 during E3 this year, in a session hosted by the game's lead designer and producer.
Darkness 2 picks up two years after the events of the original game, with Jackie now at the helm of the mafia family. He hasn't needed to use his Darkness powers for a similarly long time, as there was no need nor desire for him to do so. However, a mysterious group has emerged in the city, and their sole goal is to take away Jackie's powers for themselves. They kidnap him, and he's only able to break free by unleashing the monsters within. Thus begins his journey to discover who's after the Darkness, and how to stop the dark power from taking over the city. A demo being shown took place at an empty carnival, where Jackie has tracked down the leader of the group.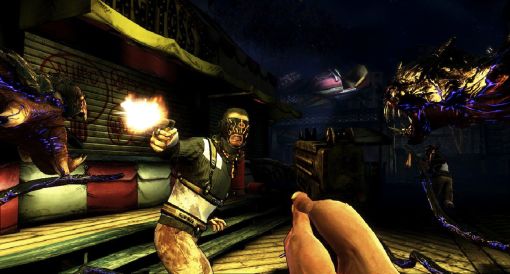 The Brotherhood organization, as they call themselves, is a much tougher enemy than the thugs Jackie faced previously. This organized and skilled group has actually harvested the power of the Darkness on previous occasions, thus giving themselves supernatural abilities, but also losing their souls to it in the process. Upon entering the carnival grounds, the familiar and haunting voice of the Darkness reminded Jackie to remember to harvest the hearts of fallen enemies. Jackie responded without many pleasantries, which developers pointed out. Having been kept locked away for so long, the Darkness and Jackie aren't on best of terms, but need each other to survive.
Facing new enemies will present players with new combat mechanics. As the Brotherhood is fully aware of Jackie's abilities, they will utilize this knowledge to their advantage – throwing flashbangs and directing bright searchlights towards Jackie is a common tactic, as this renders his Darkness powers useless. The players must always try to stay in shadows in order to regain health and use their abilities. Thankfully, the carnival grounds were fairly dark, and dispatching the groups of enemies wasn't too much of a problem.
Just like his enemies, Jackie has a few new tricks as well. What the developers call quad-gameplay, players can use their Darkness demon arms and powers while still firing conventional weapons. It sounds tricky in terms of controls, but since the game wasn't playable, it's difficult to accurately predict. The Darkness also used a multitude of executions which are brutal and visually visceral. Players will also be able to use the environment a lot more, for example throwing objects at enemies or using a car door to as a shield.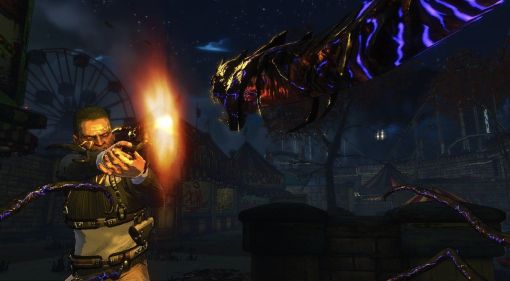 A talent system also exists with the game, with various branches that can be upgraded. For example, unlocking the weapon branch allows Jackie a temporary boost where his weapons fire endlessly and need no reload. The previously mentioned hearts of dead enemies will be the key source of upgrade points. Developers also showed off the new Black Hole power, which sucks everyone and everything out of the area, clearing the path forward. The demo actually concluded with Jackie being capture by the very leader he arrived to find.
What immediately stands out for Darkness 2 is its unique graphical style. It's very comic-book focused, with bright colors and high contrast. It's not quite cell-shaded like Borderlands for example, rather presenting an interesting new look that hasn't been done before. Following up on the original game is a difficult task, given its strong story and a vastly unique experience. New developers Digital Extremes, taking over from Starbreeze Studious, have a challenge on hand, but from our E3 demo it seems they are well up to the task. The Darkness 2 is set to release this October, and it promises to be a nightmarish experience well worth checking out.
Comments
blog comments powered by Disqus