Forza Motorsport 4 Preview - E3 2011
E3 11: Taking racing into a new dimension
The Forza franchise has been a staple for Microsoft consoles through the years, in the same way that Gran Turismo has represented simulation driving on Sony's platforms. Though of course, the Forza games have been arriving much more frequently, and thus delivering an arguably equivalent experience without a multi-year wait. With Forza 4, Microsoft and Turn 10 look to continue developing their brand into a strong contender in the genre, this time by offering a host of new features and Kinect implementation. We had a chance to see the game at this year's E3, and find out some new details directly from Turn 10.
Our Forza 4 demo was hosted by Bill, lead designer on the game. He mentioned that this time around, the game's focus will be on the single player career, online connectivity, and new features. The prominent new gameplay experience offered by Forza 4 is the Autovista – this is the mode where players are able to view and interact with cars in a realistic 3D space. When combined with Kinect, Autovista becomes a very cool and almost realistic experience as players can perform actions such as moving towards and away from the car in real time. The multiple cars available for Autovista were selected not just based on their popularity, but also possible cultural or historical significance.
All of the included cars have multiple points of interest, which allow for player interaction such as opening doors, getting inside the car, and getting narrated information about the vehicle. Turn 10 partnered with Top Gear to provide a number of special cars to the mode, as well as to secure the voice of Jeremy Clarkson for various info spinets and even funny one-liners. As well as Autovista, the actual driving in the game supports Kinect functionality, though it acts on a basic level. Players hold their hands in the air to hold the wheel, and steer as you would a real car. There isn't much tracking for braking or acceleration, so this is a purely arcade experience. There's also head tracking with Kinect, and though it works as expected, it's once again an arcade feature that likely won't be used much by the hardcore racing audience.
The single player career has been streamlined for Forza 4, with some welcome changes. The game's World Tour mode is now at the center of the experience, offering a variety of locations across the globe in a wide range of skill divisions. To break up the standard fair of completing races and upgrading your cars, there are challenge events that introduce specific goals to the race. For example, a player might be challenged to pass a certain number of cars within a lap, or before time runs out. Progressing through the career will once again earn drivers prize cars, though this time 3 cars will be offered to choose from, instead of just one. At the end of a season, there is a championship mode where a few races are stringed together with accumulated scores and no loading times.
One of the cool changes to how the game presents races in single player mode is the personalization. When you purchase a car, customize and paint it, the game will automatically select the best available events to participate in, based on your car. So when playing through the career mode, players will actually be able to use their favorite rides much more often than in other games. In the race, the controls in Forza 4 have been adjusted to allow for all difficulty settings, so that players regardless of experience can enjoy the game. There are multiple assist levels that will let drivers further customize the difficulty of controls.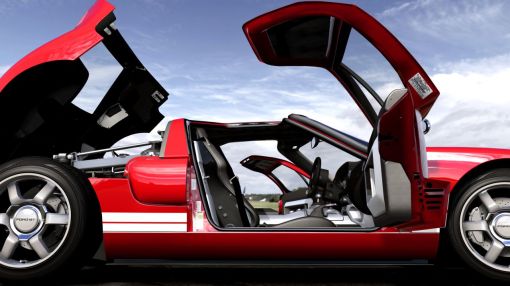 On the multiplayer side, Forza 4 will feature a Club system. Clubs function as one would expect, offering players to join together in groups based on similar hobbies or interests. Car customization clubs, racing clubs, and private friend clubs are just some of the possibilities with the system. A new rivals system will allow players to compete head to head against others for podium finishes and driver reputation. Online play has been doubled to 16 players per race, too. For those not looking to compete, there will be online leaderboards based on race challenges, with a bounty placed on the leaders. Players can try to beat the challenges at any time, and overtaking the leader would earn big XP and money.
Though not much was revealed about the game's engine, a new lighting system was promised to make the cars and tracks look more realistic. Turn 10 actually approached various tire manufacturers for their data, and have completely rebuilt the game's tire performance and data. On the topic of DLC, it will once again be fully integrated into the game - even so your offline opponents can use the downloaded cars. Overall, Forza Motorsport 4 looks like a title that will meet fan expectations in adding significant features to the franchise. The game is set to release this fall on Xbox 360.
Comments