Witcher 2 Xbox 360 Preview - E3 2011
E3 11: We get a first glimpse at the console version of the popular RPG
Even when the original Witcher from CD Projekt Red released on PC, the developers were hard at work trying to find a way to bring their game to consoles. For a while, White Wolf was named to be the game that console players would be able to enjoy. Unfortunately, and due to various circumstances, the game ended up being canceled. Now that Witcher 2 has arrived on PC, with much critical acclaim (including our own), the developers have officially announced a console effort for the title, in particular an Xbox 360 version.
The developers promise that Witcher 2 on Xbox 360 will be just as dark and action packed as the PC version, but with many elements being tweaked such that the game isn't simply a port. Given CD Projekt's track record, one is bound to believe them, even when it's common in today's industry to simply copy the code from one version to the next. The philosophy of developers is adaptation, not porting, and it might very well pay off. In addition, all content that has so far been released for PC will be included on disk with the Xbox 360 version. Unfortunately, the developers were not sure if they'd be able to offer free DLC on the Xbox post-release, as Microsoft is very much against such things.
The demo being shown at E3 was a pre-alpha build of the game, and it consisted of the same level that was previously used to showcase the PC version. Starting off in a dungeon, Geralt was faced with making his escape through any means necessary, be that stealth or combat. The developers demonstrated how we'd be able to sneak past the guards for silent takedowns, and escape the dungeon without setting off alarms. In an alternative demo version, we were shown how fighting our way out changes the experience.
Though this was an early build, the game looked quite good on the Xbox 360. Comparable, it was likely running at medium-low PC settings, which is standard for cross platform titles these days. The characters were detailed and animations fluid as you'd recall them to be on the PC. Same game engine is being used to build the Xbox version, thus there will be no loading times. The devs did mention that the game's engine is indeed PS3 compatible, so a version on that platform would be possible in the future.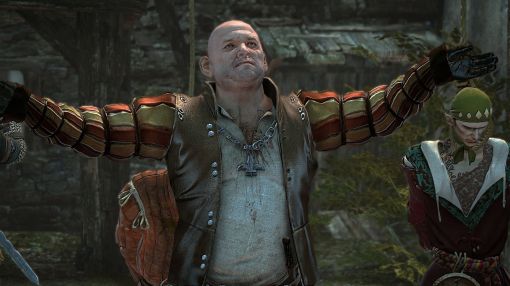 Because the original Witcher didn't make its way onto consoles, CD Projekt Red still faces the issue of introducing new players to the world – something that it didn't do very well with Witcher 2. There is no word yet if any extra pre-game content will be included to familiarize players with previous events. Thanks to the game's large amount of dialogue and story options, the game is expected to ship on 2 Xbox 360 disks.
Even when playing the PC version, it was possible to see that some of Witcher 2's aspects were designed with consoles in mind. As developers admitted, it won't be a complex process to adapt the game for Microsoft's console – finally brining a new hardcore RPG experience to the platform. For an early version, the game looked solid, with no framerate issues or loading times. So if you happen to miss Witcher 2 on PC, the Xbox 360 version looks to be a good alternative when it releases at the end of this year.
Comments
blog comments powered by Disqus