Prey 2 Preview - E3 2011
E3 11: Going bounty hunting on alien worlds
As sequels go, Prey 2 isn't quite what you would expect. In fact, the game has very little in common with the original from 2006. While Prey was an OK shooter with some interesting mechanics, nothing quite stood out to make it a memorable title – so with Prey 2, re-imagining the franchise might give it another chance at captivating players. Coming once again from Human Head Studios, but this time published by Bethesda, Prey 2 is a completely new and intriguing experience that could be a rather unexpected pleasant surprise when it releases.
The story of Prey 2 focuses on U.S. Marshall Killian Samuels who, following an airplane disaster, ends up on an alien world of Exodus, where he appears to be the only human. This is nothing like the alien ships from Prey, instead we're faced with a fully functioning futuristic civilization, inhabited by advanced humanoid creatures. It's an interesting new world that's just asking to be explored. During E3 2011, a demo being shown covered some of the new gameplay mechanics that will be in Prey 2, as well as the overall progress of the game.
At the start, the player is facing a vast street, where he is able to freely walk about. There are random events in the world, such as harassment taking place nearby – the player can choose to get involved, or keep walking by. As we enter a night club, a message arrives via our cellular phone – a client wishes to capture a bounty, and proposes a sum for a successful capture, dead or alive. The suspect in the club realizes we're after him – and runs. To save some time, the player pulls out his rifle and takes out the target. Moments later, as death is confirmed, funds arrive in our account. Simple, to the point, and the cops don't usually get involved unless civilians are hit.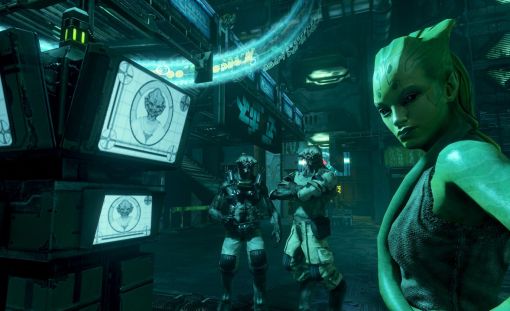 To keep things balanced, there is a reputation system in the game, thus hurting bystanders will hurt the player's rep, and make it harder to find new contracts. Player will also almost always hide his weapon, in order to avoid attention – which makes it for an effective mechanic when pulling out your guns can intimidate others during conversation. Lacking a weapon when exploring the world also adds immersion, as the game lacks a UI.
Money is key to your profession, as it allows for weapon upgrades and other bonuses that make it easier to capture bounties. New targets arrive via a bounty line – a sort of hub that tracks all jobs that are available, and will also be used to deliver a narrative in the campaign. A high priced bounty appears on the list, as a target is wanted alive. However, the location is not known, thus we are first required to visit an informant and retrieve the location. Upon meeting up, the information dealer demands a price to release the location of the target – at which point we take out a shotgun and blast away his body guard. The intimidation trick works, and the informant gives us the bounty's location.
We arrive at the warehouse, and through our special visor, are able to pinpoint a large number of enemies sin the area. To make things a bit easier, we grab hold of the target's advisor as a hostage, who was standing outside, and enter the room. The target doesn't seem to care much, and shoots right through his pal, causing the player to dive for cover. The gunplay in Prey 2 is interesting, to say the least, as it mixes classic shooting mechanics of a solid modern FPS with the first person platforming, akin to Mirror's Edge. The player can take cover and shoot as in any modern title, but he's also able to power slide, jump and grab on to ledges, and fire from many angles. It looks to be both fun and functional, but it's hard to tell for sure without having a hands-on session with the game.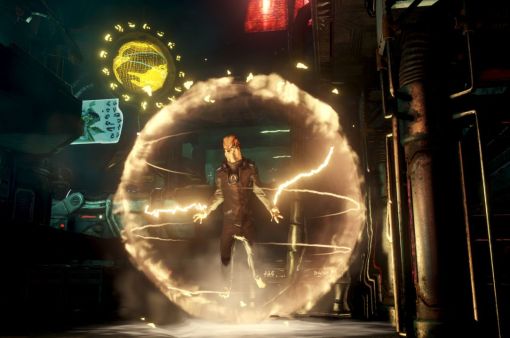 Thanks to the player's bounty suit, we're able to keep firing the rifle while also shooting small rockets from our shoulders, making for a wild shootout. In addition to the wide variety of guns, the game also has various gadgets and grenades to spice up the experience. For example, the player can deploy shields, fire different types of rockets, or throw anti-gravity grenades, thus revealing enemies from their cover. After dispatching all the body guards, and a parkour-like chase through the busy streets, we finally catch up to the target. Even at this stage, there are choices to be made, as the wanted alien offers to double the contract money on his head, if we let him go. This would mean double-crossing the client, and would result in new situations and bounties later in the game. To be an honest bounty hunter, we capture the target – but even here, we're able to see if he has any interesting information before sending him off to the client. We can torture the captured alien
for intel – but doing so too much could kill him, thus negating the bounty.
The game also looks quite good – from the neon lights on the street to the dark alleys and detailed character models. As mentioned, a lack of UI really adds to the visual fidelity of the alien world. Prey 2 has little in common with the original Prey, but that's not necessarily a bad thing, even for a directly named sequel. The game offers a strange yet ultimately exciting mix of cover-based action, RPG-like decision making, and first person platforming. Only time will tell how well these elements mix together in the final product, but from what we saw, this is an ambitious effort worth getting excited for.
Comments
blog comments powered by Disqus
| | |
| --- | --- |
| #1 Jun 13, 2011 22:03:22 (Jun 13, 2011 22:03) | |




nutcrackr

+1

This game sounds really good. Loads of potential with a sci-fi open world bounty hunter setting. What a step away from the original, hope it works out really well.