Batman: Arkham City Preview - E3 2011
E3 11: The Dark Knight returns, this time with a sexy companion
During this year's E3 proceedings, it was a busy show, but even so it was hard to miss the massive Batman display that was setup by Warner Bros. It was, of course, to promote the new title in the series, Batman: Arkham City. Following a surprisingly successful Arkham Asylum, the superhero is set to return in a more open environment with many new characters, gameplay improvements, and overall fan service. We had a chance to attend a presentation that was exclusive to the media, and not being shown anywhere on the exhibit floor.
The development team conducting the presentation was quick to note that Arkham City's goal was to present players with fleshed out mechanics, new gadgets, and characters. As the demo began, it was immediately evident how small Batman was compared to the world that has been created around him. Standing on top of a roof, the huge city was sprawling in front of our hero. A key element that will take advantage of this new, expansive world will be the travel system. It is now possible to traverse from one location to the next without touching the ground – the gliding and grapple hook mechanics have been revamped to allow seamless and continuous travel. As we watched, Batman jumped off the roof and began to glide across the night sky, occasionally using his grappling hook to propel himself further along the streets.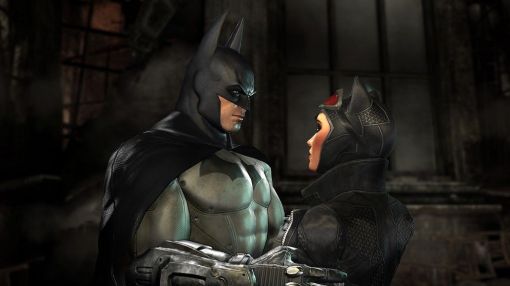 At a particular location on a rooftop, a prompt appeared for Batman to "take a break". Activating this prompt, Catwoman has entered the scene, offering to take on the crime fighting responsibilities while Batman can take some time off. Now, the player was in control of this new character. As the developers described, Catwoman's story will be seamlessly integrated into the game, and the player will be able to switch between the two playable characters when the story allows for it.
There are some similarities when playing as Catwoman, but some notable differences as well. Catwoman is much more agile than Batman, as she's able to scale buildings at a much quicker pace. She also uses her whip to traverse the environment, though she can't glide or fly of course. Thanks to her elegance, many of the combat moves and general animations are totally different from Batman's. Much like Batman using his grappling hook to travel and to fight, Catwoman can use her whip for both purposes as well, introducing a new range of combat options. The AI in the game will be up to the challenge though, as the enemies are now in random patrol patters, so it's impossible to predict, even for developers, when the opportunity will arise to attack.
To continue the mission, Catwoman descended into the sewers to recover important documents. Here, we were introduced to a unique ability to crawl on the ceilings if they allow for it (ie nets). As such, she was able to clear an area of guards by stealthily dispatching them when alone. The gameplay is much more stealth focused for Catwoman, as she knocked out the guards with a choke move from the ceiling .She's also able to drop down right behind guards and pickpocket them, without being spotted. The detective mode also functions differently for Catwoman, instead highlighting important objects in the environment, and also the ceilings that she can jump to.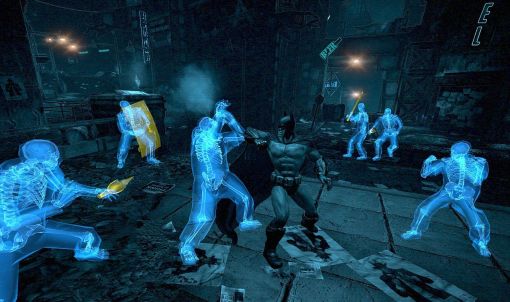 Having reached the documents in the sewers, it wasn't revealed what was actually found. Then once again, the game jumped to Batman inside a prison, where he was faced with the Penguin. Uniquely designed, Penguin teased Batman with the usual threats, and then unleashed over 40 enemy thugs to take him down. The developers running the game tried their best to put together a string of attacks, reaching over 20. This was a good showcase of Batman's refined acrobatics, as he can now disable enemies in a wider variety of ways, and use their weapons against them. It's as smooth as we remember the combat to be from Arkham Asylum.
To conclude, the developers noted that there is still more enemies and game features to be revealed in the coming months. The demo for our session was running on Xbox 360, and the game looked quite good. The city was detailed, and framerate smooth even during large enemy numbers on screen. Arkham City is looking like a solid follow-up to what was an already surprisingly good game, and fans have the green light to get excited for this one too.
Comments