Saint's Row: The Third Preview - E3 2011
E3 11: Fans of the ridiculous, pay close attention
Among the most risqué titles at the E3 2011 showcase would have to be Saint's Row The Third (aka Saint's Row 3). From risky advertisements to hilarious promotions, SR3 looked like a fun title already. After having a look at a live gameplay demo though, it's a sure bet that this open world action game will easily find its audience. As the series has often been differentiated from other open world games like Grand Theft Auto thanks to a wide variety of random hilarity and randomness of the experience, SR3 aims to continue that trend. From what we saw, it will be a perfect title for those who seek an outrageous experience.
The action takes place in a fictional city of Steelport, where two rival criminal organizations, Saints and Syndicate, reside. It's a city that's not as glamorous as Stilwater from SR2, and the story also picks up where SR2 events left off. In the open world of Steelport, players will find all the expected gameplay on offer – exploration, side missions, interesting locales to visit, etc. The city is the player's sandbox, and merely plays a passing role in the experience, together with the story. Main hook to play SR3 has to be the absurdity of it all.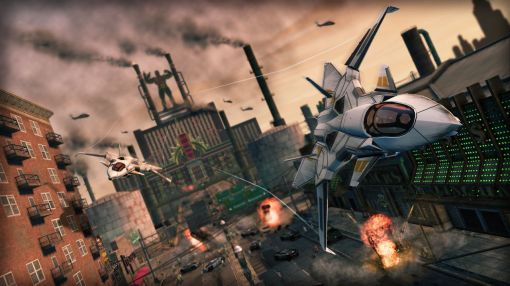 Drop kicking women in the street. Assaulting homeless people with an oversized sex toy. Using apocalypse gloves to explode victims to shreds in a single punch. If any of this sounds hilarious, that's because it is, and Saint's Row The Third is a perfect game for you. The sheer randomness of it all had the demo audience laughing rather hysterically. Now, you may think that this type of humor isn't clever nor very engaging – and you're right, it isn't, but unless you're some kind of high-browed serious man, it's a sure bet that the shenanigans in Saint's Row 3 will have you at least slightly amused. The gameplay possibilities are ridiculous, and it works.
Let's say you're faced with a group of enemies. In other games, you might start to consider your ammo, health, and escape routes before attacking – in SR3, you call in a personal airstike. Yes, you read correctly, a small airstrike to get rid of a helpless group from the enemy faction. The game includes a variety of side missions, based purely on destruction, such as a tank rampage in the city. The whole goal is to use the tank to destroy and kill as many enemies as possible. A clothing shop in the game will allow for endless customization – from being totally naked to wearing bunny suits.
City of Steelport will also have a full set of whacky vehicles at your disposal. Because the player is part of the Saint organization, a personal VTOL is available, which can be very useful in escaping or taking on enemy forces. The jet can fire both rockets and lasers, offering fun destruction possibilities. A special truck with a cannon on the roof lets you suck up helpless pedestrians, and then fire them up into the heavens. The developers promise that the world will be simply filled with similar outlandish tools to help players cause havoc in the most ridiculous way possible.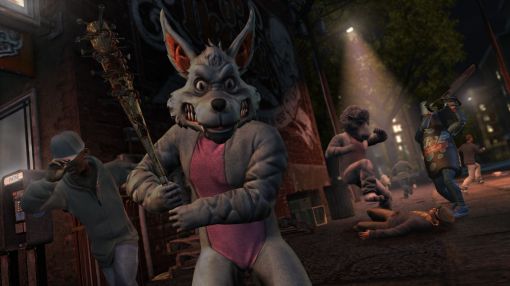 After exploring the open world, the demo moved on to one of the story missions. In this setup, the player and his accomplices were to rob a bank. From here, it was a fairly straight forward action sequence, shootouts with armed guards, and making their way to the vault. Even then, developers threw in some fun stuff, such as bank clients lining up for an autograph and to take a picture with the bank robbers. Otherwise, it was a fairly generic third person action sequence. Upon reaching the vault, and being unable to open it, the team decided to airlift it right out of the building instead. However as more police arrived, the helicopter was overwhelmed and shot down, causing the team to get captured. At this point, the demo concluded.
If you've played previous Saint's Row titles, you can already know what to expect. An open world with a ton of absurdity and crude humor, wrapped in a storyline and side missions to keep the action going. It's certainly filled with potential of hilarious situations, but perhaps it faces a problem of repetition, as seeing someone kicked in the groin can only be funny for so long. Otherwise, Saint's Row the Third promises to be a wild continuation of the franchise that will offer an alternative to the generic everyday third person action games.
Comments
blog comments powered by Disqus