E3 2011 - The Predictions and Retrospects
Electronic Entertainment Expo is almost here, so we make some predictions and look back at last year's show
E3, the Electronic Entertainment Expo, or, for more effect you could try pronouncing it "eeeeeeeeeee", a sound akin to the one you might make as you're falling down a well.
The land of booth babes, sweaty dudes, and people making fools of themselves on dance software. The event, most probably the biggest in the industry, is taking place in the city of angels, L.A. Over the next several days, we'll see both the big hitters and the smaller companies in the games and entertainment realm.
Last year we were privy to Microsoft's 'Kinect', and with this, we saw such delightful acts as a guy kicking the crap out of rogue balls of flying paint. Interesting note, this was supposed to be a game, wherein you, the protagonist went on a murderous rampage on a corrupt paint supplier after your lover was killed in a disaster in a mixing plant. Harrowing stuff.
As with most of the 'fitness' and 'casual' games that were the primary release for these devices, it didn't really cut it anymore to have some portly executive try and demonstrate the finer points of these games without him having a stroke mid Pilates exhibition.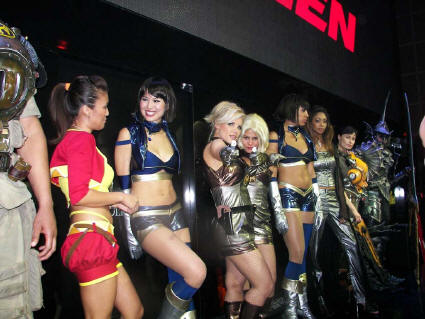 So, expect to see many 'talking head' professionals discussing the myriad benefits of these products to an audience somewhat distanced from the idea that games should be physically taxing on the body. This however, I suspect will extend far beyond simple fitness games, I wouldn't be surprised to see military, musicians and other professionals outside of games expressing their love for numerous IP's.
We also had the 3DS, which came with a free migraine in my case after I played with it for a while; I'm a big fan of added value. Though I won't be forking out for it until something of worth in my eyes is released, not, I repeat NOT a rehash Nintendo.
Perhaps the biggest piece of news for this year's event will be the unveiling of Nintendo's new console. One can only wonder what it will be like, and there has been lots of speculation as to what the specifications will be. Will it be more powerful than the PS3 and 360? Will there be a large touchscreen? Will it be a full lycra bodysuit that runs on our dreams? It's pure conjecture, however I'll be interested in how they attempt to re-invent the wheel again. And you can bet that when it comes to presentation time all backsides will be glued to those uncomfortable plastic chairs.
Comments
blog comments powered by Disqus