Motorstorm Apocalypse Review
A solid racer that adds noteworthy features to the franchise
The game also features a variety of multiplayer options. Players can do quick races online in either chase or eliminator modes, with offline split-screen. When going online, the game supports large lobbies that encourages player voting for the next track. There is also a unique betting system, which lets players bet either on themselves or against those who they think they can beat in a race. This earns you extra credits towards leveling up, which itself unlocks new items and perks. Players can select up to 4 perks, which range from extra damage during crashes, boosts of speed, higher engine heat threshold, and others. As more are unlocked, it can become a very strategic decision on what loadout to bring in each race.
Sadly, it has to be said that Motorstorm Apocalypse suffered from a perfect storm of bad luck (no pun intended). The game was released in Europe in March, with the release in North America set to follow later, in April, for reasons unknown. Due to the tragedy in Japan, the game's release was then further delayed to May. In yet another occurance, the PSN has been down for over 3 weeks between April and May, which is when Apocalypse was released. Now that game's finally out, there seems to be very little interest – an effect best seen in empty online lobbies, and that's unlikely to change.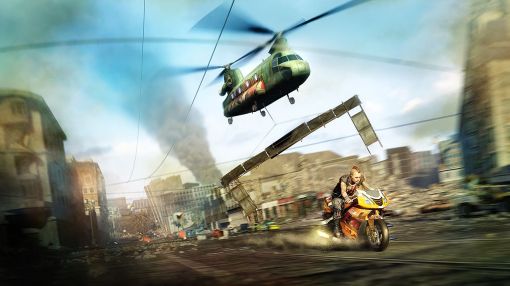 Apocalypse is uniquely presented, not just because it has a story to follow along with, but also thanks to the interesting graphical style used. The Festival mode progress is presented with comic book style animated cutscenes, which are well drawn and add flavor to the game's presentation. The in-game graphics are good as well, though sometimes the textures aren't very sharp. Nontheless, the destruction often looks great and vehicle damage models are detailed well. The game's soundtrack is also a standout, with some mixes from DJ Shadow, though the number of songs is lacking.
Motorstorm Apocalypse is a fitting entry in the PS3-excuslive series that tries to bring something new to the franchise. The game's main hook – deforming environments – is well designed and implemented, offering exactly what players might expect. The destroyed city is an interesting and unique location that is also immersive thanks to the addition of the ongoing human conflict. The racing is signature Motorstorm style, which means many crashes but also fair respawn timing. Sadly, due to a variety of factors outside of the game's control, the multiplayer lobbies sit empty just a week after release. Apocalypse is a solid chapter in the Motorstorm franchise that brings something substantially new to the table, and though it may not always be perfectly executed, it's a well-made racer nonetheless.
Our ratings for
MotorStorm: Apocalypse
on PlayStation 3 out of 100 (
see how we rate
)
Comments
blog comments powered by Disqus
| | |
| --- | --- |
| #1 May 25, 2011 12:36:39 (May 25, 2011 12:36) | |




sirdesmond

Sad to see this game had to release when it did. The earthquake in Japan delaying it mixed with the PSN being down was a one-two punch creatively interesting games like this don't need...