Brink Review
An engaging online multiplayer game that falls short in some aspects
Coming to us from Splash Damage, the developers of the much-beloved Wolfenstein: Enemy Territory, Brink is a class-based FPS that blends the archetypal shooter class types with heavily objective-based multiplayer gameplay and unique first-person traversal. Since it was first teased almost two full years ago at E3 2009, Brink has seen both its fair share of hype and delays, originally being slated for Spring of 2010 but eventually being pushed back to the Fall and then finally the Spring of 2011. Normally, when a game sees many delays it isn't a good sign. It means that things are going a bit wrong, aspects still need to be tweaked, or bugs need to be fixed. So does Brink live up to the hype it has received over the past two years, or is it just another example of how the oft-delayed g
ame still comes out a bit half-baked?
The answer, of course, is it's a little bit of both. Portions of Brink's hype, mostly those surrounding its multiplayer experience, are easily lived up to, but others, notably those teased the earliest on in Brink's development timeline, fall well short of even being generally acceptable.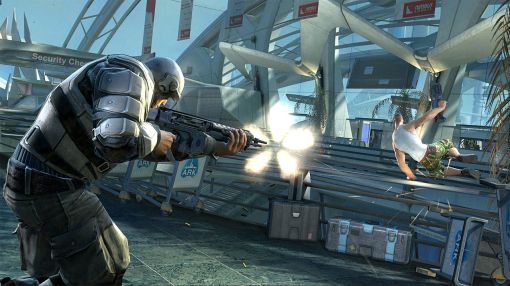 Visually, Brink is a striking game. With wonderfully animated, if brief, cutscenes scattered throughout the gameplay experience, uniquely European character designs, and a sleek and effective UI, Brink stands out from the crowd of first-person shooters we have been subjected to throughout the last several months. That said, the game's setting, humanity's final refuge after what effectively boils down to an apocalypse dubbed The Ark, visually fits along the lines of Brink but does so in a much less inspiring way than the over-exaggerated, hyper-realistic character models. Maps tend to vary between standard sleek, clean high-tech areas comprised mostly of soft colors and ramshackle environments with walls and buildings made up of rusting storage containers and industrial piping. In these latter levels, it is hard to remember any sizable portions that weren't mostly rusty-red or orange in color. Both map types lead to relative visual boredom after the first few matches. It would have been nice to see Brink's exceptional design in some areas carry over to the maps as well, especially considering that this is a game played in the first-person perspective. Your character might look awesome on the menu screen, but due to the nature of the game, you'll find yourself looking at the not-so-nice environments more than you will your awesome character.
Comments
blog comments powered by Disqus