SOCOM 4 Review
A capable third person shooter that doesn't quite live up to potential, but may still surprise you
SOCOM 4 is the first full featured game in the tactical shooter series on PlayStation 3, following the online-only SOCOM: U.S. Navy SEALs Confrontation in 2008. The SOCOM series has now spanned many years and platforms, but has remained an exclusive Sony brand. SOCOM 4 continues the trend, introducing players to the role of a squad operating in the middle of a civil war conflict. The game puts players in command of a squad of soldiers with varying specialties, allowing you to control their every move. As expected from the series, multiplayer is robust but is also rather fast paced and not without some problems. The campaign gets better as it progresses, and while there are some gameplay issues worth mentioning, the overall experience can be rather enjoyable.
In the single player campaign, players assume the role of Cullen Gray, also called the "Ops Commander" by his squadmates. He is the leader of a NATO team deployed in Malaysia, where a civil war has broken out. Commander is accompanied by two operatives from NATO, as well as two South Korean operatives that they meet along the way. As the team works to resolve the conflict and stop rebels from launching various missiles, it is revealed that the mercenary group who is assisting NATO in this conflict may have plans of their own.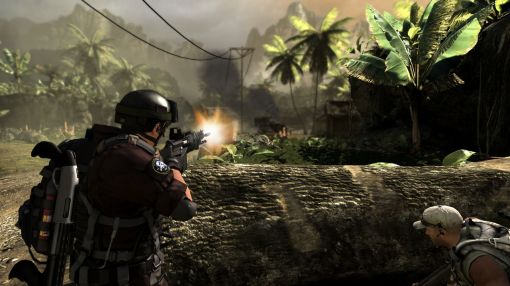 While the campaign never covers any significantly memorable ground (save for the ending), it's still an enjoyable ride that gets better with time. The only characters on your team that are relevant to the story are Cullen and Forty-Five, as you'd be hard pressed to even remember the names of the rest of the cast. Still, the two leads have enough chemistry and suitable dialogue to carry the narrative forward. The plot stretches over a six-day period, spread across 14 missions, which takes roughly 6 hours on normal difficulty. Since the missions are linear and don't often offer many tactical approaches, there isn't much replay value.
The player remains in control of Ops Commander throughout the game. SOCOM 4 plays like the usual third-person shooter, though there are notable differences. For example, the camera loves to hang fairly close to the back of the character, which could often leave you disoriented to the action. It's also not fixed – meaning it can sway closer and further away as it pleases, and that only compounds the problem. In some sections – especially when the character's back is up against the wall, the camera actually forces itself right beside your character. You may as well be playing a first person shooter. Given that the controls are designed for third person action, having to shoot in first person brings notable responsiveness issues.
Comments
blog comments powered by Disqus