Portal 2 Review
Marred only by its brevity, Portal 2 is an exemplary puzzle game that will have you chuckling and banging your head against the wall all at the same time
The puzzles themselves are fantastically varied; they start out simple and gradually become increasingly complex as more and more variables are introduced. Cubes, buttons and lasers all make their return from the first game, while light-bridges, springboards, gels possessing various unique qualities, and independent gravity tunnels all appear as new mechanics. Of course the portal gun is at the center of any puzzle, and it remains totally unchanged from the first game, but it is still a brilliant tool that is used in a variety of interesting ways. Also of note is the fact that the puzzles are no longer relegated to test chambers, as with the exhilarating final level of Portal 1 you will often use the portal gun to solve environment-centered puzzles. As you navigate the vast under-workings of Aperture laboratories you will solve situational puzzles that require just as much ingenuity as those in test chambers.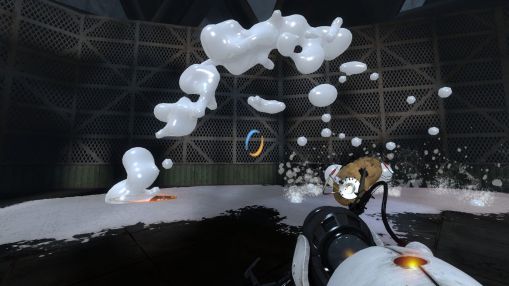 White-washing with portals
Once you have completed the excellent but all too brief singleplayer campaign of Portal 2 an entirely separate co-op campaign is there to play as well. This campaign picks up right where the singleplayer campaign ends, and it brings in many mechanics from the singleplayer portion without explaining them, so it is a good idea to play the co-op campaign after you have completed the singleplayer. If you found that you breezed through the puzzles in singleplayer without much difficulty, the co-op campaign will present more of a challenge. Each of the two players in co-op can shoot two portals, essentially doubling the potential complexity of each level.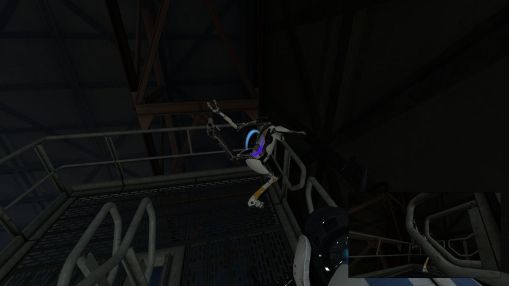 When high-speed dance moves go horribly wrong
You will need to co-ordinate carefully and communicate comprehensively if you want to get through all of the available levels, of which there are about 40. While the game does a good job of providing different methods of letting you show each other what you are thinking via an in-game pinging system, voice chat is definitely the best way to go when trying to solve complex problems. Many puzzles involve both players having to perform an action with very specific timing, and while there is an in-game countdown tool, screaming "1, 2, 3, NOW" over a mic is usually more effective. Much of the fun from this mode also comes from messing around and shooting portals under team-mates are aiming lasers at them while Glados reprimands you all the while. There are a number of gestures you can perform to lighten the mood, and there are even items that can be bought via micro-transactions such as skins and hats (as in Team Fortress 2) but given the relative brevity and lack of replayability of the co-op campaign these seem like a bit of a cash grab.
Comments
blog comments powered by Disqus
| | |
| --- | --- |
| #1 May 2, 2011 19:23:06 (May 2, 2011 19:23) | |




nutcrackr

I think they did a good job keeping it fresh too, the new puzzle devices and areas that aren't just test chambers help make that 6-7hr journey flow really well. I also really enjoyed some of the later co-op levels and would be interested in playing more. I do think that Portal 2 has extremely low replay value though, replaying co-op levels wasn't pleasant. Doesn't really make life easy for those wanting to play co-op later when most everybody has finished it.