Wet Review
A stylish third person shooter that does enough things right to warrant a recommendation
There has been no shortage of games that have attempted to capture the bullet time gameplay mechanics first popularized by Max Payne all those years ago. As many have tried, very few succeeded and even then, it was barely an adaptation of the mechanics. Enter the candidly named "Wet", a project from Artificial Mind and Movement published by Bethesda Softworks. Featuring the presentation style of classic grindhouse B-movies, this is an action shooter that not only successfully implements bullet time and slow motion as a core gameplay pillar, but also adds new features to the formula that make it feel fresh and fun. Though the platforming isn't always smooth and the game begins to repeat itself towards the end, Wet is still an interesting project that makes for a fun, if brief, experience.
In the game, players assume the role of Rubi Malone, a professional bounty hunter for hire. Rubi specializes in all types of weaponry, and always dual-wields to ensure that she can shoot back - when her other hand is often used to hang from ledges and perform other acrobatic moves. For melee, she has a nicely sharpened sword that slices enemies in close quarter situations. As we meet Rubi, she is on assignment that doesn't go as planned – but through skillful dispatching of enemies, she is able to come out on top and get the job done. After getting paid, some time passes and Rubi is once again called in by the same man, for another task. Once completed however, she realizes it was a setup in a much bigger conspiracy plot – leaving her in the middle of the problem. The story of Wet is a mix of survival and personal revenge, with both odd and interesting characters and a fairly strong protagonist. There aren't many twists or revelations, but overall the narrative is enjoyable enough to follow along and see it through to the end.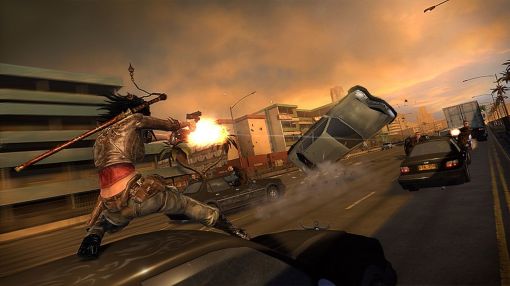 The title of the game, Wet, is derived from "wet work" – defined as a messy job or task that involves one's hands becoming wet with blood. As such, the game does indeed feature a lot of action and lengthy shootouts. Rubi can dual wield pistols (which are always available and never run out of ammo), machine guns, shotguns, and explosive crossbows. These weapons become unlocked as the story progresses, and can be found in the game's various stashes. Rubi also always carries around her sword, which has a dedicated controller button and can be used at any time. All of the weapons feel respectably powerful, but unfortunately don't pack much damage towards the later levels.
The gameplay is mostly separated into two parts – shootouts and platforming. The action in the game is satisfying and chaotic. As mentioned earlier, Rubi has the ability to perform acrobatic moves, and when firing, this initiates bullet time. The choreography in the game is very well done, as Rubi can pull off great flips, dives, and knee slides in great fashion. Once in bullet time, everything slows down and Rubi auto-locks on to an enemy with her left hand weapon. Meanwhile, the player has the ability to manually aim the right hand weapon and fire both at the same time. This is a well executed and unique mechanic that makes the game stand out. Double kills feel hugely satisfying, while allowing the player to shoot in two completely different directions. Overall the flow of the shootouts is satisfying and well designed.
Comments