You Don't Know Jack Review
A trivia game that's better than you might expect
Years and years ago, I can remember opening one of those big, classic PC game boxes emblazoned with the top half of an entirely bald head, sitting down, and playing my first game of You Don't Know Jack on my parent's first or second computer ever. The series debuted back in 1995 and quickly became known for its more adult-slant on humor and the trivia game show concept that stretched long into the mid 2000s in several different forms (including boxed releases, online versions, and even a short-lived television series). While the series technically ran all the way until 2003 across more than six different volumes, many people felt that the series peaked with the 1998 rendition You Don't Know Jack Vol. 3: The Ride. While the series remains a classic PC series from the golden age of humor games, it hasn't seen any new releases in nearly a decade. Now, You Don't Know Jack has returned as a cross-platform budget title. Does the humor and wit of the series still hold strong or is this one game series that should have stayed dead?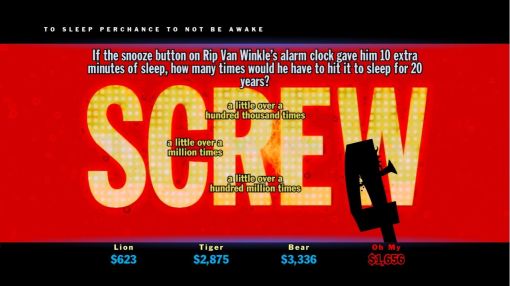 The two biggest things that set You Don't Know Jack apart from other trivia games out there like Buzz! and Scene It? are its over-the-top humor and its unique blending of two topics, normally one high brow and one low brow worked into the same question. Jellyvision, the series' developer, has even said that the idea for YDKJ was fully born when they "realized that it was possible to ask about both Shakespeare and Scooby Doo in the same question." It is this interesting dynamic within the topics covered by the game's hundreds of questions that makes YDKJ really stand out. Whereas in a standard trivia game, a question about Macbeth comes up and you aren't familiar with Macbeth, your only chance to answer correctly is simply to guess and get lucky, but in YDKJ, you may not be familiar with Macbeth, but you are probably familiar with Scooby Doo or vice versa. This keeps a vast majority of the questions within the general areas of knowledge of most players while also making for some downright hysterical combinations.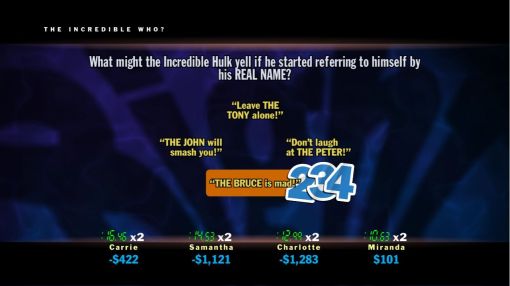 A standard game is comprised of 11 questions with a majority of those being standard, the-quicker-you-buzz-in-the-more-points-you-get style questions that give everyone the chance to answer (the classic single-player buzzing in of the originals has been done away with) before revealing who was correct. Depending on the specific episode being played though, there are special question types that arise, most commonly the series staple "Dis or Dat" which has one player, the one with the lowest score, choosing if a list of items is either "Dis" or is, in fact, "Dat." These are some of the best humor moments of the game especially when you consider that you are set out to pick whether something is a Britney Spears' song title or a Pope (that's just one of many great examples). Add in the option for the other players to steal the money from the items the primary contestant answer incorrectly and it's an absolute blast.
Comments
blog comments powered by Disqus