Gaming Gripes
You might think it's April Fool's, but completely monetizing the industry isn't a funny concept
You know, I'm sure video game developers are becoming lazier and more arrogant, not to bite the hand that feeds or anything. At one time, game devs seemed like people you could have a drink with, share an anecdote or two. Now they seem distant, like some strange cyborg, half-man-half-robot.
If I'd have to elucidate the entity I'd imagine it as some 1000lb ambiguous white hunk of flesh, it looks like nothing in particular, like melted ice-cream. Its eyes are dollar signs and its mouth is a vacuum that sucks out your money and it lives on some ivory throne vomiting homogenized and watered down ideas onto the great unwashed below, (that's us). We kind of stand there, with our arms and mouths open, getting showered by the effluence, the only thought keeping us going is that something worthwhile might come out of that mess.
And we're lucky, because a few games a year are released that we truly enjoy, I honestly think that this year is starting out as a pretty good one games-wise. I still think that games are becoming lazier and stupider though, allow me to explain...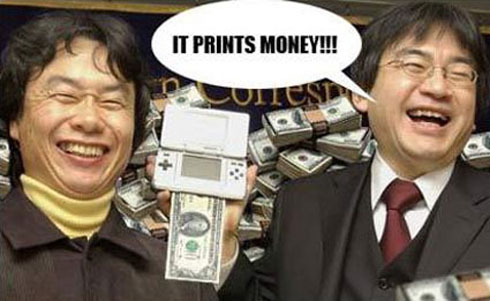 Nowadays you pretty much have a good idea of what games you want to purchase, with all the press and promotion they receive, the adverts, the Facebook campaigns, the stupid competitions, promising you free content after X many downloads of the demo. It's like you're walking down a street, rows of different places flank you on either side of the road. You know what you like, but by no means are you afraid to try something new.
Some eateries will just have a sign promoting it; some may have a person outside trying to catch your attention which you can easily just shrug off. What it feels like today is that I'm walking down the street and these companies are flooding every fiber of my being. If you imagine different media as different senses then it's like a madman is holding a megaphone to your ear screaming at you to pre-order the game. Then he'll have a flashing sign around his neck and a brass band following you while he viciously attacks you with the bat with the games logo on the thick end. It's this bombardment of every possible media that can wear you down. The only way to stop them from breaking into your house at night and randomly hiding in closets to scare the crap out of you is to just buy the game right then and there.
Comments
blog comments powered by Disqus