Dragon Age 2 Review
Following a solid debut, the Dragon Age series takes a step back as the sequel attempts to reinvent the formula that only needed tweaking
There will be players who appreciate the change in combat (console players in particular), but when it comes to PC users there's likely to be some frustrations. The battles are now faster, and feel less tactical – enemies spawn out of thin air quite often, leaving any strategic and positional party planning go down the drain. The mages are still overpowered, with a number of Area of Effect spells that can decimate enemy groups very quickly. The bosses are still disproportionally powerful, leaving your group to hack away at them for 10 minutes at a time.
There are changes in gameplay that will be welcomed by everyone, though. For example, the Tactics are still an important part of the game. Setting up your characters' action trees still feels tedious at times, and they remain completely useless if no attack conditions are met. At least though, there are now pre-set tactic layouts based on the character's available skill sets – it's a welcome addition that eliminates the requirement to build tactics from scratch. Skill trees have also been revamped into a much nicer layout so it's easy to track your character's abilities and upgrade weaker areas.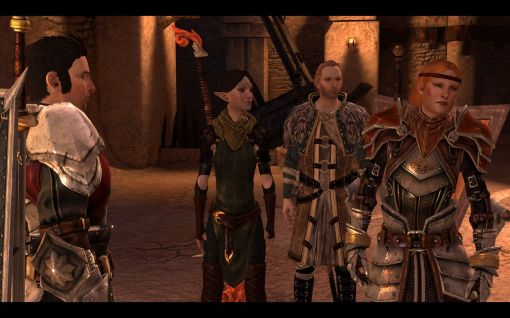 The inventory has been overhauled and now presents a better way to manage your items based on categories as well as a personalized star rating of the item's usefulness to a particular character. Unfortunately, things have been streamlined too much in some cases – no longer are players able to customize their companion's armor. It can only be upgraded via arbitrary rating system. The customization still extends to accessories and weapons though – but even so most items purchased from vendors are restricted to Hawk, leaving you to find weapons for companions elsewhere.
While the original game was an expansive epic tale that concerned the whole kingdom, Dragon Age 2 focuses on just a single city and the surrounding areas. Thus, the game feels rather small and restrictive. Ferelden is not that breathtaking to look at, with fairly simple architecture and no memorable locations. The game offers the players to explore the city either during the day or at night – with only differences being lighting and lack of NPCs. It's really an artificial way to present the players with an alternative game world to explore, but it's the same exact city so the effort falls flat. The outskirts are a bit more reminiscent of Origins, featuring open (though not very detailed) areas and multiple paths through. This is where players will encounter additional environments to explore.
Comments
blog comments powered by Disqus
| | |
| --- | --- |
| #7 Mar 16, 2011 17:24:06 (Mar 16, 2011 17:24) | |




kamikaziechameleon

The game is so much less tactical, the spamy nature of the gameplay borrows from MMO design in the worst way. I love bioware so I'll buy this once all the DLC is bundled in a year or so. Until then I say a game that requires a 1 Gb texture pack download at launch for the full experience is not destined for greatness.

| | |
| --- | --- |
| #6 Mar 16, 2011 10:28:57 (Mar 16, 2011 10:28) | |




DoomGiverIV

I am an rpg fan, i love a good story, so I can over look the massive faults but its so frustrating to see all the great additions to the lore in DA ruined by a hurried launch, I do want to know whos at fault for this EA or Bioware and punch them in the face.

| | |
| --- | --- |
| #5 Mar 15, 2011 18:46:47 (Mar 15, 2011 18:46) | |




nutcrackr

metacritic user reviews are as reliable as a magic 8 ball. A Bioware employee posted a glowing review of it and that was taken down.

I think the real issue that hurt dragon age 2 is that it only took 16 months to make. That is assuming they started near the release of DA

. Compared to 5+ years for the original. It seems the experience was less cohesive and there are lots of copy/paste dungeons.

Although the backlash has been relatively prevalent it will probably sell better than the original due to franchise recognition. So we might see DA3 in another 18 months. I won't be getting DA2.

| | |
| --- | --- |
| #4 Mar 15, 2011 18:42:57 (Mar 15, 2011 18:42) | |




with_teeth26

I think i'd sooner play through Origins again than get this. As soon as i heard one of the devs of the game say "we like what the Mass Effect guys are doing" I knew there would be trouble. If there weren't many big games coming out in the next while I might get it, but that isn't the case.

| | |
| --- | --- |
| #3 Mar 15, 2011 17:59:20 (Mar 15, 2011 17:59) | |




SpectralShock

There are reports that the user scores on metacritic were spammed via a certain infamous forum website, given the sheer amount of negatives posted.

| | |
| --- | --- |
| #2 Mar 15, 2011 17:18:40 (Mar 15, 2011 17:18) | |




| | |
| --- | --- |
| #1 Mar 15, 2011 11:02:47 (Mar 15, 2011 11:02) | |




omega5081

This is a horrible game. Bioware should feel ashamed. Don't buy this.