Dragon Age 2 Review
Following a solid debut, the Dragon Age series takes a step back as the sequel attempts to reinvent the formula that only needed tweaking
There is a bit of a problem with DA2 in keeping things interesting – the overall story of the campaign is actually broken up into three parts (with the "years passed by" cutscenes separating them). This means that there is no single goal from the beginning to the end of the game – rather, it's like three smaller storylines sort of crammed into one. There's nothing here that's on the same level of sheer scope of the Origins story, and nothing too memorable either. The whole game takes place in the city and small surrounding area, which only adds to the sense of claustrophobia and relatively tiny size compared to Origins – but more on this later. Like other BioWare games, there is the option to import a savegame or pick one of the three presets. This doesn't affect the experience much, and will only affect minor dialogue and which characters from the original game will make an appearance.
At the core, DA2 is still a classic quest-based RPG that lets players adventure through the game world and complete various tasks. BioWare does well to stay away from the MMO-like fetch quests, but most assignments still end up as a series of conversations and combat sequences. The quests are broken up into main story, companion quests, and side quests. As players can expect, side quests are mostly throwaway assignments that you can grind for XP and items. The main story quests are numerous, but they feel relatively disconnected from each other, as discussed earlier. Meanwhile, the companion quests range from a simple conversation to a whole quest – the game using the fast-forwarded timeline to reset all companion quests. This means that, after time passes, players can re-visit their companions and speak to them about current events. Completing companion quests nets you a deeper branching story, as well as increasing the relationship level.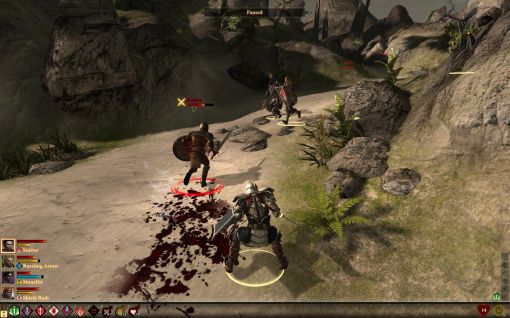 As you've read so far, DA2's is a noticeable step down from the great Origins, and it unfortunately doesn't stop there. The full dialog text during conversations has been replaced by a Mass Effect-like dialogue wheel. Containing only a few words (and an icon, in case players need further hand-holding), each conversation is limited to a few responses. There's the peaceful way, a funny response, and an aggressive/angry response. To save you from some very flat and cliché one-liners, it's recommended to stick with the good/bad options during your talks. It can certainly be argued that some players will appreciate this change, but one can't help but feel it's a downgrade from Origins' robust dialogue options.
Combat system is probably the one feature that has received the most noticeable tweaks. The zoomed out isometric camera has been eliminated from the PC version, and it often results in some clunky and frustrating chaos. The combat has been tweaked to be much more aggressive and rapid – cooldown timers on spells have been reduced, and energy requirements lowered. The battles are now fast and furious, but can get a little hectic so pausing the game is still recommended. Players might often find themselves switching to the mage for a better overview of the battle. The difficulty of the game is noticeably easier compared to Origins, likely as the result of the combat changes.
Comments
blog comments powered by Disqus
| | |
| --- | --- |
| #7 Mar 16, 2011 17:24:06 (Mar 16, 2011 17:24) | |




kamikaziechameleon

The game is so much less tactical, the spamy nature of the gameplay borrows from MMO design in the worst way. I love bioware so I'll buy this once all the DLC is bundled in a year or so. Until then I say a game that requires a 1 Gb texture pack download at launch for the full experience is not destined for greatness.

| | |
| --- | --- |
| #6 Mar 16, 2011 10:28:57 (Mar 16, 2011 10:28) | |




DoomGiverIV

I am an rpg fan, i love a good story, so I can over look the massive faults but its so frustrating to see all the great additions to the lore in DA ruined by a hurried launch, I do want to know whos at fault for this EA or Bioware and punch them in the face.

| | |
| --- | --- |
| #5 Mar 15, 2011 18:46:47 (Mar 15, 2011 18:46) | |




nutcrackr

metacritic user reviews are as reliable as a magic 8 ball. A Bioware employee posted a glowing review of it and that was taken down.

I think the real issue that hurt dragon age 2 is that it only took 16 months to make. That is assuming they started near the release of DA

. Compared to 5+ years for the original. It seems the experience was less cohesive and there are lots of copy/paste dungeons.

Although the backlash has been relatively prevalent it will probably sell better than the original due to franchise recognition. So we might see DA3 in another 18 months. I won't be getting DA2.

| | |
| --- | --- |
| #4 Mar 15, 2011 18:42:57 (Mar 15, 2011 18:42) | |




with_teeth26

I think i'd sooner play through Origins again than get this. As soon as i heard one of the devs of the game say "we like what the Mass Effect guys are doing" I knew there would be trouble. If there weren't many big games coming out in the next while I might get it, but that isn't the case.

| | |
| --- | --- |
| #3 Mar 15, 2011 17:59:20 (Mar 15, 2011 17:59) | |




SpectralShock

There are reports that the user scores on metacritic were spammed via a certain infamous forum website, given the sheer amount of negatives posted.

| | |
| --- | --- |
| #2 Mar 15, 2011 17:18:40 (Mar 15, 2011 17:18) | |




| | |
| --- | --- |
| #1 Mar 15, 2011 11:02:47 (Mar 15, 2011 11:02) | |




omega5081

This is a horrible game. Bioware should feel ashamed. Don't buy this.