SimCity 4 Review
In this classic review, we check out the always-popular Sim title
Aside from the different public buildings like fire stations, police stations, and medical facilities, players looking to create the most unique of cities can keep themselves open to many of the game's interesting reward buildings and landmarks which are granted through a number of situations like keeping your city's residents happy or setting up connections to neighboring cities. These unique reward buildings like universities, prisons, airports, churches, cemeteries, and state of the art power plants give each city its own unique feel and personality. Plus, setting up a massive high security prison in the center of a tiny farming town is just hilarious.
Perhaps Simcity 4's only major drawback is the extreme plateau of difficulty that comes into play in a city's later stages. Once a city goes beyond laying the basic of roads and simply upping your zoning density, mayor mode gets quite difficult, asking you to micromanage a city of hundreds of thousands of sims. Unless you are the most experienced of players intensively planning from the get-go, you'll most likely have to entirely restructure your city through large-scale highways and extensive public transportation. The new transportation options granted by the Rush Hour expansion do help alleviate this to a certain extent by offering some additional choices that can be thrown into a city quite early on, but you'll still find yourself having to level entire sections of your city to make way for new infrastructure and never really being entirely sure of what would be best for your current situation. From a gameplay perspective though, it is good that as the size of your city increases the game gets increasingly difficult, but even on the Easy setting, it goes from smooth sailing to a dead stop as you try to figure out what you should do to alleviate your city's woes.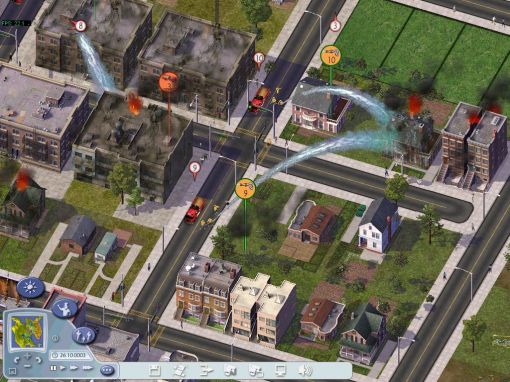 All of the Sim-Something games are known for allowing the player to handcraft their own planet, city, farm, person, home, ant colony, etc. and in this manner, Simcity 4 is a smashing success that builds well on top of its classic predecessors, Simcity 3000 and Simcity 2000 before it. Without a storyline beyond the one the player creates for himself, the ultimate enjoyment from the game comes through whether or not you enjoy creating in a virtual realm such as this. If you've been a fan of sandbox building games in the past, Simcity 4 is simply one of the best examples of the genre and one that you'll most likely enjoy.
Simcity 4 is the city-building game to rule all city-building games. It was then, it still is now, and probably will remain to be for quite some time. It has all the great trimmings that we've come to expect out of a Maxis title: easy to understand user interface, a great clean art style, quirk memorable music, and almost endless replayability. Simcity 4 may not blow us away as much as it did when it was originally released, but gameplay-wise, it is just as strong as ever. If you're still missing the series and haven't been able to find a more recent replacement, just do yourself a favor and go back to pinnacle title in the original series that does it better than anyone else.
Our ratings for
SimCity 4
on PC out of 100 (
Ratings FAQ
)
Comments
blog comments powered by Disqus