The Final Countdown
One man's opinion on the best games of this year
No, it's not a thousand words on seminal 80's Swedish melodic metal band Europe but a dissection (read: list) of some of the games I had the good graces of playing this year. For a complete breakdown of Europe feel free to forward me your address and money for a flight ticket and I will arrive at your earliest convenience in a leotard and with a gallon of hairspray.
It's near the end of the year and thought I'd breakdown some of my more enjoyable gaming endeavours.
Takes the prize as the best JRPG that I played this year without a doubt. I tried to phone the man in charge at Namco-Bandai to extend my well wishes but he failed to pick up... suffice to say I'm taking him off my Christmas card list and putting him on my people-to-punch-in-their-boy-parts list.
In regards to the game and the 'Tales' series in general they continue to improve with every incarnation. Everything gets tweaked and improved with every iteration, the battle system becomes more engaging and interesting, the refinement and upgradable items are more in depth. It manages to imbue itself with the heart of a classic RPG but cover itself in a next gen body like Arnold in Terminator 2. But unlike T2 you can enjoy it without worrying your friendly neighbourhood police office is out to stab you in the neck.
Even though the game doesn't have the most original story and like every Tales game it usually revolves around a member of some 'Royal' or 'Religious' faction getting embroiled with a common 'every man'. They all join forces to tackle some 'insert alien goo name' that's trying to kill everyone, or sustains itself on babies. Whatever, it's bad; it'd probably slap your mother in her sweet, pie baking face given the chance. The games were never about the overarching story but more about the internal struggles that the characters face which it nails in my opinion.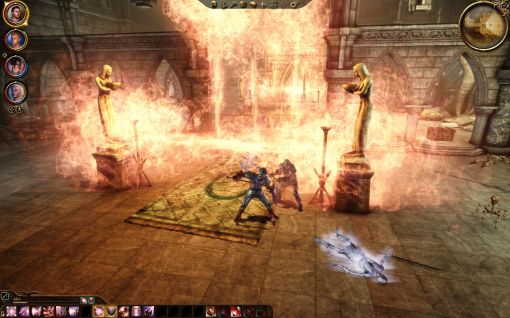 Yep, it beat out Mass Effect 2 to my WRPG of the year. Given this came out before 2010 but the point is that I started playing it in January this year. One of the very few games this year that actually kept me up past my bed time. I hammered this for a straight week to completion like some sick console karma sutra.
It's the usual fair of the mute protagonist rising from a broken life to unite an army and bring some evil thing to justice because Obi-Wan told you to. It's classically Tolkien-esque in its setting and races and follows the Bioware School of going to several locations to gain favour.
What set the game apart for me was the accessible battle system that though clunky at times felt visceral and nicely paced. It had the old ethics of starting small and then progressing to larger things with the usual tasks seen in many games in that era, kill this, fetch that, shall we kill this child to save everyone?
I think that though this game wasn't reinventing the wheel in any respect it had character and charm unmatched by any other in its genre (save ME2). This engagement instilled the choices made in the game with a verisimilitude unmatched by other games I played this year.
Comments
blog comments powered by Disqus
| | |
| --- | --- |
| #1 Dec 16, 2010 16:07:05 (Dec 16, 2010 16:07) | |




kamikaziechameleon

Well allow me to pose a question to you, I have never played a JRPG would you say that I should check out FF 13 or just stear clear. I have little in the way of expectations, I also was looking at blue dragon and lost odessey. Or is vesperia the best offering here?