Gran Turismo 5 Review
After a lengthy time in development, Polyphony Digital's latest sim racer is finally here
The mode is simply not fun to play however. The commands that you give to your driver only seem to deteriorate his calmness level, and have little effect on his actions. Players can only watch in agony as their driver makes a crucial mistake on the final lap and finishes in last place, even if you've given him perfect instructions and a well-tuned car. Unlike all the other AI drivers, your particular driver is apparently very prone to mistakes, and unlike a human, he's often unable to recover or make the correct decisions in a situation. The fact that the races in B-Spec mode are double the length of their A-Spec counterparts doesn't help things. It also doesn't help that there is no way to fast forward the race, so you must sit there and watch for literally 10-20 minutes at a time as your driver gets through just two race events, hopefully not finishing near the bottom. All B-Spec mode does is make you wish you could just take over the wheel from your apparent rookie. So then you go and play more A-Spec.
If you need a break from earning XP offline, the game features a full set of online modes. To kick things off, there is split screen local multiplayer for up to two players that can be accessed from the Arcade Mode right away. All your PSN friends who own the game are automatically added to your community feed, where you can access their profile stats and any cars/tracks/items they've decided to share. The game places an emphasis on player sharing, as any car and track can be instantly uploaded for your friends to see. Interestingly enough, any cars you tag as shared will not be usable in your career offline races until you take them offline again. So you won't see your friends post their favorite cars, because they use them too often in the game. Each player has their own message wall (like Facebook) where others can leave notes. There is also a message system (though it seems redundant to PSN), as well as the ability to gift cars and other items to your friends.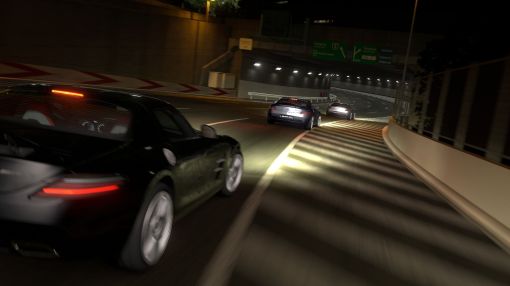 Once you're ready for some competition, the game offers standard public lobbies and matchmaking where players can gather and discuss things before the race. The game offers Lounges, which act like enhanced lobbies where players can chat, tweak their cars, and go on the race track for some free driving before the race begins. Players can rack up various bonuses by winning online races and improving their global ranking. The players online are mixed, unless the host places restrictions everyone will use the fastest car they can find. Unable to control it, watch for the opponents on your radar to crash on the first corner and be sure you're not mixed up in that. The connectivity seems fine, with the occasional lag that doesn't hinder the race too much.
Presentation in Gran Turismo 5 is a mixed bag. As mentioned, the Premium cars look fantastic in comparison to the poorly textured Standards. The reflections on the cars are great, but the game also suffers from some very blocky shadows, even on the premium cars. The water and snow effects on the tires and cars look good, but the driver view of the rain on a windshield is rather odd and the water simply looks scripted. So overall, there are some great visuals, but also some very sub-par ones, and the game can't decide which direction it wants to go. Crowds is another example – some tracks have fully 3d-rendered fans, while others feature measly pixelated sprites. It's also rather odd that crowds make absolutely no sound during races, so the experience is again undermined by this small but crucial immersion factor.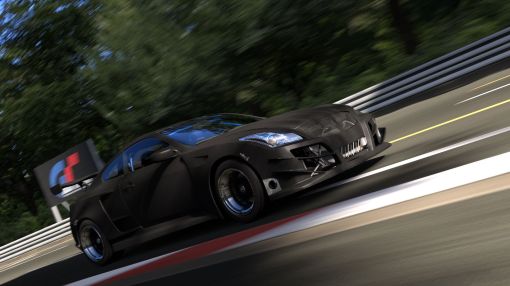 The audio at least is great. It has to be said that some fans won't appreciate the musical mix found in the game, yet it is still very good. All of the menus in the game have accompanying tunes that range from smooth jazz to classic piano. Once in the race though, the soundtrack kicks up some fast moving rock and dance tracks that mostly work well with the sounds of the engine. For those who don't appreciate the vast amount of music that's available in the game, there is the option to import your own music to complete the experience.
Gran Turismo 5 is a really huge game in terms of content. If you've read this far, you're probably still keen on taking the plunge and just wanted to know a few more details. We could go on, and write about the Museum, which offers a history of the car franchises featured in the game, or the great-looking 3D Visuals and Head-tracking features. Or the fact that the game sadly lacks any basic replay controls (except for pause), and that some menus are completely redundant (do you really want to accept your prize car?). But they are minor details in an overwhelming package of pure content. Gran Turismo 5 is a game of moments – some of brilliance, some of frustration. It's fantastic to see a Premium car race down the track and win you gold by a fraction of a second. It's a completely different experience as you're ready to hurl your controller at the frustrating AI driving around an uninspired track in Standard cars. At the end of the day, sim fans will get a ton of racing for their money, so Gran Turismo 5 comes recommended.
Our ratings for
Gran Turismo 5
on PlayStation 3 out of 100 (
Ratings FAQ
)
Comments
blog comments powered by Disqus
| | |
| --- | --- |
| #6 Dec 7, 2010 09:32:16 (Dec 7, 2010 09:32) | |




| | |
| --- | --- |
| #5 Dec 6, 2010 19:30:47 (Dec 6, 2010 19:30) | |




nutcrackr

my initial impressions weren't great for gt5 and some of the cars look pretty ugly but I'm still playing this a lot. Not sure if its just collecting cars, or the variation in how they drive. Something satisfying about buying a good car and completely dominating the race with it. Licenses are pretty tough as are some special events. Still happy to pick it up

| | |
| --- | --- |
| #4 Dec 6, 2010 17:58:24 (Dec 6, 2010 17:58) | |




kamikaziechameleon

Fair point, I guess I wanted this game to be the model of what all racers should aspire for. I'm just sad I don't see it that way. Not saying it isn't a great game, but rather that it isn't perfect.

| | |
| --- | --- |
| #3 Dec 6, 2010 13:40:14 (Dec 6, 2010 13:40) | |




SpectralShock

I think it is definately the PlayStation 3 alternative to, and at most times better than, Forza 3.

| | |
| --- | --- |
| #2 Dec 6, 2010 13:33:06 (Dec 6, 2010 13:33) | |




kamikaziechameleon

Good review though, Kinda feel silly for not throughing that out there. Thanks

| | |
| --- | --- |
| #1 Dec 6, 2010 13:27:29 (Dec 6, 2010 13:27) | |




kamikaziechameleon

I'm just really sad that alot of what they offer feels it is present to buffer known issues.

I don't care for a game where in the core experience (driving, collecting and tuning cars) is compromised to fit marketing bullet points like 1,000 cars. In the end my impression is that the content buffering only takes away from rather than adding to the premium content.

I would have rather gotten 200 perfect vehicles and a compitent online and paint/tunning feature with some real damage and better track surfaces. In stead of the gimmicks that stand in place of those.

I guess seeing that this game isn't the perfection that was promise only makes me feel more secure in the idea of purchasing forza 3 finally.