Gran Turismo 5 Review
After a lengthy time in development, Polyphony Digital's latest sim racer is finally here
All of the events in the A-Spec mode are races, with the player starting in a grid formation and going head to head with AI drivers in hopes of a first place finish. Apart from cash and experience, winning race events also unlocks new vehicles for purchase, and even awards prize cars. The first few levels of a career are fairly easy to get through, but later on the XP grind becomes rather noticeable – though fans shouldn't worry. There are always a ton of things to do at each level, and there is never a need to play a race that you've won more than once. The money progression is also fairly balanced, if you save up you will be able to purchase some very nice cars and upgrades for yourself in a short while.
The car selection in the game is quite mind-blowing. There are over 1000 cars in the game, and while in itself that is a very impressive number, players should take note that the variety Is actually somewhat lacking. The game offers cars from all makes and models, from BMW to Chevrolet, Ford to Honda, Mazda to Nissan, and more. The cars also come from a variety of different eras, from pre-1960s all the way to the modern vehicles. An issue is that a lot of the cars are extremely similar – such as over 10 different Subaru Imprezas varying only mildly in release year and model specs, over 20 Nissan Skylines with similarly close characteristics. While this may be a collector's dream for some players, many will be disappointed that the selection didn't instead include some new models from other brands and eras.
All of the cars are also split into two categories, Premium and Standard. Premium cars are the cream of the crop, they are incredibly detailed, include a fully rendered and realistic driver panel view, can be damaged during races, and can be used in the game's photo mode. These vehicles do look utterly fantastic and are a joy to drive, especially from the driver's seat. Unfortunately, there are only around 200 such cars in the game – the rest are Standard. These Standard cars don't have visual damage, can't be used in photo mode, don't offer a driver's seat camera view and often have very poor textures. So unfortunately, for a lot of the gameplay, players will be using cars that don't look very good and lack a damage model. This is rather disappointing, since it makes the game look fairly poor at times, and give the impression that the developers were aiming for quantity over quality. The lack of even a generic driver panel for the Standard cars is also unfortunate, as it would have at least given the players an option to still use the in-car view throughout the game.
Players can acquire cars from either the dealerships, which are always in stock and offer a wide range of new and older models, or on the used market. Dealerships offer new cars for a premium price and are a great option for those rare vehicles you won't find used. The used market, however, offers cars with great discounts because of their high mileage. Unless you're looking for a specific car, it always seems like the best option is to buy used. The car's mileage seems to offer no real impact on the performance, and only thing that may be required is an oil change, a wash, and maybe an engine rebuild, all of which are relatively cheap tasks at the mechanical shop. The mechanical shop also offers the players a chance to apply a new paint to the car, the wheels, or even apply a full sports body kit that improves the power of the vehicle (but it cannot be undone). Players can also sell their cars if they need extra cash, but the return is often a fraction of the initial purchase price, even if you've installed upgrades.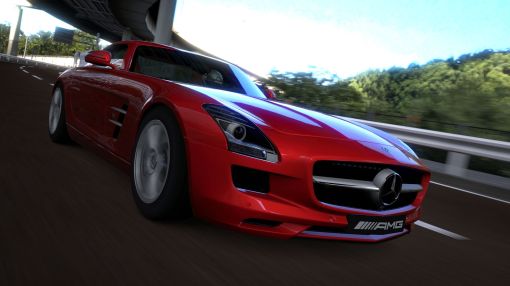 All of the cars in the game come with a variety of stats, and they all can be tweaked by purchasing hardware upgrades. Players can buy and tune the engine, tyres, transmission, air intake, exhaust, and much more. All of the upgrades are described for easy understanding of their effects, and also provide players with the immediate Horse Power increase preview, so you know which parts will provide the best boost. There is a lot of room for tinkering with the upgrades for your primary vehicles, and it's important because much of the winning will depend on the power of your car rather than driving skill. A great touch is that all the upgrades actually make your car feel and sound noticeably different.
The game also features a ton of great tracks, but again these also vary in quality of their realization. The locales such as Madrid, London and Tokyo are expertly designed and very true to life. They are a blast to drive and you may even forget you're playing a game when a Premium Ferrari speeds by the realistic buildings and landmarks. On the other hand, a lot of the tracks feature less than stellar background visuals (or in fact none at all) that take you out of the experience.
Comments
blog comments powered by Disqus
| | |
| --- | --- |
| #6 Dec 7, 2010 09:32:16 (Dec 7, 2010 09:32) | |




| | |
| --- | --- |
| #5 Dec 6, 2010 19:30:47 (Dec 6, 2010 19:30) | |




nutcrackr

my initial impressions weren't great for gt5 and some of the cars look pretty ugly but I'm still playing this a lot. Not sure if its just collecting cars, or the variation in how they drive. Something satisfying about buying a good car and completely dominating the race with it. Licenses are pretty tough as are some special events. Still happy to pick it up

| | |
| --- | --- |
| #4 Dec 6, 2010 17:58:24 (Dec 6, 2010 17:58) | |




kamikaziechameleon

Fair point, I guess I wanted this game to be the model of what all racers should aspire for. I'm just sad I don't see it that way. Not saying it isn't a great game, but rather that it isn't perfect.

| | |
| --- | --- |
| #3 Dec 6, 2010 13:40:14 (Dec 6, 2010 13:40) | |




SpectralShock

I think it is definately the PlayStation 3 alternative to, and at most times better than, Forza 3.

| | |
| --- | --- |
| #2 Dec 6, 2010 13:33:06 (Dec 6, 2010 13:33) | |




kamikaziechameleon

Good review though, Kinda feel silly for not throughing that out there. Thanks

| | |
| --- | --- |
| #1 Dec 6, 2010 13:27:29 (Dec 6, 2010 13:27) | |




kamikaziechameleon

I'm just really sad that alot of what they offer feels it is present to buffer known issues.

I don't care for a game where in the core experience (driving, collecting and tuning cars) is compromised to fit marketing bullet points like 1,000 cars. In the end my impression is that the content buffering only takes away from rather than adding to the premium content.

I would have rather gotten 200 perfect vehicles and a compitent online and paint/tunning feature with some real damage and better track surfaces. In stead of the gimmicks that stand in place of those.

I guess seeing that this game isn't the perfection that was promise only makes me feel more secure in the idea of purchasing forza 3 finally.