Crazy Taxi Review
A crazy ride back down memory lane, but is Sega's latest nostalgia trip one worth stumping up the fare for?
It's a strange thing, nostalgia. Casting our minds whimsically back, philosophically stroking our chins and reminiscing about the distant ideals of "the good old days", or affectionately reliving 'the golden age'. However, when we bring nostalgic musings kicking and screaming back into the present, what was once a pleasant memory can often not be quite as idyllic in modern reality. With Sega now releasing some old Dreamcast favorites onto XBLA and PSN, we have a chance to see how well some cherished titles fair in one of the most unforgiving gaming ordeals of all; the test of time.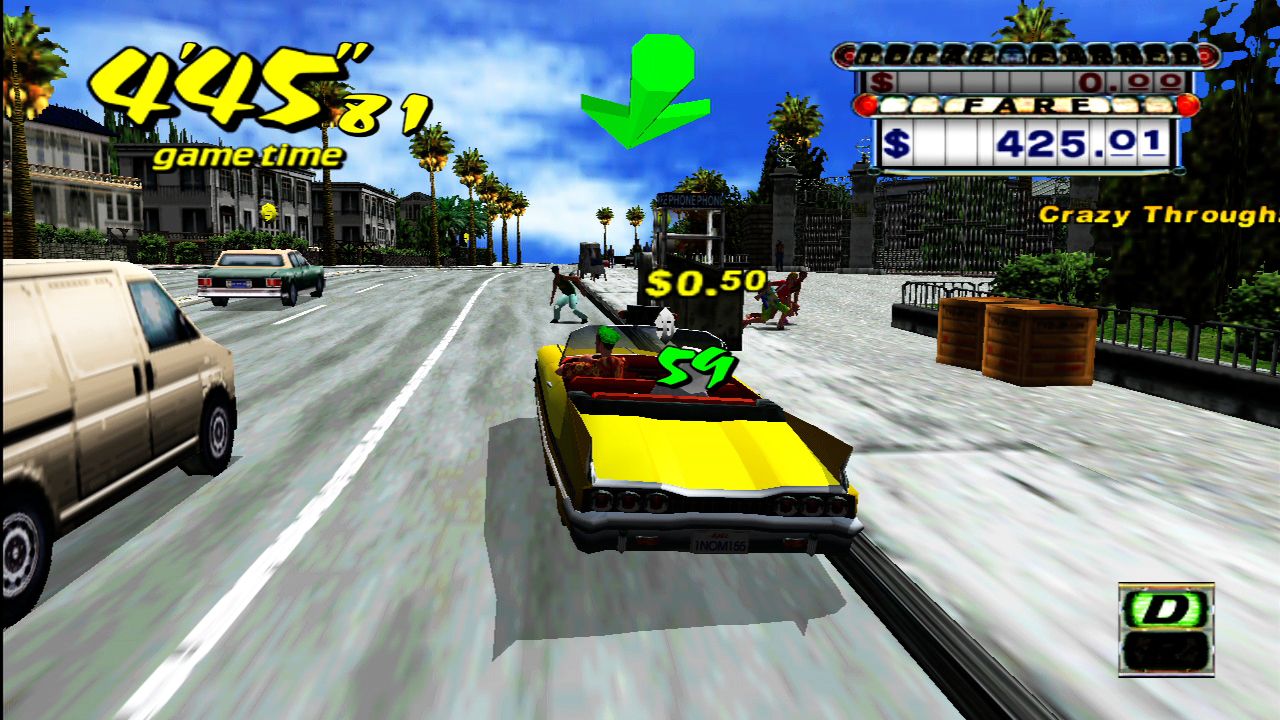 A bright and brash arcade port bought Crazy Taxi to the Dreamcast back in 2000, and despite being relatively shallow content wise, was rightly praised for its high octane eccentricity and in your face entertainment value. A decade on and Axel, BD Joe, Gena and Gus make a return to the roads.
Memories will come flooding back to fans to fans of the original, as very little has changed from the DC title. The three track Offspring/Bad Religion loop has thankfully been updated and expanded to a more modern assortment of catchy punk/rock/pop offerings. Also, due to licensing issues a handful of the original game's locations (Pizza Hut/ Levi jeans etc..) have been given names with no real world associations. In terms of gameplay however, its still the same Crazy Taxi from the turn of the millennium. But, much has changed since then, and unfortunately this is one ride that's in need of more than a lick of paint to the bodywork.
For the uninitiated, the premise of Crazy Taxi is a simple affair. Choose a cabbie, take to the streets, and fight both against the clock and through traffic whilst ferrying customers to their desired locations; which in turn adds a few seconds to your overall time. Time running out subsequently equals game over. Its essentially an exercise in manic traffic weaving and sharp braking. Again, much like getting behind the wheel on the Dreamcast version, Crazy Taxi is a burst of fun that revels in its own absurdity. Regrettably though, whilst undeniably entertaining in a nostalgic sense, the game's novel quirkiness just isn't enough to demand prolonged play as it once did.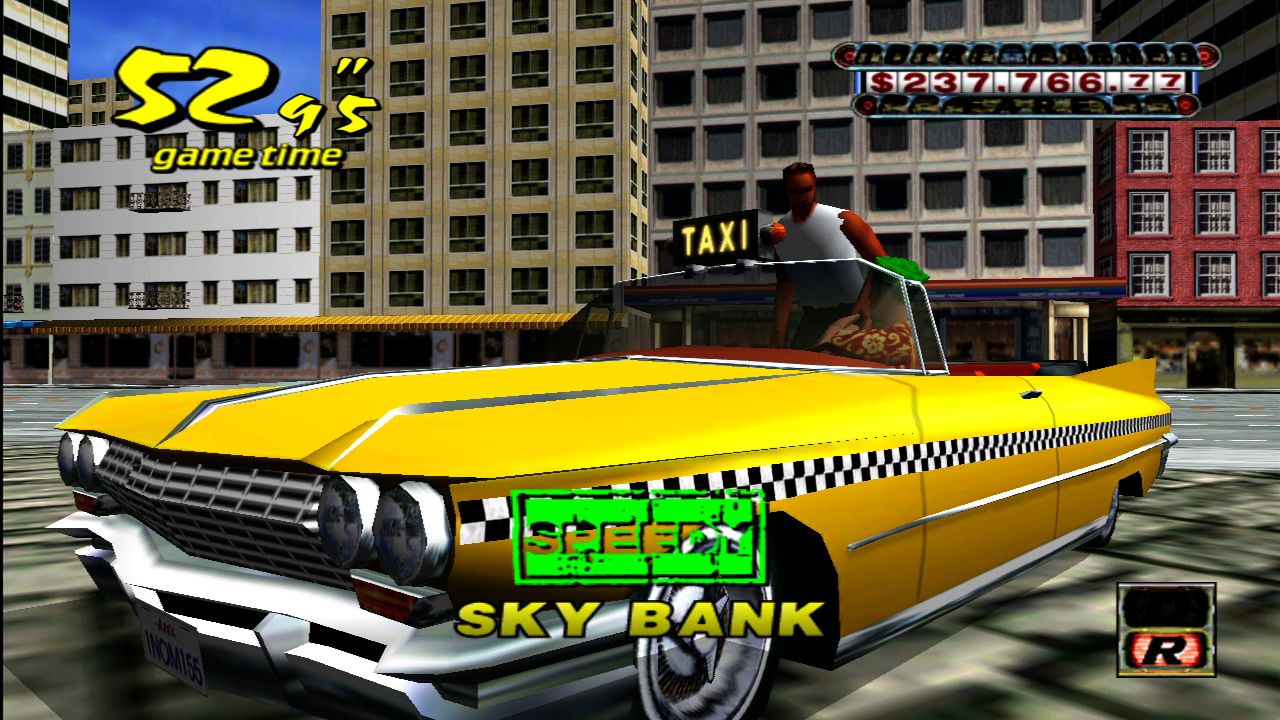 When we look at modern racing games, metropolises such as Paradise City dwarf what was previously deemed 'sprawling'. Crazy Taxi's two cities; Arcade and Original are understandably smaller than the urban expanses we've become used to recently, meaning that repetition will undoubtedly present itself sooner rather than later.
It's worth noting that out of the two, the Arcade city is the more enjoyable to career around. Flying down the first San Francisco inspired hills to the cable car stop never looses its appeal, and crazy dashing through congested oil tankers on the fly over is still a riot. The Original city's poor level design sticks out glaringly however, as it is less free flowing than its Arcade counterpart. Structures will constantly obscure progress, as the navigation arrow spins around erratically leaving you wondering exactly how to get to your destination. In the past this was forgivable, in 2010 its frustrating.
Yes, Crazy Taxi is a decade old, but it would have been nice for Sega to have made some technical updates for the XBLA and PSN versions. The game suffers from horrendous pop-up issues as whole buildings and landmarks blink into existence without warning. Couple this with some often irrationally erratic camera work, and the day-glo world becomes rather messy at times - far more so than recollection can account for in the Dreamcast original.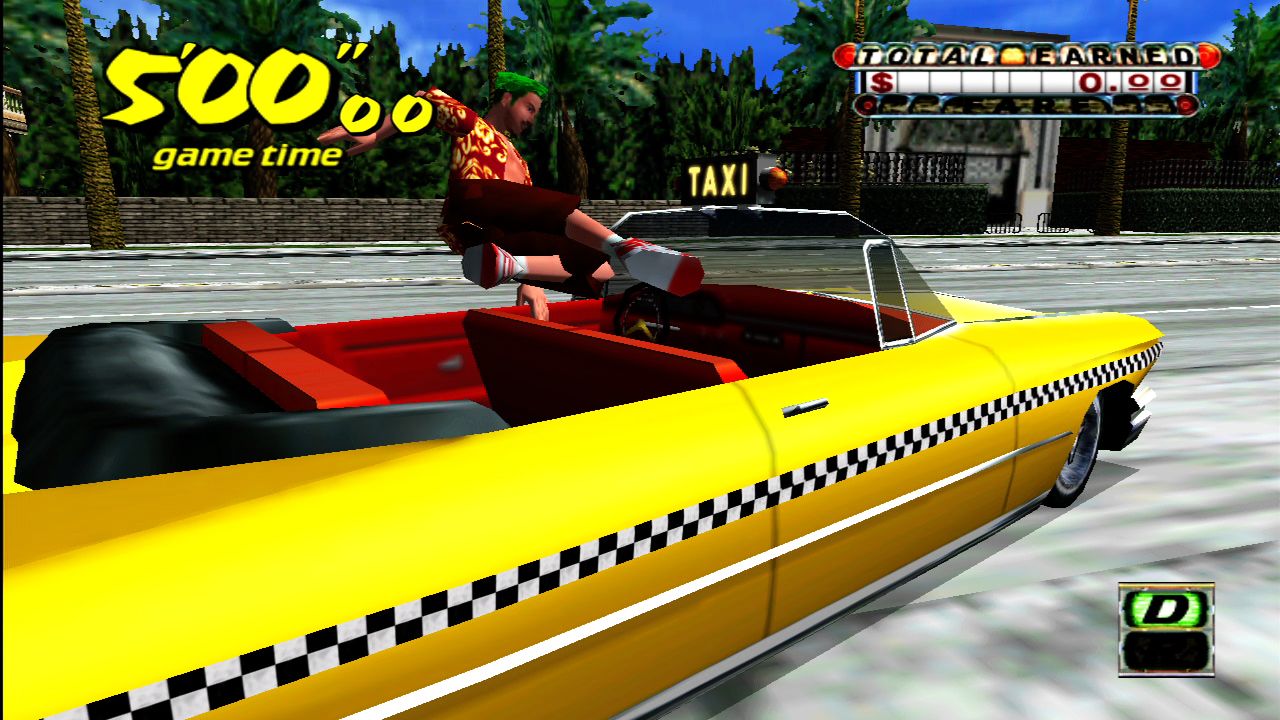 Longevity is once again slightly extended by the Crazy Box mode, which adds a little variety to the A to B shenanigans of the primary content. Crazy Box presents the player with a series of challenges that stray away from the arcade fare gathering. High flying, ski-slope style jumps, drifting through sets of ten-pins or meticulously navigating slim precipices towards your goal are among the madcap events; each honing your taxi controlling skills under differing stipulations. The challenge varies from the simple to the testing, resulting in a degree of satisfaction from pulling off the trickier tasks after multiple attempts.
Crazy Box should add between one and two hours to the package, whilst the longevity of the conventional (in the lightest possible sense) taxiing is subjective of each players threshold of repetition. That said, the inclusion of leaderboards could well inspire a few more hours from the most dedicated fare gatherers out there who have the desire to showcase their skills online.
Let's face facts; these days we just expect more from our games. What was once such a fresh and novel title just can't really cut it in the current generation. Many gamers will still feel a fond affection for the Dreamcast and the undeniable gems in its software library. In that respect, Sega's re-releasing of these titles is a welcoming walk down memory lane. On the other hand however, it can also reveal how old mother time does not look favourably on some of our most cherished games.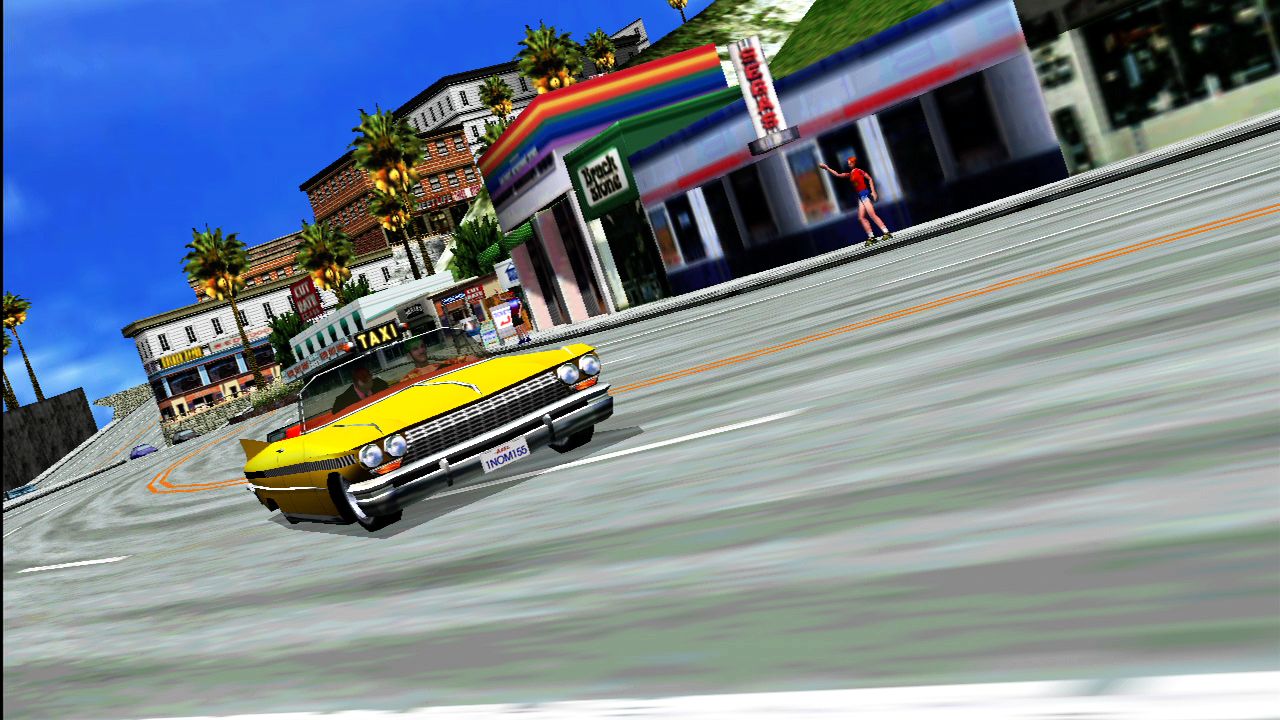 At 800 points/$9.99, Crazy Taxi is not exactly breaking the bank in terms of downloadable content pricing, meaning that many gamers will invest for purely nostalgic purposes. If you still have a copy and a Dreamcast collecting dust somewhere it would pay dividends to fire that up instead, as truthfully, that is where Crazy Taxi really belongs. If not, then the XBLA/PSN release will briefly appeal, though the charms of 'back in the day' may well, regrettably, not have the same allure as they once did.
Our ratings for
Crazy Taxi
on Xbox 360 out of 100 (
Ratings FAQ
)
Comments
blog comments powered by Disqus
| | |
| --- | --- |
| #5 Dec 27, 2010 19:42:05 (Dec 27, 2010 19:42) | |




sirdesmond

Lackluster ports like this just tend to make us rethink some of our past video game loves which is unfortunate because they were probably great games for there time and still would be if the company that owns them took some time to put some thought into their re-release.

| | |
| --- | --- |
| #4 Dec 7, 2010 09:36:57 (Dec 7, 2010 09:36) | |




kamikaziechameleon

I'm sad to see that so many games don't get better porting treatement on XBLA

| | |
| --- | --- |
| #3 Dec 6, 2010 20:24:35 (Dec 6, 2010 20:24) | |




TheLazyPerfectionist

The original was one of my favourite DC titles back in the day, which is why I was disappointed with it on XBLA. Sega should have done a little work to it just so it wasn't so rough around the edges.

| | |
| --- | --- |
| #2 Dec 6, 2010 13:06:39 (Dec 6, 2010 13:06) | |




kamikaziechameleon

first game was fun but to me the perfect incarnation of this title was the simpsons game built around this. Way funnier and did a good job of glossing over the repetition with classic humor.

| | |
| --- | --- |
| #1 Dec 6, 2010 04:33:11 (Dec 6, 2010 04:33) | |




Nechrol

Loved the game, had it on the Dreamcast and played it in the arcade... though without the Offspring soundtrack this game can never be as good!