NBA Jam Review
The classic over-the-top arcade basketball game is revived for the current generation
NBA Jam does try to spice things up in the other modes. With Remix tour, power ups get introduced into the game. These spawn on the court as icons, and provide various boosts to whichever player picks them up. The power ups are all useful, providing bonuses such as increased speed, immunity to shoves, increased accuracy, and others. The remix mode does at least offer a unique chaos element to the basketball, so it is somewhat more fun to play through. Other game modes include smash, elimination, remix 2v2 and domination. Each simply introduces new challenges or small changes to the formula, but make no mistake – you're still playing an arcade basketball game at the end of the day.
The game also comes included with an assortment of multiplayer features. Local coop and versus play is probably what most fans will end up using, and it plays smooth as you would expect. Online also has a variety of modes included, and the game doesn't suffer from any latency issues. There is one problem with multiplayer, though, that you're likely to run into – there is almost nobody playing online. After numerous evenings of trying to find opponents for a game across any game mode, we were only able to play a handful of times, after long waiting periods. The game will often come back simply stating that no players could be found and to try again later. This isn't something that the developers can control, but fans should be aware that the player population seems to be rather scarce. On the up side, the game doesn't require the now-standard EA Online pass.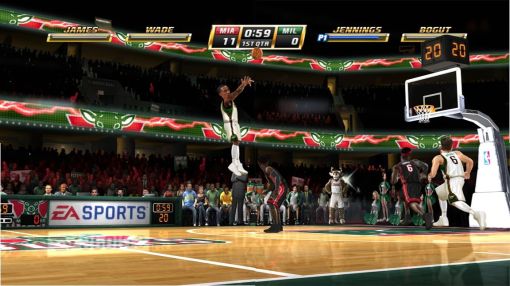 In order to preserve the classic feel of the game, NBA Jam features highly stylized graphics that look like an HD version of the original, but with the same range of animations and color palette. It may take some players a bit to get used to, but the visuals are solid enough not to become a bother for those who are new to the game. There is also a variety of optional tweaks available, such as turning on big heads, playing with rare basketballs or even switching the game's visuals to 8-bit mode, which makes it look almost exactly like the classic game. There is also a color commentary announcer, who has some funny lines and keeps things short and sweet in the sound department.
Given that the game was originally supposed to arrive for free with NBA Elite 11 certainly puts things in perspective. Now that it's at retail for a full $50 price, it may seem like poor value to the average gamer, and that's a fair verdict. Make no mistake though, this is the same NBA Jam that you loved many years ago, redefined for the current generation of consoles while keeping the classic gameplay intact. The long single player career modes are well presented, but the classic mode gets repetitive after a while so Remix tour is a recommended change of pace. Multiplayer functions well, both locally and over the internet, but a shortage of online players may prove to be an issue. The game's visual style is unique, with a variety of goofy options to make things even more amusing. If it's the classic NBA Jam you want, with a few extras thrown in, you'll get it here – just be warned that the current price point might be too steep for some.
Our ratings for
NBA Jam
on PlayStation 3 out of 100 (
Ratings FAQ
)
Comments
blog comments powered by Disqus