Kinect Adventures Review
Is Kinect Adventures the platform-defining title Microsoft undoubtedly wishes it to be?
On November 4th, Microsoft launched their new Kinect hardware (at least in the United States) along with a sizeable library of launch titles. Like the Wii and Wii Sports before it, every Kinect unit whether bundled with a new Xbox 360 or on its lonesome comes packed with a copy of Kinect Adventures. Is Kinect Adventures the platform-defining title Microsoft undoubtedly wishes it to be, a piece of pack-in shovelware, or something in between?
Like all of the game's currently utilizing the Kinect hardware, Kinect Adventures is played entirely without a controller. Although Kinect can be used in a more hyrid environment involving both the sensor and a traditional controller including the player being seated, it is clear that Microsoft is looking to clearly define the Kinect as a controller-free experience, and in that vein, Kinect Adventures works great.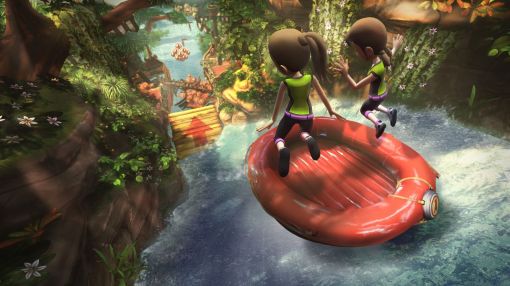 The game only contains five different game types which is a bit shallow for something that is essentially just a mini-game collection. In River Rush, the player or players are standing in a raft and guiding it down a rushing, rapid-filled river while attempting to collect coins, beat a time limit, etc. Rally Ball is essentially a Breakout clone that uses your entire body as the paddle. A time limit is the main goal to beat here with the primary objective being to break all of the tiles. 20,000 Leaks has the player in a glass box under the ocean that is being shattered by a slew of overly-aggressive fish, requiring the person to use their hands, feet, knees, elbows, and occasionally even his or her head to plug all of the leaks as quickly as they can. Reflex ridge is one-part obstacle course and one-part old school track and field game in which the player is required to dodge from side to side, crouch under oncoming obstacles, jump over hurdles and collect coins by positioning themselves in different poses. Lastly and least impressively is Space Pop, a game that has the player popping groups of bubbles aboard a space station through waggling their arms in order to float up or down.
The mini-games are fairly varied and for the most part do an excellent job of showing off what the Kinect software is capable off from a motion control standpoint. 20,000 Leaks was my favorite of the bunch because it requires you to reach out towards imaginary walls on either side of you and even move your feet in order to plug holes in the floor which became a very immersive experience for me and something that I'd never experienced before in motion control gaming. Least exciting by a wide margin was Space Pop which feels more like filler than any other game on the disc, something to simply get the game count up to five. The motions are gimmicky, awkward, and confusing. After playing some of the more fast-paced and responsive games like Reflex Ridge or River Rush, Space Pop seems like an old Kinect tech demo rather than something that ever should have seen commercial release.
Comments
blog comments powered by Disqus