Blood Stone Review
James Bond 007 is back, featuring an original story and the voices and likenesses of the movie cast
There hasn't been a James Bond film recently, so it came as a surprise to some that a new videogame based on the franchise was to be released in 2010. While it is based on an existing movie franchise, featuring the voices and the likenesses of the current actors, the game isn't actually tied to a particular movie. This is great news, as most fans will tell you that game adaptations of movies still produce very poor quality titles. Developed by Bizarre Creations, who specialize in racing games, the game's action is relentless, though unevenly broken up. James Bond 007: Blood Stone is a decent entry in the action genre that manages to escape the usual mediocrity of film adaptations, but never quite reaches greater heights.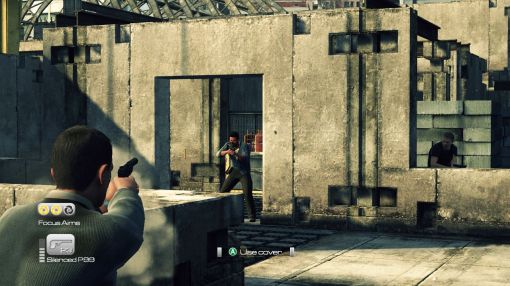 As one might expect, players take on the role of the legendary spy 007, who looks and is voiced by Daniel Craig – the current actor in the movie franchise. Bond teams up with wealthy socialite Nicole Hunter (voiced by Joss Stone) to stop a plot involving biological weapons. The game is set across various locations, such as Athens, Istanbul, Monaco, and Siberia, though the gameplay varies little. With the help of M, also voiced and looking like Judi Dench from the movie franchise, Bond sets out to uncover the weapons operation and shut it down in the process. There is nothing particularly gripping about the script, though at least it is an original entry in the series with no direct relation to other games or movies. As the story moves forward, there are very few characters that we actually get to meet, and not many twists. The game ends on a rather dull cliffhanger, with the words "Bond will return" flashing across the screen – hardly the appropriate ending to an otherwise decently action-packed game.
Blood Stone is a third person shooter with some unfinished gameplay mechanics, many borrowing from other games. The game's third person action controls well, though Bond is not able to jump or crouch – which certainly takes away from the action. This is a cover-based shooter, so 007 can stick to all objects in the world (which are conveniently chest-high) with a press of a button. While in cover, you can both blind fire as well as pop out to take aimed shots – again, standard affair for this sort of gameplay mechanic. There is a variety of weapons to be found in the game, though most behave similarly and deal about the same amount of damage. Not that the AI is worth worrying about anyway – enemies will simply spawn and run to their designated cover, staying there until killed. They will try the odd flanking maneuver, but mostly the game is fairly easy if you don't rush and pick off enemies from distance. It's also disappointing that there aren't any boss fights – even though Bond takes down significant enemies in the cutscenes – so it all feels like one long linear shooting gallery with varying enemies and backgrounds.
Comments
blog comments powered by Disqus
| | |
| --- | --- |
| #4 Nov 17, 2010 14:59:25 (Nov 17, 2010 14:59) | |




kamikaziechameleon

+1

Isn't it sad that this game may be the swan song of bizarre creations. To think this game could have saved them rather than damn them.

| | |
| --- | --- |
| #3 Nov 17, 2010 14:58:44 (Nov 17, 2010 14:58) | |




kamikaziechameleon

This isn't the first time bond has done this, I recall during the gamecube era several game only adventures.

| | |
| --- | --- |
| #2 Nov 17, 2010 10:21:38 (Nov 17, 2010 10:21) | |




SpectralShock

+1

If anything, I hope all movie adaptations take this route - borrow the franchise and its key elements, and make something your own.

| | |
| --- | --- |
| #1 Nov 15, 2010 19:45:22 (Nov 15, 2010 19:45) | |




sirdesmond

Both the ending of the game and the gameplay itself, being as borrowed and carbon-copied as it is, don't seem all that great, but the idea of a Bond game getting an original story like that of a film is an interesting concept. I'd like to see more film franchises taking this route when making a game.