Aqua Panic Review
Sink or swim?
Produced by Eko, Aqua Panic! is a puzzle game found on the PlayStation Network currently selling for $9.99 in the US.
The premise of the game is that numerous fish have been swept up in a typhoon and carried in floating water bubbles that drop them out over rough terrain. Your job is to guide the fish, with the help of terrain manipulation tools, back to the water safely. The terrain is a maze of dirt and stone. At the bottom of each level lies the ocean with a goal (signified by two yellow buoys) surrounded by large fish that will eat your smaller fish if they happen to fall outside of the buoys.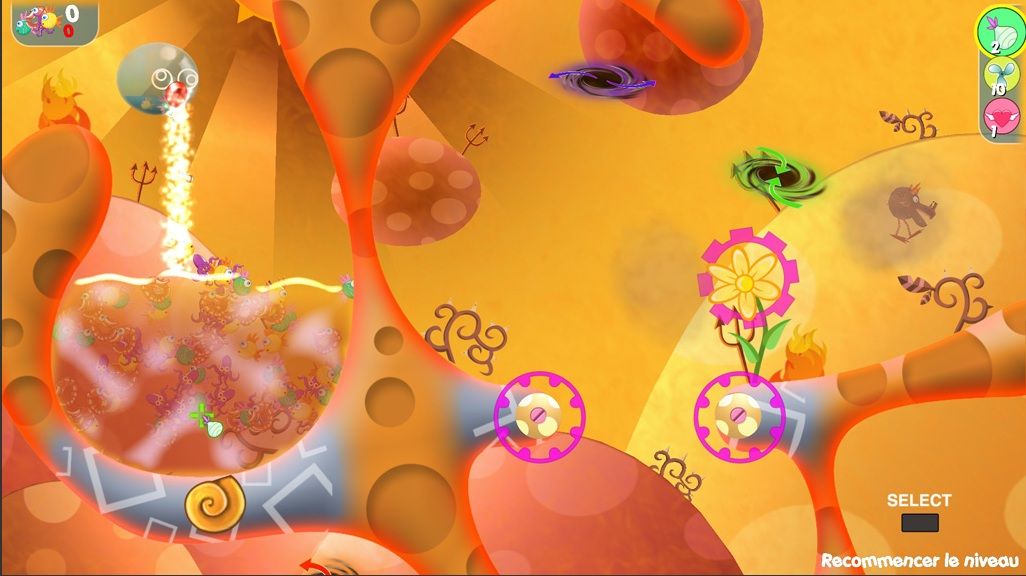 The game feels, and plays, a lot like Lemmings. The tools you're given aid in different ways to get the fish to the goal—missiles blast holes in obstructing dirt, plants grow tall and redirect water and fish flow, pinwheels activate spinning cranks, etc.
One thing to know about Aqua Panic! is that, although the art style makes the game appear for kids, the puzzles get extremely difficult after the first 20 levels or so. You'll need a great deal of mental fortitude to make it through all 80 levels.
There are other game modes that you can unlock as you play through the game. They're not much, but some of the modes can be fun, like the Free Play mode. The Free Play mode allows you to select an already beaten level and play it again, this time spending points that you have gained throughout the game to buy extra tools to use in that level, which can make gameplay more enjoyable since this will give you the ability to solve the puzzle the way you want to.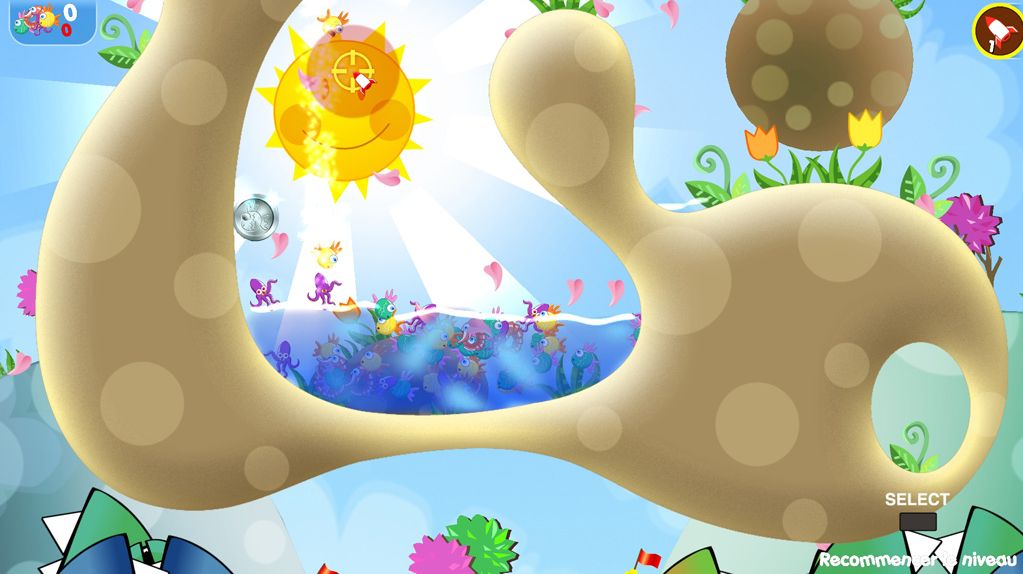 The look of the game is pitched to children, with artwork of a spinning, smiling sun, colorful breezy flowers, and bees floating in the background. The scenes and settings look something similar to Mario Galaxy. It's a very happy land, one that is very kid friendly, but may be a turn-off for adults.
Even though the music for Aqua Panic! sounds like it consists of a choir of chipmunks and babies, the soundtrack is addictive. The songs are catchy and stick in your head. The ambient sounds in the game, however, can get quite annoying. The background noises gratingly gnaw away at your grey matter with sounds like the flamingo's shrill cricket sound or the roar of the sharks, which sound like dying car engines.
Aqua Panic!, although attempting to appeal to both kids and adults due to setting and difficulty, ends up being a game too tough for kids to enjoy and too childish for adults to pay much heed to.
Our ratings for
Aqua Panic
on PlayStation 3 out of 100 (
Ratings FAQ
)
Comments