Costume Quest Review
An enticing Halloween treat from Double Fine that's sure to please your RPG sweet tooth
Tim Schafer's Double Fine studio hasn't met with too much commercial success since their start-up in early 2000, despite their development of clever, quirky, and critically acclaimed games such as Psychonauts and Brutal Legend. With such an unfortunate track record as this, the studio has instead opted to forgo the risks of a big budge retail game for their most recent project, Costume Quest, and have instead developed a seasonally-themed downloadable title for Xbox Live Arcade and Playstation Network. This title, a turn-based RPG set on Halloween night, retains all of the wit and quirkiness of previous Double Fine titles, though smaller and more compact in scope.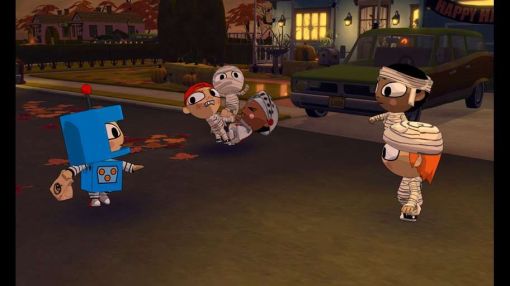 Make no mistake, though, the game still holds high-quality production values both in terms of the visuals and sound design. The graphics have a wonderful and endearing cartoon quality to them, and the enjoyable music and excellent sound effects, especially during battles, are overall a delight to the ears. The only complaint that I might give is that the music can at times seem a little repetitive, but it is not at all bad enough to detract from the sound quality overall, and is mostly mere nit-picking on my part. The visuals in battle, while still retaining that cartoon-like look to them, are a little more detailed, the main characters transforming into more fully realized version of their costume designs, along with some very nice looking monster designs.
The premise of the story involves a brother and sister setting forth on Halloween night on the usual trick-or-treat candy hunt. It's not long, however, before they run across monsters involved in a scheme to steal all of the candy they can to feed their insatiably hungry master. It is one of these monsters who kidnap your fellow sibling, after mistaking them and their costume for an extraordinarily large piece of candy, prompting you on your quest to recover your sibling from the monsters' clutches (so that your parents don't ground you).
Comments
blog comments powered by Disqus