Lords of Shadow Review
Castlevania: Lords of Shadow creates a malevolently charged reboot of the franchise that will have you thirsting for more
A creative fantasy taking place during the Middle Ages, Castlevania: Lords of Shadow is Konami's latest stab at reinvigorating the Castlevania franchise. Although most of the Castlevania games have been 2D side-scrollers, there have been a few attempts in the series to break that mold and work in a completely 3D environment with few of those attempts meeting success. Castlevania: Lords of Shadow has tackled the 3D interactive gameplay experience and has not only succeeded, but perhaps has established a new path all its own for the series.
Castlevania: Lords of Shadow follows the story of Gabriel Belmont who has recently lost his love to certain beings known as the Lords of Shadow. Gabriel belongs to a religious sect that sends him on a mission to discover more about the Lords of Shadow. Gabriel's first stop on his holy crusade is to seek the mythical God—Pan. After finding Pan he goes on to challenge all three of the Lords of Shadow; the king of lycanthropes, the queen of vampires and the lord of the dead. Along the way he is met with some help from Pan as well as other characters (like Zobek, a fellow brother in the faith, and Claudia, a mute orphan) who lend him aide in his search for revenge, but also surprise him, and you, with secret motives of their own.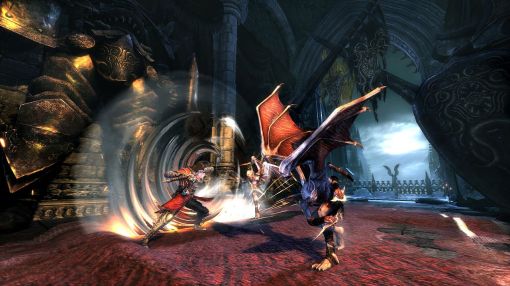 This is a single player game with no multiplayer modes. The campaign mode is around fifteen hours long—perhaps more or less depending on the difficulty mode you are playing the game on. The levels are linear forcing you to complete one level before you advance to the next plot point. However, you can revisit previously beaten levels to obtain any items you may have missed your first run through. Also, after you beat a level you unlock a challenge with a specific objective for you to complete called a "trial" that you can play and try to gain extra cash to spend on combat upgrades.
Throughout the game your character Gabriel Belmont is able to upgrade his attacks allowing you to use more intricate combos and different sub-items. There is a cost for unlocking these skills so going back to complete trials is worth your time. You also gain money for completing a level and completing puzzles (such as directing a flow of blood through a maze or lighting certain nodes with pixies) within the level.
Puzzles are abundant in Lords of Shadow and while they can be a nice deviation from constant enemy battles, they tend to feel and appear like cheap Facebook games and feel out of place in such a large budget game. This can detract from the amazing presence the setting and storyline fabricate.
Comments
blog comments powered by Disqus