Medal of Honor Review
EA Games reinvents their long running WWII FPS into a taut, modern-day era experience, with two development studios handling the game
It was bound to happen. With Activision having now updated their WWII first-person shooter franchise, Call of Duty, with a more modern-day setting and weapons, it should come as no surprise to anyone that their biggest rival, EA, would also similarly update their Medal of Honor series as well. Splitting up responsibilities for this project are new comer Danger Close, handling the single player mode, and DICE, long-time developer of the Battlefield series, handling the multiplayer. All in all, I'd say the results are fairly favorable, but unfortunately there are some minor issues that keep the game from achieving true greatness.

The visuals, to start with, are all very nice, and are well utilized along with some solid sound design to create a fairly immersive and entertaining, if at times a bit grim, experience for both the single-player as well as multiplayer game types. Unfortunately, there are some performance issues that mar the experience a little bit, though fortunately nothing too terrible so as to totally distract from the overall product. Some of these issues, mainly plaguing the single-player mode, include AI units (both friend and foe), occasionally getting stuck on geometry or 'skating' across the terrain. The reliability of your fellow squad mates also vary sometimes as well. Usually they are excellent at taking down enemy units, but sometimes they seem to ignore or be unable to hit their targets, or may block your path. Multiplayer is largely free of issues, though there does seem to be some sort of lag at times between selecting a menu option at the loadout screen and the game acknowledging your request, as well as a few other minor oddities.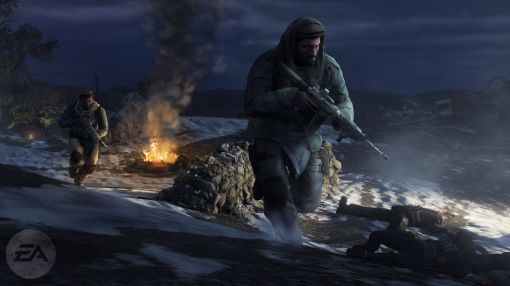 The controls for the game are solid, though fairly standard and probably the area where the least amount of change has occurred for this modern-day update to the franchise. There are though some nice features like being able to run and then slide by pressing the crouch button during your run, a feature that might have also proved useful in multiplayer, but is sadly excluded. Another useful feature is the 'peek and lean' control, also sadly omitted from multiplayer, though it does have a rather odd button placement in the default control scheme, which takes some getting used to, but it's not too bad and you can of course change the control scheme from the options menu as well, if you so desire.

The gameplay is unfortunately somewhat standard as far as shooters go, though there is some variety to its design. This is most relevant where the single-player is concerned, as different scenarios and roles that you fill throughout the course of the campaign greatly affect the way in which individual missions are played. Ranging from stealthily taking out enemies, or engaging in an all-out desperate struggle against overwhelming odds, to manning the weapons system of an attack helicopter. The variety that comes from multiplayer is mainly a result of which type of game mode you choose to partake in. But all in all, since it is developed by the studio DICE, it comes off as feeling a lot like the newest installment in the Battlefield series, which is in many respects a favorable thing - but something a little more unique might have been better for this particular project.
Comments
blog comments powered by Disqus
| | |
| --- | --- |
| #1 Oct 21, 2010 15:48:09 (Oct 21, 2010 15:48) | |




SlySusan

Great article. I will probably wait for a price drop but think it is worth checking out based on the review.

Sly