F1 2010 Review
Formula One racing with responsive driving, solid visuals, great learning curve spoiled by AI, performance and unpredictable penalties.
Based on the highly prestigious motorsport F1 2010 is not an arcade racing game, but it's also not quite a simulator. It falls somewhere in between but is better served when it sits closer to the simulator genre. Featuring all the teams and drivers from the current Formula One season you can start as a new driver or step into the shoes of any current driver in any team. However F1 2010 isn't fun and action every lap and don't expect much personality over a gruelling season. Thankfully the driving does feel great and the game shines when taking corners at full speed or overtaking other cars. It is all about pure racing and it holds faithful to the motorsport it is trying to emulate with a few problems.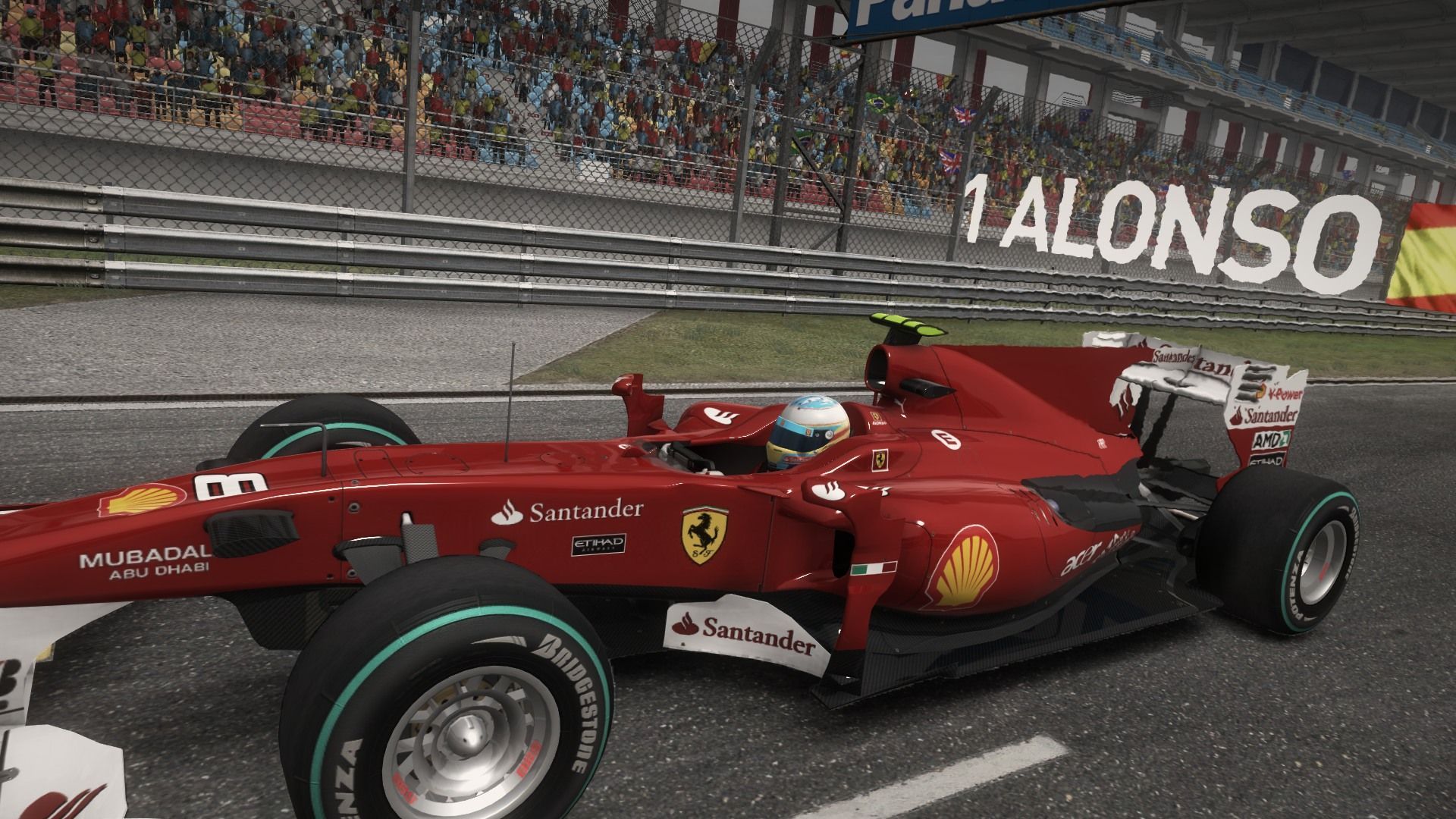 Ferraris certainly look nice in the sunshine

F1 2010 starts you on a somewhat obscure team in the F1 championships and tasks you with trying to take yourself and your team to great heights. This includes getting offers from other teams and pleasing your current team. You will need to answer some pointless questions after you win a race in an attempt to make you feel like a driver. These interviews are shallow, boring and completely unnecessary when a podium celebration may have been better instead. It's no surprise but the only time you will really feel like a driver is when you are actually driving. This may be when you improve over your previous lap or make an outstanding overtaking manoeuvre during a long race. Formula One racing is a difficult sport and I think they have demonstrated this to good effect for better and worse.
On the simulator side of things many settings can be changed to get the experience somewhat close to what it would really be like to drive a F1 car. Options like break-assist, ideal racing line, tyre simulation, traction control and flashbacks can all be adjusted to varying levels to set the game just how you like it. These adjustments are a great strength but more than four flashbacks should be available considering the length of the races.
Full car damage is too reduced for a Formula One vehicle travelling at insane speeds. You can literally bounce your tyres off barriers when going at high speeds without taking any damage or losing much time. The most damage I took by accident was a broken front wing but it didn't impact my driving much at all. The game could be described as an epic battle between you and the track ever searching for better laps even though you can sometimes get away with a little too much.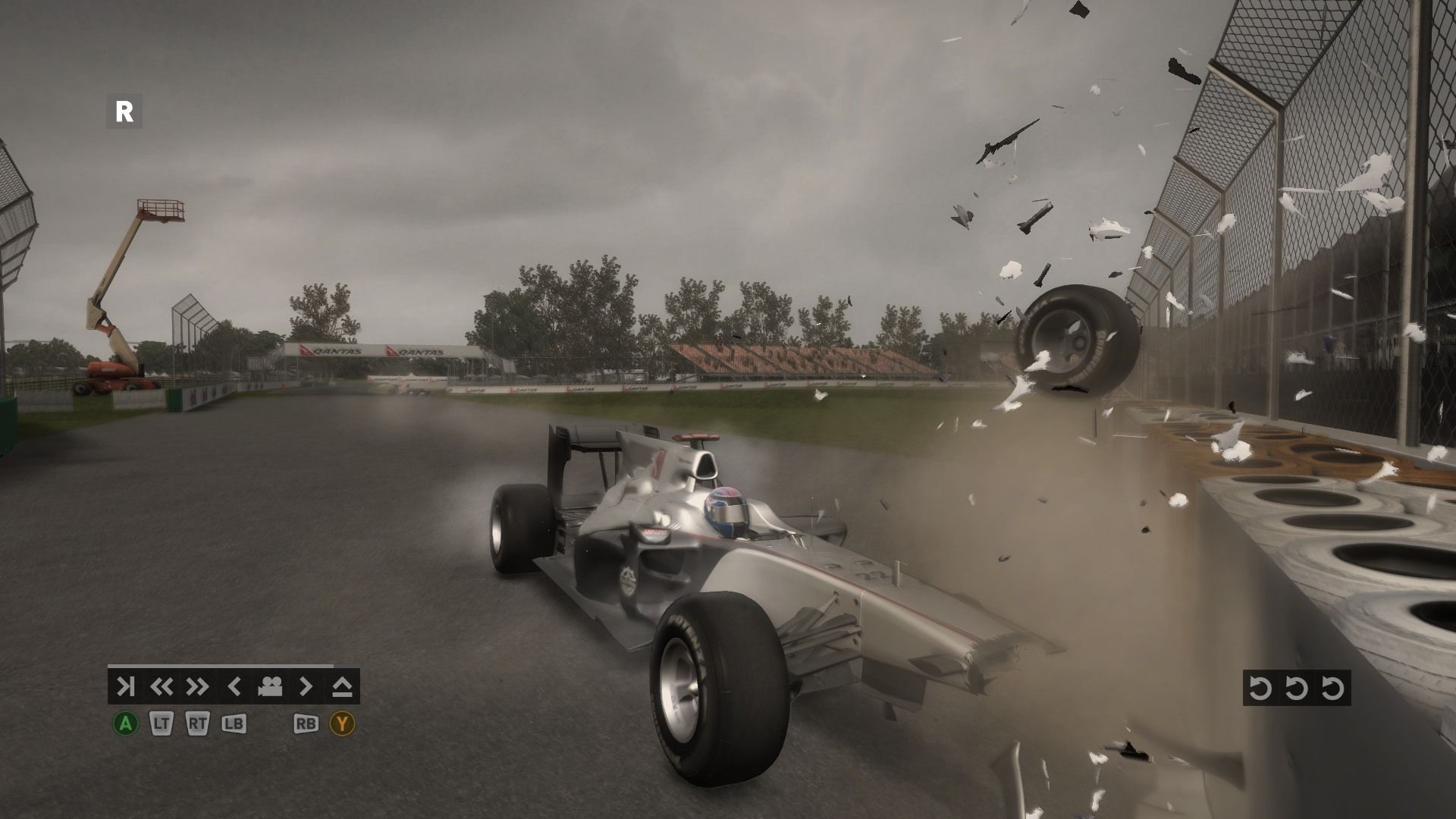 Full speed crash, who needs four wheels?

The shortest race length in the campaign mode is 20%, and this equates to about a dozen laps or roughly 20 minutes of solid race time without restarts. When you add in the time for practice sessions and the qualifying times you will be spending a good deal of time per event. Doing many laps in the practice sessions is essential unless you already know the track layouts well. Tracks like Monaco are quite punishing when first attempting them as you may miss corners or produce awful lap times. There was a great deal of satisfaction from wiping a large number of seconds from my lap time as I progressed through each weekend.
Comments
blog comments powered by Disqus