Darksiders Review
Despite its lack of originality, Darksiders is a fun and brutal blast that will keep you entertained from start to finish
It isn't very often that an action adventure game in the same vein as The Legend of Zelda or God of War comes to the PC. It's even less often that such a game that is actually worth playing comes to the platform. Luckily for PC gamers, Darksiders is such and game, even though it lacks some of the features you might expect from a PC title. It also borrows heavily from other games within the genre, as well as some puzzle games like Portal, although it does such a good job of borrowing and blending elements from all sorts of different games you probably won't mind that a lot of what you are doing feels rather familiar.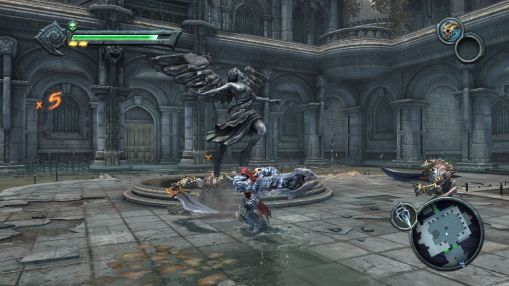 When talking about swords, size Does matter
This is especially true since many of the games Darksiders borrows from like Zelda and God of War are games seen only on consoles. If you haven't played these games, Darksiders will feel much more fresh and exciting, although if you have played those games you will probably still find a lot to like in this entertaining, substantial and well-paced package.
Darksiders follows the story of War, one of the four horsemen of the Apocalypse, as he comes down to Earth in what appears to be the apocalypse, but in actuality is a misunderstanding that leads to a fight between heaven and hell – or their equivalents, they are never actually referred to as such in the game. War is blamed for this conflict, and it is your job to regain the balance between good and evil. The premise is intriguing but it is in the telling of the tale that the game falters – it can be hard to figure out exactly what is going on at times, although the overall structure of the game is simple enough. You must bring the hearts of the 4 'chosen' to someone who will in turn help you figure out who really is responsible for this war.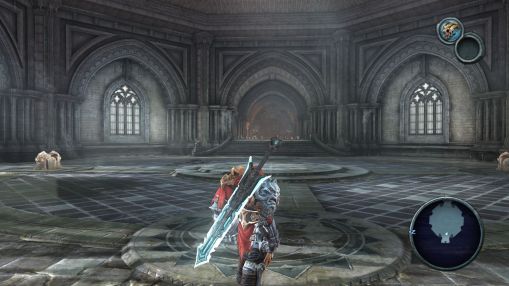 Some indoor environments are quite visually impressive
While this structure probably seems like it would lead to repetitive gameplay, the expert pacing of Darksiders ensures that you are never doing the same thing for very long. The gameplay is divided into combat, puzzle, platforming and boss fights, sometimes combining multiple elements at once to make for some really exciting set-piece battles and boss fights. The game takes about 12-15 hours to complete, so the fact that there is relatively little repetition makes for a very enjoyable experience that you will feel compelled to finish.
Comments
| | |
| --- | --- |
| #1 Oct 7, 2010 15:14:14 (Oct 7, 2010 15:14) | |




SpectralShock

I am having fun with this title too, borrows from God of War, but that's not a bad thing