FIFA 11 Review
Take to the pitch for yet another soccer season, and this time the goalie is coming with you
And with poor ratings comes bench time. To the game's credit, it is very realistic in not letting you play every single game until you've got enough skill to participate. If you perform poorly as well, the coach will sit you out for a few matches. If you choose to debut with a strong team, chances are they will let you go at the end of the season since you're not able to meet their skill expectations. The player is then presented with a neat list of interested teams with whom you can sign. What's awesome is that each team states what position you will hold, ie signing for another top team will drop you back down to a reserve player status, while signing with a poor team could even land you as a captain right off the bat.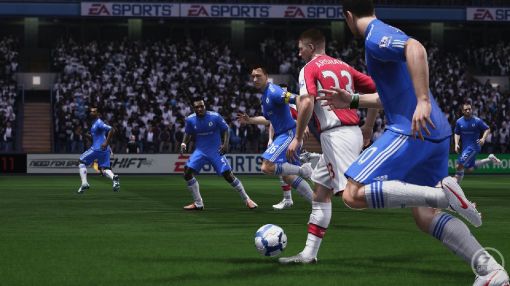 The big addition to player mode is the ability to play as a goalkeeper. While this may sound like a boring spot to be, it actually proves to be a challenging position yet intuitive enough to enjoy. Offline, players can play as a goalie just as they would an outfield player, controlling their position and making saves as best they can. There are various aids that can be turned on and off, such as the ball trajectory and suggested body position. Making saves is quite satisfying, and overall the controls seem very fleshed out and make it fun to be a keeper. However, when your teammates go on the attack, you can still guide them by using shouts, sort of a remote control mechanism for your team. They won't always listen, but its still a fun addition and makes the game less boring when the action is at the other end of the field. Online, goalies are sure to cause some problems this year – it could be a position that nobody wants to play, and it is easily exploitable by those wanting to grief their team. Still, it is a great concept to finally play a true 11 vs 11 game with your Pro club.
The second mode of play, Player Manager, has probably seen the least changes. You're still in charge of your own player, but now you are also able to influence your club's decisions when it comes to formations, tactics, and transfers. It's an interesting mode that acts as a bridge between being a player and a manager. The Manager mode itself saw a number of changes this year, most aimed at improving the experience and making the AI managers more realistic in their actions. During transfer season, there is now a robust search tool that finally allows you to find specific players quickly, based on a number of criterias. This is a welcome addition, and makes the transfer market a ton easier to navigate. All signings now also take place in two phases, as first you must agree on a transfer fee with a club, and then sign a player to a contract that he accepts. The AI is very intelligent in what offers it will accept, and there is also an assistant included that evaluates your offer and predicts what the result will be. As well, loaning players is finally a properly working option this year, with many transactions taking place between AI teams as well as your own. The speed of the simulation is also increased, no longer must you sit through the Board opinion and Player Transaction screens after every match.
Comments
blog comments powered by Disqus
| | |
| --- | --- |
| #2 Oct 5, 2010 19:58:36 (Oct 5, 2010 19:58) | |




| | |
| --- | --- |
| #1 Sep 30, 2010 12:11:00 (Sep 30, 2010 12:11) | |




Phatcat1987

Nice review PC.

2 Questions:

1. Is the Norweigan Premier League featured in the game?

2. If so, did Honefoss BK make it into the game? They were just promoted to the Norweigan Premeir League this year, so I wasn't sure.