FIFA 11 Review
Take to the pitch for yet another soccer season, and this time the goalie is coming with you
The creators behind FIFA Soccer 11 certainly took advantage of the number in the title. Heading into the 2010-2011 season, this year's FIFA offers a variety of changes and additions to the series, the most notable one being the ability to play as the goalkeeper. This year, players will be able to truly play an 11vs11 game online, as well as create a virtual Pro goalie. Along with some excellent interface changes and improved gameplay mechanics, this year's soccer game from EA is one of the best entries in the series yet for this console generation. Though the presentation takes a few steps forward as well as few steps back, overall this is a much improved package from last year, worth looking forward to for all soccer fans.
In recent FIFA titles, there aren't really many changes that needed to be made at this point when it comes down to core gameplay. The game on the pitch flows wonderfully, and with only a few complications here and there, the developers didn't need to change a whole lot. Instead, FIFA 11 adds to the experience on the field with some tweaks and modifications to the controls and player behaviors to add some variety and randomness to the game. There is a new Pro Passing system where the player must manually control the direction and even power of the passes, so the game no longer feels like ping pong. Things are still a tad fast on regular speed settings, but it's easy to get used to. The new addition to gameplay this year is the Personality system.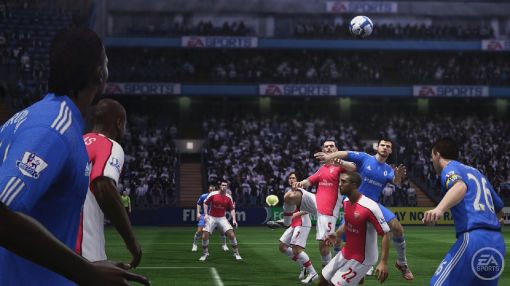 With Personality+, the game finally treats all players differently, and their skills are no longer based on stats. Players can now have up to 5 personality traits, which actually define their actions on the pitch and affect their attributes in key situations. It's an improvement similar to last year's awareness, now letting players excel in some areas of the game. The personality types range from being excellent in the air, to being a long-range scorer, to a poacher who tucks away shots inside the penalty box. All of these traits are assigned to players that act like it in real life, and for the most part the characteristics are accurate.
The system extends beyond the basic on and off the ball play. Different players now have a more appropriate body and physical attributes, which affects how they enter into physical contact and battle for the ball. There are also many new celebrations in the game, including those unique to the player in real life, which look great and certainly add a personal touch to every superstar goal scorer. The goalkeepers also benefit from Personality, as it adds two different styles of play for goalies to choose from, each with different attributes and effects in the game.
Comments
blog comments powered by Disqus