Saints Row 2 Review
Welcome to Stilwater. Don't let the deceptively tranquil name fool you, this is one of the most outrageous and incident packed metropolises in gaming.
Many ambitious single player titles only offer multi player as a slapdash addition to the core content. Thankfully this isn't the case with Saints Row 2. As well as separate co-op missions to the main campaign there's a solid experience and rank based system for online play incorporating all the positives of single player. Starting off as a 'New Jack' with distinctly shabby apparel, you'll be tasked with ascending the leaderboards via upgrading in rank subject to in-game performance. Before long your dilapidated looking hoodlum will cut a far more respectable and 'pimped out' figure, or alternatively completely madcap one if you so please. Besides the basic Gangsta Brawl (deathmatch/team deathmatch) mode, the real substance of multiplayer is in 'Strongarm' matches.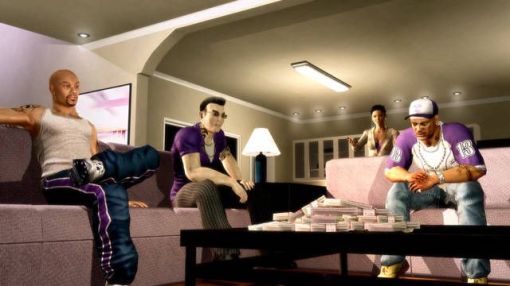 Essentially taking side activities from the main game and dividing them up into zones, these confrontations are absurd affairs, yet also amusing and highly entertaining. For example, the point scoring zone will be highlighted on the individual and/or the team's mini-map and the activity in question is announced, say 'Mayhem' (general destruction based carnage to generate the most currency), players will then surge in and begin the proverbial annihilation with the underlying aim of earning the highest amount of cash. Games are made up of four separate rounds divided into differing activities resulting in adrenaline fuelled and diverse match-ups. What's so appealing to SR2's multiplayer, much like the single player, is the ever present emphasis on fun. Too many online experiences are intimidating and often unaccepting places to find yourself in, but here that notion is certainly invalid. SR2 online is inviting, openly accessible and will provide many hours of hi-jinks and hilarity long after Ultor has eventually been been bought to its knees.
Saints Row 2 does have some glaring technical issues, but the charm, character and easily understated individuality of the game mean that its initially frustrating elements can soon be forgiven. Staunch GTA followers may still be unwilling to embrace another free roaming crime spree but they'd be foolishly overlooking what is a wonderfully customisable toy-filled sandbox in its own right. Let's face facts; what other game could you dress up in a giant hot-dog costume and go on a murderous rampage, whilst belting out Karma Chameleon at maximum volume?
Comments
blog comments powered by Disqus