The Darkness Review
This atmospheric and violent action game shouldn't be missed, regardless if you are familiar with the comic books
Based on a comic book series of the same title, The Darkness is an atmospheric first person shooter/action title, released by Starbreeze Studios. The developer's previous work, Chronicles of Riddick: Escape from Butcher Bay, was a surprisingly good title that was based on material outside of video games (i.e. the movie series). With The Darkness, Starbreeze repeat their success, porting a comic book into a great video game adaptation. The Darkness is an often brutal but still emotionally engaging game that has excellent atmosphere and visual design, and must be experienced by even those completely unfamiliar with the comic books.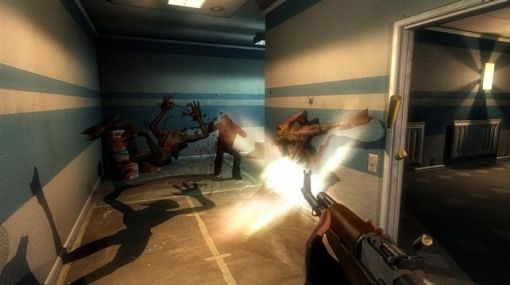 Players take on the role of the main protagonist Jackie Estacado, an Italian American living in New York. The story and gameplay itself act as a flashback, whereas the loading screens are actually used to tell Jackie's current mindset. We learn that our character's past is crime-ridden, but he is trying to come clean and begin a new life with his girlfriend. On the eve of his 21st birthday, Jackie learns that he is a target for an assassination by the don of the New York mafia, "Uncle" Paulie. However, in the midst of his escape, Jackie suddenly acquires dark powers that allow him to repel his attackers. The voice of the Darkness tells him that he must obey it, and that it has apparently haunted his family for generations. Jackie refuses, and is mostly able to control the spirit at will, in order to survive the assassination attempt. Having control of these powers, Jackie sets out to seek revenge against Paulie. What results for the rest of the story is a disturbing and haunting experience with good twists, and some scenes that are among the darkest images of any medium. The narrative in The Darkness is great both in writing and delivery, with the unique setting further helping the game stand out.
The Darkness is a first person shooter, so there is a variety of modern day guns available to the player. Throughout the game, Jackie can get his hands on many different pistols, machine guns, and rifles. All this weaponry does a good job of getting rid of the enemy mobsters in the game and is your primary means of attack. Over the course of the game, players will also comes into possession of the "darkness guns" that are more powerful than many conventional weapons but consume some amount of darkness energy in order to fire. This dark energy can be restored by simply waiting in a dark area after shooting out the lights. In this regard, the game is somewhat reminiscent of Splinter Cell series, though it's not always clear how much light there is at a certain location. Stealth tactics can be used for the majority of the game, thanks to the special powers.
Comments
blog comments powered by Disqus