Madden NFL 11 Review
Madden NFL 11 offers some interesting new features that may very well make it a touchdown, or at the least a field goal
It's now nearing the end of the year, and that of course means a new installment of EA Sports' long-running NFL football franchise is upon us. I must confess it has been quite some time since I have played one of the Madden games, (being largely a bigger fan of the NCAA series), and so, in a sense, the series feels a bit more fresh and new for me than it might for others who have been more consistently purchasing each entry. However, despite that fact, I feel that this entry will certainly please long-time fans, and possibly win over a few new followers.
As far as prominent changes to the series goes, the biggest area where this is seen is in the way that play-calling is handled. Of course, there is still the option to manually select a specific course of action between each play, but a new feature called "Gameflow" allows you to customize your playbook outside of individual games in order to set-up tailor-made recommendations delivered to you when you're out on the field based upon a number of possible scenarios. This allows for a much easier and faster selection of plays during games, (since you can get by with only primarily hitting the A button each time), which ultimately speeds up and streamlines the gameplay overall.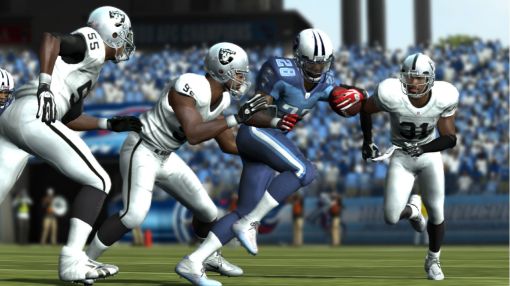 The only downside is that when using the "Gameflow" option for your playcalling, you get sort of auto-assigned a play based on the situation. This is, however, why it's so important to customize your playbook beforehand, in order to make sure you won't end up running a completely useless play that is completely unhelpful for the given situation. Happily, though, you can still always pick out your play the old fashioned way, and of course there are still all of the important adjustments that can be made at the line of scrimmage, such as calling audibles or sending a man in motion.
The graphics in the game are of course nice, though there is nothing particularly spectacular about the visuals. The scripted animations of the crowd and players (at the beginning and end of each game, or between individual plays), feel a bit sub-par, and there is also some noticeable glitches and slow-down during some of the animations that even a fairly casual observer will most likely notice. Most of the time, also, the crowd looks and feels like those old 2D crowds from earlier sports games, having only a limited amount of frames of animation, except when there is a close-up on a specific section of the audience.
Comments
blog comments powered by Disqus