StarCraft 2 Review
Incredible balance and production values save this colossal RTS from feeling stale and dated, but is Starcraft 2 worth the 12 year wait?
It's always hard to know what a game that is in development for over 5 years will have to offer upon release. Often developer swaps, engine-upgrades and budget constraints cause the final product to feel awkward and unfinished. Starcraft 2 is unusual in that it was under development by the same team for the duration of its lengthy production, and the result is something far more substantial, polished and well thought out than almost everything and anything seen before. Sadly, that is where positive outcomes of the long wait end. There is no way around it, SC 2 feels dated. Really dated. Not in the visual department, but in the flow of the gameplay, the feel of the game, and the structure of the missions and skirmishes. Even the maps and music seem like they belong to an RTS of the mid 90's. The few modern tweaks and adjustments that made their way into the sequel are essentially cosmetic compared to the relatively unchanged core mechanics.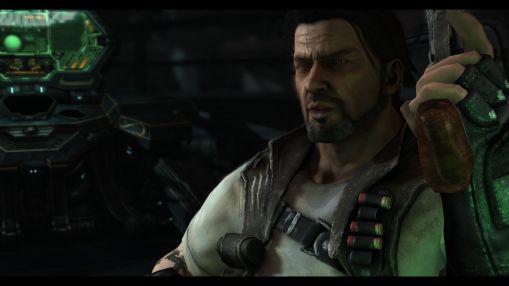 Meet Jim Raynor. Old-Western hero? Space Captain? Or both!
Starcraft 2 feels like a game that was developed in 2 years, not 7. Other than the visual upgrade, very little has changed in terms of units, gameplay, mission design and multiplayer offerings. It's still really impressive in many ways, but after such a long wait one couldn't help but wonder if something truly extraordinary would hit the shelves when the game was finally released. Some groundbreaking new innovation that changes everything, but doesn't affect the core of the series. It can be said for blizzard that they have a huge fan base, and that adjusting the core game too much would likely result in backlash from the hardcore SC 1 community, but still, it's a little disappointing that so little has changed in all this time.
The singleplayer campaign of the first game in the Starcraft 2 trilogy, Wings of Liberty, follows the Terran race and picks up several years after the conclusion of the original game, and if you're having trouble remembering where that was, the game does an excellent job of bringing you up to date, or, if your new to the series, summarizing the story so far during the instillation of the game. The campaign is fairly lengthy at around 15 hours, and the story of the sequel, while not terribly original or exciting, is very well told and does a great job of developing the characters. This is primarily done through a kind of point-and-click adventure system that occurs between missions where you can click around your ship and interact with different objects and characters, engaging in dialogue and further fleshing out the story.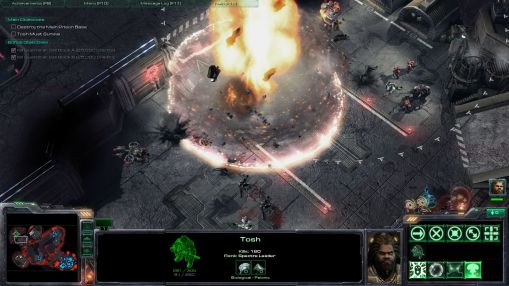 Have no fear, there are plenty of big explosions to go around!
Each of the many cut-scenes encountered on this ship has obviously been hand-crafted with care, and it shows; each cut scene, be it a few lines of dialogue or an epic battle, is incredibly enjoyable to watch. You will grow to relish the character interactions and dialogue that compose much of the drama and accounts for much of the depth of the singleplayer campaign. While not much of what you are doing in the game hasn't been done before, the way that it connects you to the story makes everything feel much more important. This effect goes a long way to immersing you in the campaign which essentially serves as a giant tutorial for the multiplayer component.
Comments
blog comments powered by Disqus
| | |
| --- | --- |
| #3 Aug 18, 2010 11:03:30 (Aug 18, 2010 11:03) | |




SpectralShock

I haven't touched MP much, not very good at strategy games online

| | |
| --- | --- |
| #2 Aug 18, 2010 10:30:34 (Aug 18, 2010 10:30) | |




kamikaziechameleon

Yeah at this point I'm not really happy with the MP. I mean it isn't bad, but it isn't what I want in a MP game.

I will buy this game and the really creative single player campaign will be the lone reason. hope the expansions don't take ten years each to come out.

| | |
| --- | --- |
| #1 Aug 17, 2010 02:09:52 (Aug 17, 2010 02:09) | |




nutcrackr

Nice review, although I didn't think the music was too bad. I haven't played much mp yet but I like how they did the single player. I'm going back and playing missions I missed out on because of the choices I made. It's been a while since I really enjoyed a single player RTS so SC2 fits the bill very nicely for me.