Scott Pilgrim Review
Bryan Lee O'Malley's love letters to the 8 and 16-bit generations come true to form in this fantastic adaptation of his graphic novels
If it weren't for Edgar Wright's cinematic adaptation of Bryan Lee O'Malley's Scott Pilgrim graphic novels, there honestly might not be a Scott Pilgrim vs. The World: The Game, now available on the PlayStation Network (and Xbox Live on August 25th). I'm thankful this isn't the case, as Scott Pilgrim vs. The World is a stellar homage to many side-scrolling fighting games of the 8 and 16-bit yesteryear, whether you're a fan of the printed material from which it's based or not. If you grew up playing Double Dragon, Teenage Mutant Ninja Turtles, or especially River City Ransom, you will feel right at home.
Scott Pilgrim vs. The World is a four-player adventure about the eponymous twentysomething who must defeat the seven evil ex-lovers of the girl of his dreams: Ramona Flowers. The League of Evil Exes will do anything to insure that if they can't date Ramona, no one can. Fight in a classic beat-'em-up setting through seven stages set in the mystical, perilous world of Toronto. Defeat thugs, robots, ninjas, and aliens with a variety of attacks and weapons, for experience points to learn new, more powerful moves. Use the money earned afterwards to buy snacks, books, and other gear to raise offensive and defensive stats. If you're playing with others, you can even share health, money, and like any old game, "borrow" spare lives should you lose yours in battle. The game can get off to an incredibly difficult start, even on its easiest difficulty level ("Average Joe"). There's definitely some grinding involved, but once you've upgraded your stats and purchased some good equipment, you can be unstoppable.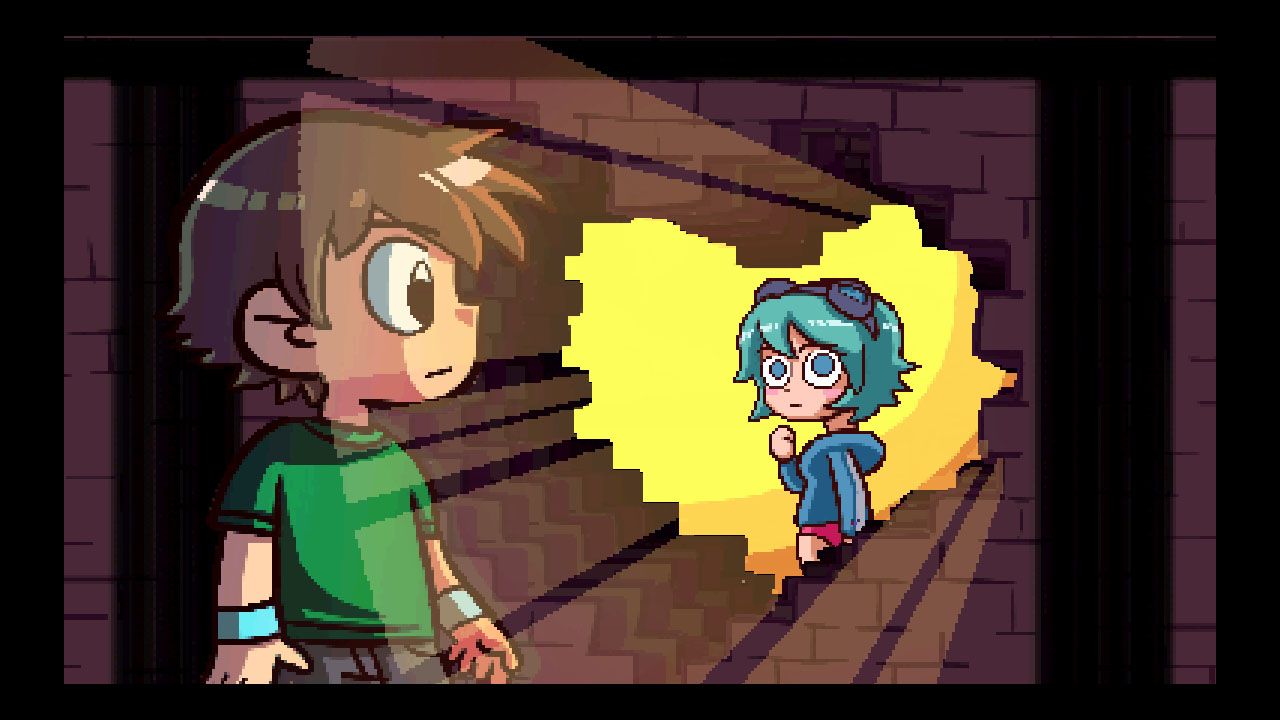 The game, developed by Ubisoft Montreal, sports a vibrant and cheery 16-bit look based on the art of sprite animator Paul Robertson. Its visuals are much more impressive given its 1080p HD resolution and its smooth execution. The most radiant examples of the game's look can usually be found during a battle with one of Ramona's exes. Defeating them will display a rainbow-level array of colors with a huge "KO!" in giant Atari-era lettering that'll make you want to take a one-dollar bill and exchange it for four quarters. In addition to the fine arcade look, Ubisoft recruited chiptune musicians Anamanaguchi to compose the game's entire soundtrack. The 8-bit audio will warm the part of your heart that longs for old school '80s Nintendo nostalgia. While the game has the occasional throwaway tune (the shop music isn't anything to write home about), many of the stage tracks are marvelously energetic, and its main theme is adventurous and undoubtedly heartwarming.
Among the butt-kicking fun you and your three pals are guaranteed to have, the game is not without its shortcomings. The game has a few technical bugs to work out. Falling into a pit and how you come out of it might actually force you to restart a level. The game appears like it's going to freeze often as it loads events and new stages. In terms of design, although local cooperative teamwork is fine, it's honestly inconceivable that in 2010, well after online console gaming and digital game distribution took off, there is no option for online cooperation. The game is still incredibly fun for one person, but it seems Ubisoft Montreal chose not to balance the game for one person. That means you will always fight two to four players' worth of enemies on the screen at once, alone. At first this is annoying, as enemies can take over the screen and prevent you from finding out where your character is positioned, but as you learn new attacks and strategies, this issue is minimal.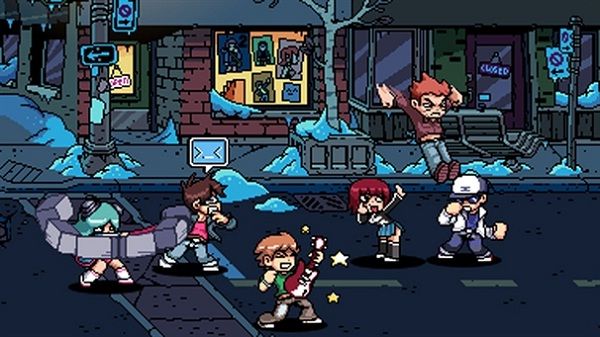 The idea that this is what a Scott Pilgrim game looks and plays like is purely a bonus, as the core game itself is insanely fun, challenging, and so full of energy you will want to replay through stages just to make sure you have used every possible attack at least once. There has never been a better match made in heaven. Scott Pilgrim vs. The World: The Game is an excellent investment.
Our ratings for
Scott Pilgrim vs. the World
on PlayStation 3 out of 100 (
Ratings FAQ
)
Comments
blog comments powered by Disqus