Army of Two: The 40th Day Review
Army of Two: The 40th Day, fist-bumping and bromancing as buildings blow up all around you
Army of Two: The 40th Day, EA's sequel to 2008's Army of Two, is what might happen if you asked Michael Bay to make a game. There are explosions all over the place, buildings in Shanghai are attacked and destroyed, leaving the city a steaming pile of rubble. Animal corpses litter the Shanghai Zoo, and the only way the game's heroes cope with the destruction is to spit out Hollywood-level cracks, one-liners, and engage in the occasional fist bump and 'bromance.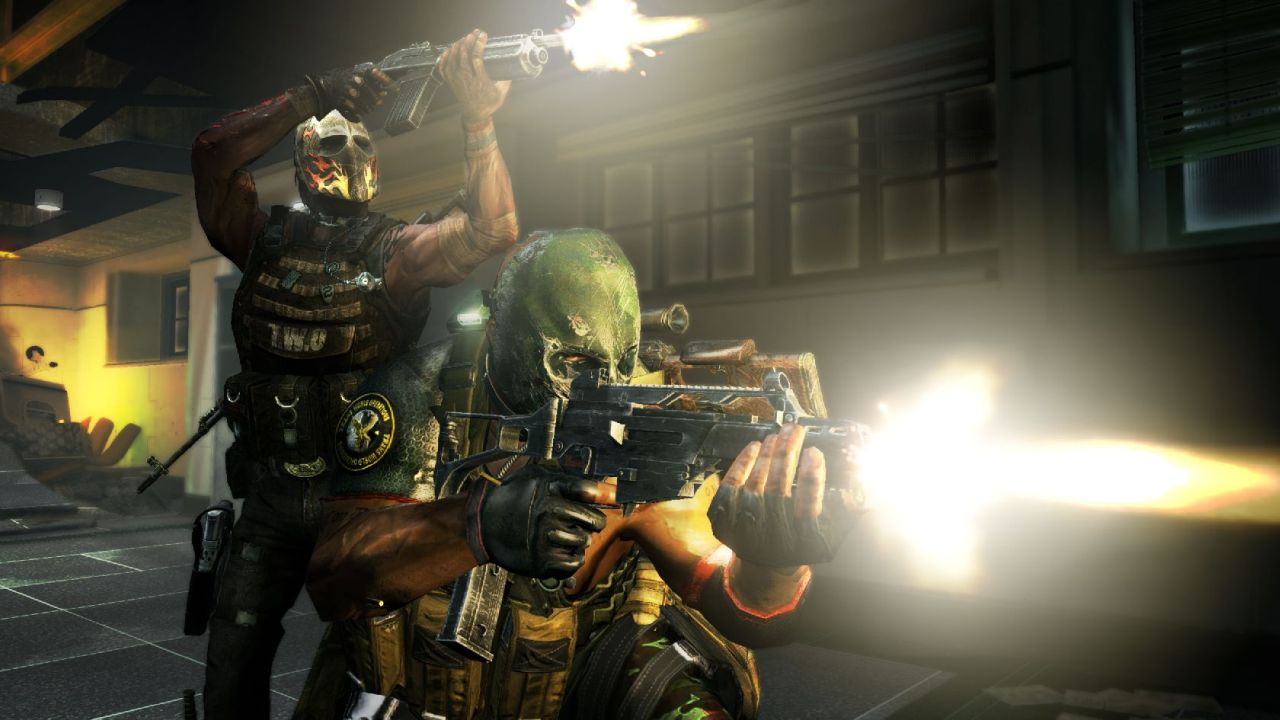 Developed by EA Montreal, the same team responsible for the first game, The 40th Day, set a short time after Army of Two, brings back mercenaries Tyson Rios and Elliot Salem, long-time friends and partners who seem to have flourished in their newly-founded private military contract agency dubbed Trans-World Operations (Get it?). The 40th Day, like the first game, focuses almost entirely on cooperation. Two players can run through the campaign mode, utilizing teamwork to execute special cooperative moves and strategies, including Aggro mode. In Aggro mode, one player deemed aggressive will have enemies' attention focused on him, while the seemingly ignored second player can use the advantage to flank his targets and eliminate them from behind or at a distance.
The 40th Day is straightforward action. Shoot to kill, and earn money completing objectives, finding extra cases of it lying around, and spend it all on weapons upgrades. Weapon upgrading has evolved a bit from the first Army of Two, where weapons parts are now completely interchangeable with one another, so if you feel like adding a scope and silencer to your automatic shotgun, please, feel free. You can also "pimp" out your weapons with diamond-encrusting, gold-plating, hearts, whatever your heart desires and enough to make Flavor Flav squeal.
Combat has improved significantly, going from "Average" in the first game to a "Pretty good" here. Targets are easier to hit this time around and certain hit zones are more precise. With the easier targeting comes an improved enemy intelligence, almost rivaling enemies from the Uncharted games. You can play the game at its highest difficulty level, still not too hard, but absolutely challenging. Enemies can flank, will use heavy lethal force, and do what it takes to take you out. A lot of The 40th Day is trying to survive large groups of enemies scattered all over the area akin to the popular Horde/Survival modes found in other shooters of today. The ensuing chaos and constant grenades headed your way can be enough to frustrate sometimes, but you can get through The 40th Day in under eight hours, especially when you have a "GPS mode" that will always tell you where you need to go next.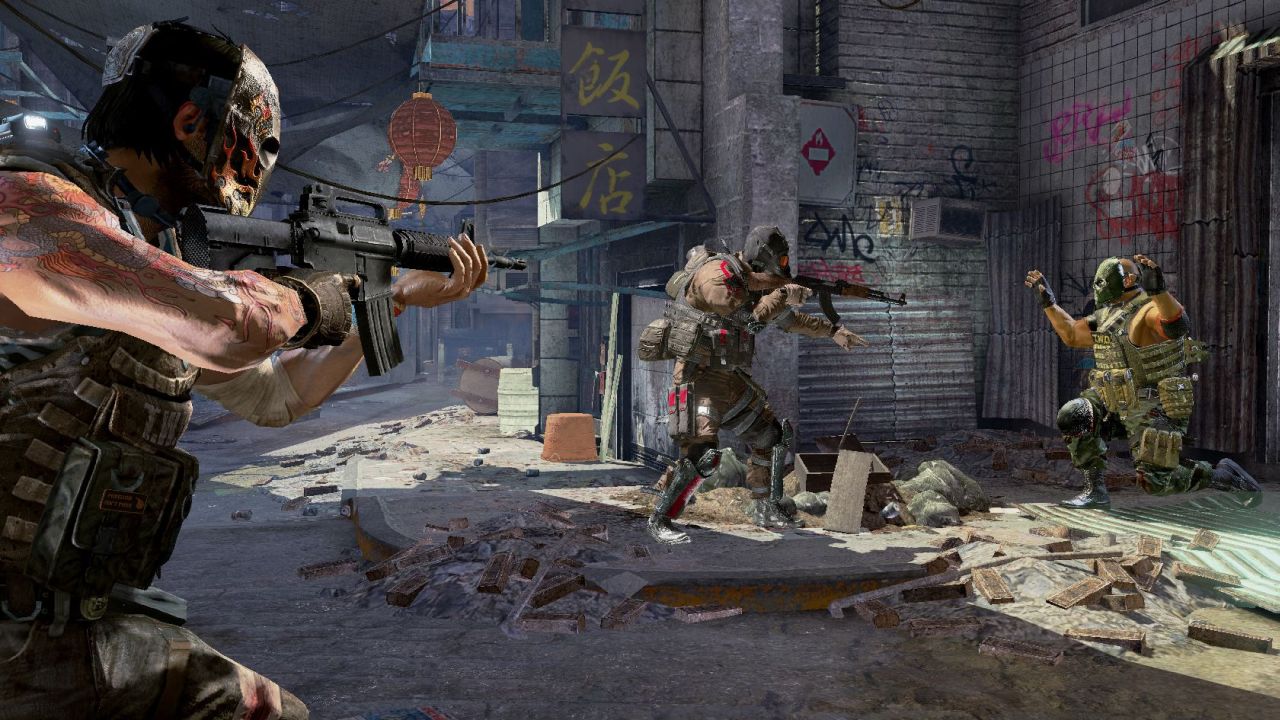 Among the flying bullets comes a plot barely worth remembering. Shanghai is attacked, and our "heroes" fight their way out of it. Its setting in the present day allows for certain creative liberties very clearly not taken, but that's like admitting to watching Armageddon for the plot. Our adrenaline just wants us to blow things up! I did enjoy the story in the original Army of Two to an extent, prefacing a story arguing the benefits and drawbacks of private military contractors with real-world references to Somalia, the World Trade Center attacks and the ensuing wars in Iraq and Afghanistan. Heck, I'm pretty sure the final level was a reference to New Orleans and Hurricane Katrina.
In the sequel, two guys decide to kill a terrorist more because they don't want to blow up in Shanghai more so than having any sentiment on saving the world. Interestingly, The 40th Day implements a morality system made popular by games like Mass Effect, with the game's conclusion being based on a player decision. Usually the choices amount to killing someone or not for extra money. They're fun to watch, as both 'good' or 'bad' choices present a short animation, in the style of a graphic novel, demonstrating what happens in "history" as a result of the player's decision. In addition to these choices, there is the occasional hostage crisis that needs averting.
There is very little about The 40th Day that could qualify it as an outstanding game. It is a good third-person shooter, but lost in a sea of other games like it. Boasting a full 1080p resolution, a lot of the texture designs and area designs are pretty, given the destructive nature of the game's locations, and look as good as a number of Xbox 360 games this generation. It's a fun eight to ten hours with a friend. There is, in fact, a single-player campaign, but honestly, half the fun is pretty much gone going solo. There is also a versus mode where two-man teams hunt each other down, capture-the-point, Warzone, which gives you objectives like protecting the VIP, infiltration (snatch and grab). These are as fun as you make it out to be, provided you can get a group together. Keep in mind that there are a number of better versus mode options out there as well. This is a standard, decent competitive mode.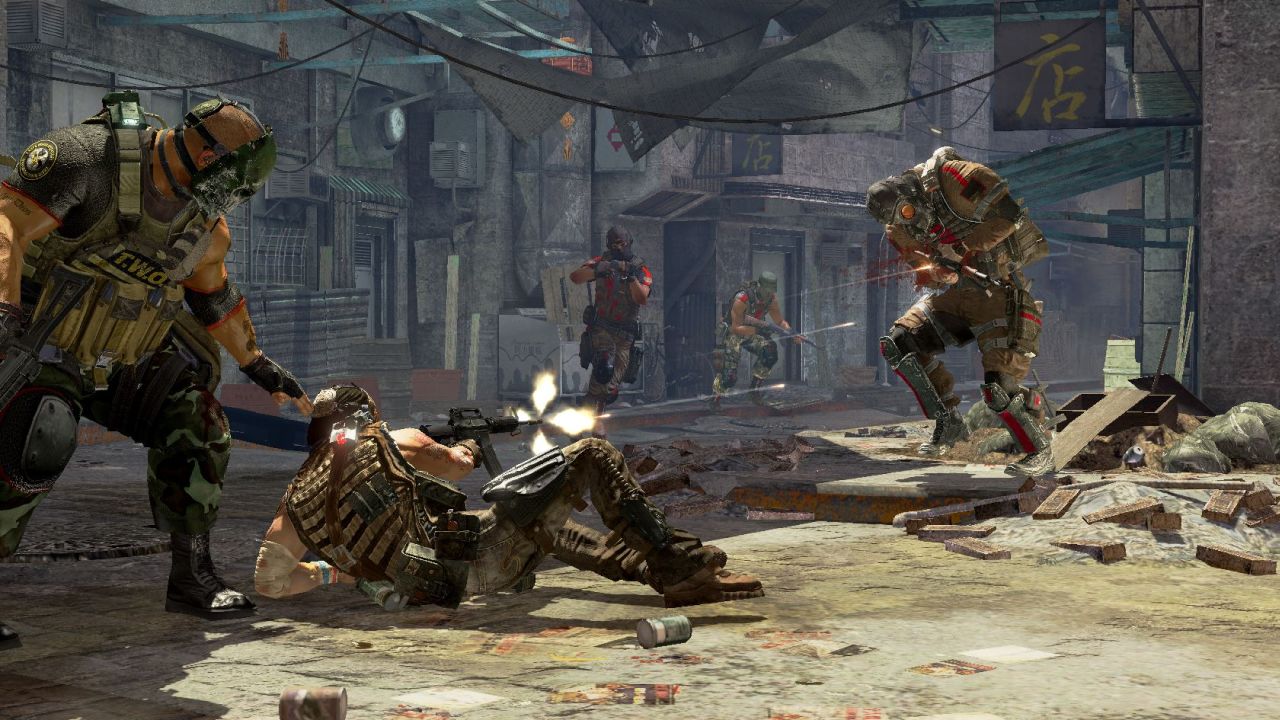 In a strange, perhaps beneficial decision, single-player and co-op modes are kept as separate save files although it seems data such as purchased weapons and customized masks transfer over. Yes, another nice bonus in this title is the option to hop on to the Army of Two: The 40th Day web site, design a mask in any way you see fit (I made an Iron Man helmet), and transfer it to your game and wear it. The 40th Day is worth a look as a budget title. If you're in the mood to shoot something, but don't feel like popping in Uncharted 2 or Modern Warfare 2, give it a go if you can find it for twenty bucks.
Our ratings for
Army of Two: The 40th Day
on Xbox 360 out of 100 (
Ratings FAQ
)
Comments